"Master's should not be mandatory."
UGC's step in the right direction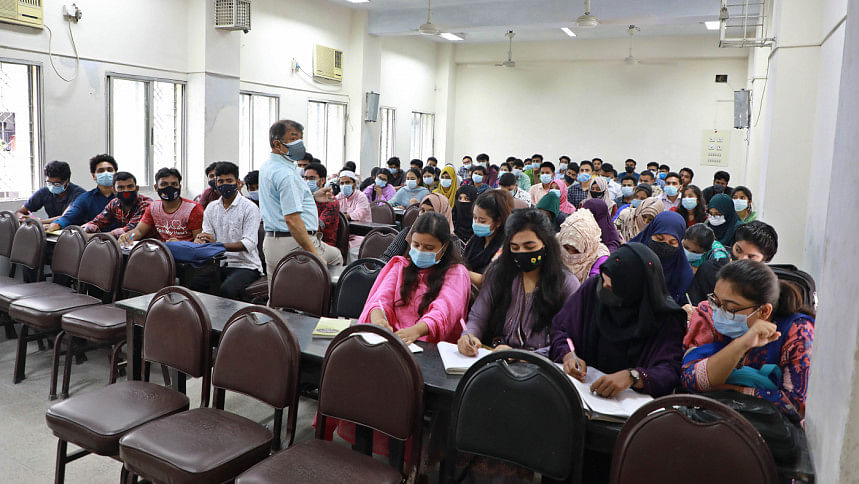 Pursuing a postgraduate degree is not for everyone. And this is not an insult.
Although in Bangladesh, we tend to look down on people without a master's degree, it is not and should not be for everyone. Not because everyone does not have the capability to pursue higher studies, but simply because people have different goals in life. And for those who do not want to go into research positions or pursue academia, it is redundant to get a postgraduate degree.
This is why I consider the University Grants Commission's (UGC) recommendation of introducing an admission test for master's, replacing the direct admission of undergraduates into the program, a step in the right direction.
In its 47th Annual Report, UGC has brought forth 20 issues regarding tertiary level education, one of them being the lack of resources and research opportunities in postgraduate education caused by the democratisation of master's degrees in Bangladesh. This has been caused by perceiving master's not as a step towards a more research-oriented higher education but rather a mere extension of honours.
Most students in Bangladesh move from honours to master's like stepping from class seven to eight. However, master's level falls into the category of postgraduate studies which is mandatory only for future researchers and academicians. For industry jobs or other popular sectors like bank jobs, civil services and so on, the highest educational qualification needed is an honours degree.
Previously, tertiary level degrees were offered in 3-year honours and 1-year master's. But when the academic structure changed, employer expectations did not. As a result, most private sector employers expect fresh graduates to have a master's degree. Because of the misled expectations, students feel pressured to do a master's rather than gain experience through internships and entry-level job opportunities. For them, this is a waste of time, energy, and money whereas for the universities it is a waste of already limited resources.
If implemented, students who are not interested in academia or research can utilise this year for starting their professional life. This can also serve as a second chance for students who failed to get into their dream university during honours. On the other hand, it will lessen the burden on ill-equipped research facilities in our existing universities. Most importantly, though, a master's degree will serve its actual purpose of being a research-intensive step towards higher education.
However, there is a catch. If the job market and societal expectations remain the same despite the change in academic structure, then the sufferers will again be students. In this case, students will be forced to go through yet another admission test and waste a year doing a master's to meet the unfair demands of society and the market. Worse yet, if a student fails the admission test, it will mean more time lost stuck in a dysfunctional system.
Although a master's is not mandatory on paper, the flawed social expectations and illogical trend in the job market makes it so. It's time we not just question but also remedy this glitch in our system. 
Tazreen is a part-time English major and full-time feminist attempting to be the 21st century reincarnation of Judith Shakespeare. Reach her at [email protected]