A loving send-off to our favourite Derry Girls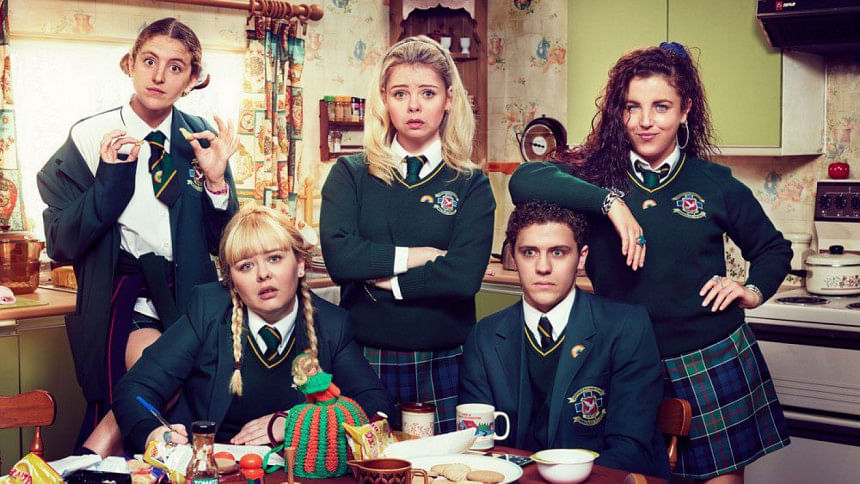 The appeal of Derry Girls, by design, lies in finding comedy in absolute tragedy. The indomitable and perennially optimistic outlook of the youth to want to live their lives and have fun no matter the state their country is in, is a feeling that is unlikely to be lost on young people anywhere.
As the girls (and James) cross armed soldiers every day on their way to school, have their values clash in a school that is too conservative for their liking, and bicker with their parents who themselves are struggling financially due to the state of their country, you relate in their anxieties, miseries, and rebelliousness.
No amount of intense socio-political trouble, parental curfews or sheer bad luck can distract the gang from worrying about life's real problems – saving money for trips, going to parties, trying to skip exams, or hitting it off with one's crush.
After a long wait past the first two seasons, which were truly "cracker", writer and creator Lisa McGee, who wrote the show based on her own experience of growing up in Derry, finally delivers a fitting third season.  
The new (and sadly last) season of Derry Girls in all honesty is a series of hits and misses that strung together in an overall treat for loyal fans, but doesn't manage to quite recreate the sparkling writing quality of the first two seasons.
Episode 4, "The Haunting", was a personal favourite. The premise of the girls (and James) travelling to the abandoned house of a deceased person on a stormy night does not disappoint. Some of the episodes were a miss, including one which has flashbacks to some of the characters' lives years ago. The rather wholesome season finale is set in the backdrop of the Good Friday Agreement of 1998, which mostly put an end to the "The Troubles", the period of political upheaval which serves as the setting for the show.
The brazen and snarky Sister Michael, Principal of Our Lady Immaculate College and one of the villains of the girls' lives, gets a well-deserved longer screen time this season. She and Jenny Joyce are the stars in any school scene in the show for me.  
The magic of Derry Girls is in the crammed spaces in Erin and Orla's house, with all the family members' oversized personalities fighting for space in their overcrowded living room. Each adult is a victim of their own situation and each young person believes they live in a world that lets them be who they are, almost in delusion, that they have a fair chance at a bright future and happiness.
Even though Derry Girls has ended, my mind still lives on in it, and is unlikely to ever escape, the truly bizarre and ridiculous detention scene from the pilot episode. After all, Derry is a state of mind.
Mrittika has started re-watching Derry Girls again from season 1. Send her quirky comedy show suggestions at [email protected]