Jubilee: A visual spectacle crafted by a masterful storyteller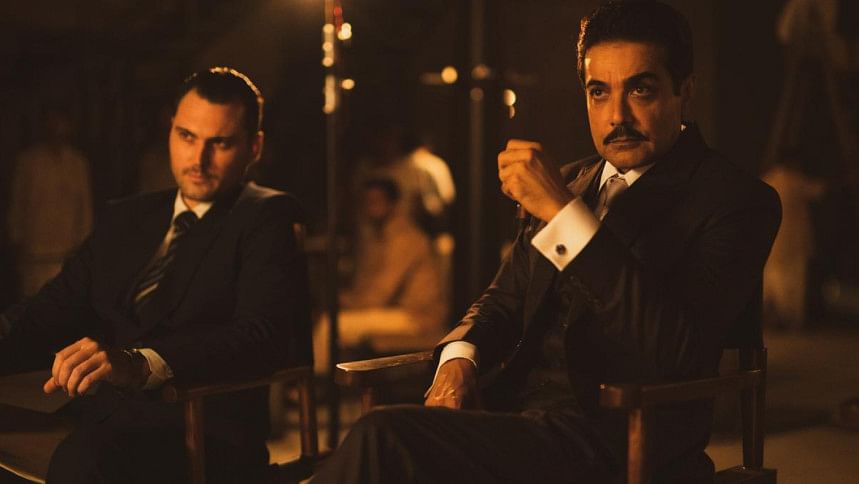 In the first ten minutes of the first episode of Jubilee, director Vikramaditya Motwane succeeds in hooking the audience into the intoxicating and glamorous world of 1950s Bollywood. Starting from the grandiose in its set design to the fabric worn by the actors, you can't take your eyes off the screen for even a second. The masterful cinematography, the proper use of lens flares and the soft and beautiful colour grading are bound to soothe your eyes.
But Jubilee is more than just a visual masterpiece. 
Loosely based on Bollywood's first-ever scandal, the story starts with veteran actor and producer Srikant Roy, played by Prosenjit Chatterjee, and his hunt for a star he's going to launch by the pseudonym of Madan Kumar in his next film. Srikant's wife and fellow actress Sumitra Kumari, played by Aditi Rao Hydari, gets involved in an affair with Jamshed Khan, played by Nandish Sandhu, who's supposed to be cast as Madan Kumar and decides to elope to Karachi with him. Srikant becomes aware of the affair and sends his loyal employee Binod Das, played by Aparshakti Khurana, to bring the two back. 
In a turn of events, when Binod ends up abandoning Jamshed in a car crash and leaves him to die in the hands of communal rioters, Srikant casts an amateur Binod as Madan Kumar. 
The story revolves around Madan's internal conflicts and guilt regarding abandoning Jamshed in the riots and how the incident rewrites the industry forever. 
Vikramaditya's love for filmmaking is evident throughout the series. Jay Khanna's character, played by Sidhant Gupta, is an embodiment of the aspiring filmmaker that once Vikramaditya himself was. Now a veteran in the industry, Vikramaditya has been one of the most consistent filmmakers in Bollywood right from his debut film Udaan. Later, his films like Lootera and Bhavesh Joshi Superhero, went on to become cult classics. 
With Jubilee, Vikramaditya reached his peak. With ten episodes, each spanning over 50 minutes, the director finally got the freedom to tell the story properly by dissecting the layers of human emotions underneath. The characters are humane, grey, and flawed – right up the alley for Vikramaditya to flex his characterisation skills. 
The performances are flawless and subtle in execution. Aparshakti Khurrana stands out as a hesitant and apprehensive Binod. Binod's evolution from a loyal servant to a rebel against Srikant Roy was captured brilliantly by Aparshakti. However, watching childhood hero Prosenjit Chatterjee as an elegant Srikant Roy was the most exciting part. His on-screen presence is brilliant, and he supersedes his co-actors in every frame. 
The screenplay didn't have any rushed plot devices as well. Atul Sabharwal blended the partition of 1947 as a subplot brilliantly. However, what perfected Jubilee was its cinematography and its outstanding soundtrack and background score. Amit Trivedi has always delivered his best with Vikramaditya in films like Lootera and Udaan. Trivedi proved his abilities with retro Bollywood music in his previous venture Qala, and he didn't disappoint with Jubilee. 
Vikramaditya previously co-directed Sacred Games, one of the first Indian web series to gain international praise. With Mirzapur, Delhi Crime, and many other mentionable names, the Indian OTT platform is going through a revolution, and Jubilee just might be the best they have offered to date.  
Remind Ifti to be quieter at [email protected]