HSC 2020 cancelled: You can't make everyone happy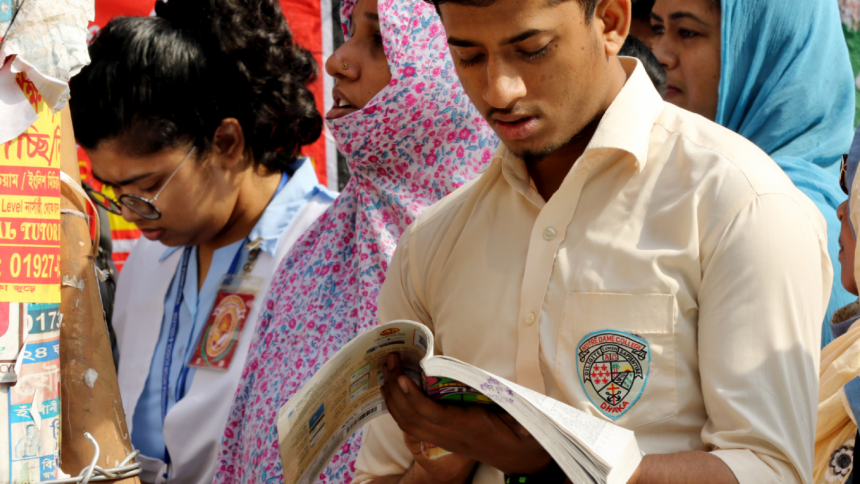 No one expected the HSC exams to be cancelled this year. To everyone's surprise, today, the Ministry of Education decided to scrap the exam and go for alternative evaluation based on JSC and SSC results of examinees. While the decision has received mixed reaction, many HSC candidates are satisfied with the ministry's plan.
Students had been waiting anxiously for a decision since March. Rumours and false reports pertaining to HSC contributed heavily to worsen their mental health. They were confused as to how to maintain the balance between a vast HSC syllabus and university admission preparation. Now that the official decision is out and they know they can focus on university admissions only, they finally feel relieved.
"Undoubtedly the correct decision. Hopefully the government will now handle the admission process properly," hoped Reasat Zaman, student at Notre Dame College.
His opinion was echoed by Pritom Faisal Shaikh, another Notre Dame student. "Finally the students can concentrate only on the university admissions and not worry about the HSC," said Pritom.
Rafia Sara, an HSC candidate from Viqarunnisa Noon School and College, compared the uncertainty surrounding HSC to "a dark shadow cast over the students' lives". She felt liberated, as she did not have to deal with the exams anymore.
"I hope that all HSC examinees get their desired results (based on alternative evaluation) without any heartbreak or disappointment," commented Rafia.
Although many HSC 2020 candidates are content with the decision, some also voiced their concerns over the cancellation of exams.
A student of Notre Dame College, Iftikher Zaman believes that it was not the best decision, given that students will have to sit for competitive admission exams in future. However, he agrees with the fact that the Ministry of Education had limited options to deal with such a significant matter. Yshan Chowdhury, student of Adamjee Cantonment College, is happy that he does not have to worry about the HSC, but is also sceptical about the possible changes in university admission tests.
HSC is a big step up from SSC and JSC, and the fact that alternative evaluation is going to be done based on results from those exams will disadvantage many students. Students who switch education boards after SSC may suffer bad consequences, as results tend to vary in different parts of the country. Many students who do not do well in earlier board exams often get a chance to improve with their HSC results, and this year, these students are going to be left high and dry.
Md. Reyad Hossain, currently an undergraduate student at University of Dhaka, completed his HSC in 2016. Although his results were satisfactory at the time, he recounts that he was not academically well placed in his younger years, "My GPA in JSC was around 3.5, but then I was able to regroup and better my results in the next two board exams. I am worried for kids with results like mine, who have made a lot of effort during their college years to turn things around. Now, they may have to struggle a lot with this new evaluation method, which seems unfair to anyone looking to improve."
In these uncertain times, there is probably no solution that would favour everyone. But it is crucial to make sure that no group of students are left largely disadvantaged, as our education system puts a lot of emphasis on success at the higher secondary stage. Only time will tell what this will mean going forward.
The writer is an HSC candidate from Notre Dame College, Dhaka.