Going Cashless for Coronavirus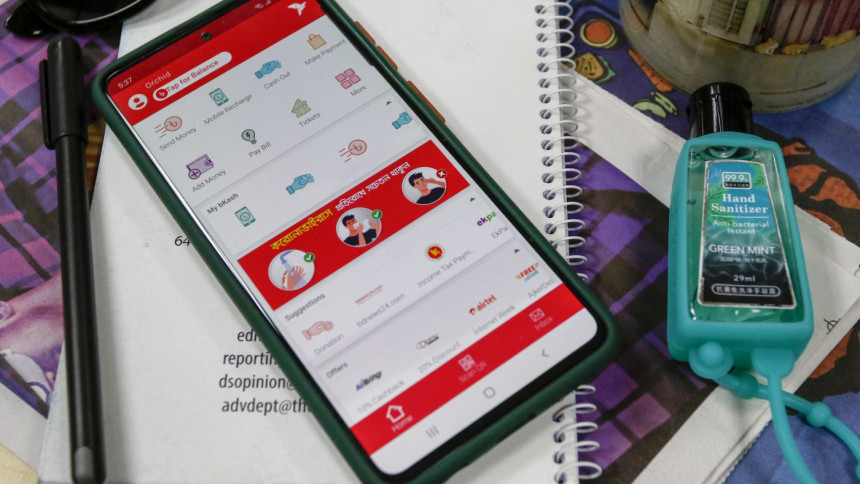 It's been only a few days, but this "social distancing" thing has been a challenge.
It's pretty difficult to get rid of lifelong habits of shaking hands and embracing loved ones, but most of us have learned to avoid these (or so I hope). Then there are unavoidable things like spending money. Cash is one of the most dangerous transmitters of the novel coronavirus, and it is also the most common mode of transaction for a majority of people in their day-to-day lives. However, that's not to say there aren't alternatives.
I'll be honest, I've been trying to go cashless for a while now. Coins—shiny and dull—confuse me, I have the useless habit of losing money, and bank notes that have seen better days usually see their last days in my pockets. A combination of debit cards and a bKash account has served me well in most of my retail expenditures, and I carry some change for rickshaw and bus fares and other random necessities.
With the demands of social distancing and self-isolation, going cashless is going to bring the added benefit of not having to touch notes that could be virus-ridden. Debit cards aren't any better than bank notes because they involve the process of handing an object to someone else and that could lead to transmission of the virus; not to mention the use of ATMs around the city with so many people pressing the hard, plastic buttons for cash withdrawals.
Mobile financial services such as bKash, DBBL Rocket, Nagad, however, can provide true contactless payment. Using mobile-banking apps to transfer money straight from the respective bank accounts to bKash has meant that I've had to use very little cash since this crisis began. I've been using the app to pay for things at convenience stores via QR codes. Most stores around Dhaka have at least one of bKash, Rocket and Nagad available for use, if not all. And so making the use of them rather than handling bank notes, cards, pens, and receipts make proper sense.
While we're on the topic of advantages, let's not forget some of these apps also lets you pay for food delivery services. So, if you're super scared and wear gloves and mask indoors, you can pay through the app and ask the food delivery guy to drop the shawarma at the door. And having said all that, please remember to keep your phones--smart or not--clean. It's the device that acts like a limb so give importance to it as much as you do to washing your hands.
Back to the point: if someone owes me money or I owe them money, I've been using bKash to balance the books. If someone uses no mobile financial services at all, I try not to be friends with them.
Using cash feels like an unavoidable thing or even a practice that a lot of people forget is quite unhygienic. It's not unavoidable in most cases, and with the current state of affairs, it might even be a necessary step to take to keep yourself and your family safe.