German astronaut Dr Insa Thiele-Eich to talk about climate change in Bangladesh tomorrow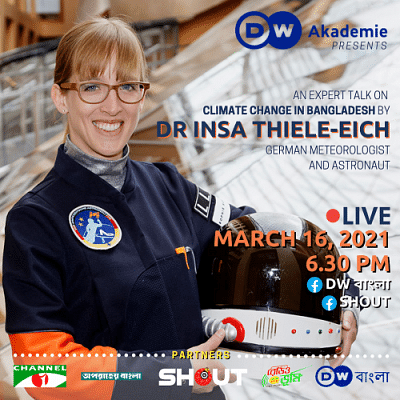 In April 2017, Dr Insa Thiele-Eich was selected as an astronaut by Die Astronautin, a German non-government project that aims to send the first German woman in space. The 37-year-old German meteorologist working as a scientific coordinator at the Meteorological Institute of the University of Bonn was selected out of over 400 applications from STEM, military and aviation backgrounds.
The initiative began in March 2016 with the plan to launch the flight of the first German female astronaut by 2020. However, the timeline has been pushed back and the flight is scheduled to take off in mid-2021. By March 2017, Thiele-Eich secured a place among the top six finalists. Alongside Thiele-Eich, fighter pilot and Major Nicola Baumann was also selected as one of the two winners. Unfortunately, she later withdrew from the programme, and was succeeded by Dr Suzanna Randall, an astrophysicist working at the European Southern Observatory. Of the two, only one female will be set to fly the historic mission with the other acting as a backup.
An astronaut-in-training and mother of three, Dr Thiele-Eich has been closely involved with Bangladesh when it comes to research activities. Her interests include the impacts of climate change – which earned her a PhD – in Bangladesh, impact of climate and weather on human health, global hydrometeorology (a merge of meteorology and hydrology) and extreme value analysis. She has analysed the water level and mortality data to establish trends in the water level and flooding of Dhaka and find their impact on mortality. Moreover, her works also involve the role of "social capital" in coping with the impacts of severe floods in Dhaka slums.
Dr Insa Thiele-Eich will deliver an expert talk on climate change in Bangladesh tomorrow on Tuesday March 16, 2021 at 6.30 PM, hosted by Deutsche Welle (DW) Akademie. To join the conversation LIVE, tune in to https://www.facebook.com/dw.bengali/ and The Daily Star and SHOUT's Facebook pages.
The event is also partnered by SHOUT, Channel i, Radio Bhumi 92.8 FM and Oporajeyo Bangla.