Exploring the royal artiste of Matt Smith
In both House of the Dragon and The Crown, Smith was equally fascinating.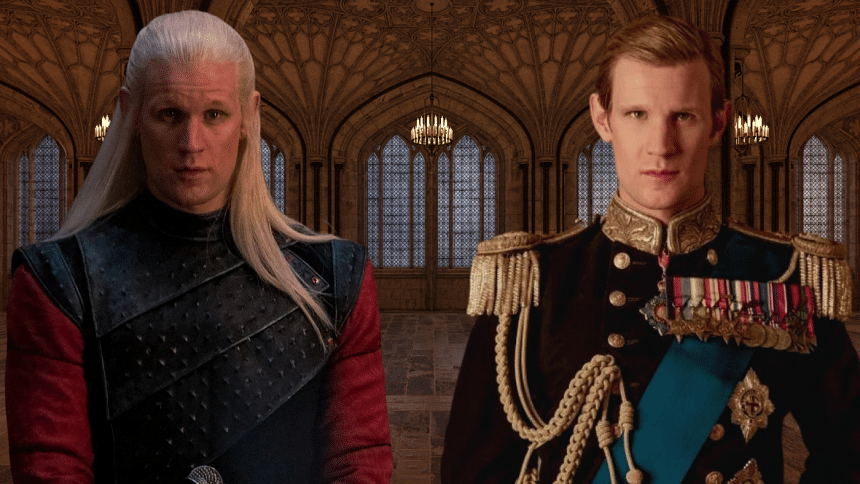 Portraying a royal is probably the toughest job for an actor. Not only do they have to capture the raw humane emotions, they also need to convincingly act with the aura of a being who believes they are superior to all others. For Matt Smith, this seems to be a cakewalk.
Rising to fame as the eleventh Doctor, the crowing jewels of Smith's career has certainly come playing royalty. Fans have been left in awe by his performances as a young Prince Phillip in the first two seasons of The Crown, as well as Daemon Targaryen in House of the Dragon.
In both the shows, Smith was equally fascinating, capturing the suspenseful, wholesome and defiant aspects of both the late Duke of Edinburgh and the Rogue Prince.
Smith has been known for his eccentricity over his career, but even then, the way he mastered the polarising Prince Phillip has impressed The Crown's fanbase. His performances truly captured the essence of the Duke of Edinburgh, who, despite his duties towards Queen Elizabeth II, still tried to be bold and get more connected with the real world.
His performance in season two was amazing. With the pressure of emulating a then-living monarch in all his eccentric splendour, Smith delivered one of the finest performances in a biopic. From showing his discontent towards royal traditions, to his (mis)adventures with navy comrade Mike Parker and dealing with the intense press coverage, to dealing with his childhood demons and his harshness towards the future King Charles III – Smith truly captured Prince Phillip in a microcosm. Watching his portrayal, it was hard to believe Smith wasn't a monarch himself, underlining just how impeccable his performance was.
The eccentricity of Matt Smith we saw in The Crown was just a teaser of things to come. Prince Daemon Targaryen is arguably the most controversial character in the Game of Thrones universe (as well as writer George RR Martin's favourite).
Smith's casting as Daemon was initially met with backlash from fans. Over the run of the first season however, the pessimism turned to praise as Smith flawlessly depicted the morally grey character of the Rogue Prince.  
The versatility of Smith was personified as he seamlessly transitioned from a figurehead constitutional monarch to a typical medieval prince. From the word go, it was evident Smith and Daemon is a match made in heaven – with Daemon's twisted psychology and emotional beats perfectly captured by Smith. It's to his immense credit that fans could 'live' Daemon's on-screen ruthlessness towards enemies.
Matt Smith's artistic talents were on full display in both shows, but his magnum opus is undoubtedly THAT scene where he improvised to pick the fallen Crown and help his seriously ill brother, King Viserys I Targaryen (played by Paddy Considine) to the Iron Throne. This not only shows Smith's artiste, but also shows that he understood the raw powers of human emotions which scripts can't capture.
What is more fascinating is that Smith portrayed the complexity of Daemon's grey character in all its haphazard glory perfectly – a seemingly rogue knight who truly prioritises his and his family's good over anything, and is unafraid to change sides if it's in their best interests.
With the end of the first season of HotD, Matt Smith has it all laid in front of him to cement his legacy as the brilliant royal artiste who defined a generation.
Inqiad is a long-suffering Man United fan and a self-proclaimed Targaryen. Contact him at [email protected]