Celebrities to sue Bangladeshi saloons for using unauthorised pictures of their hairstyles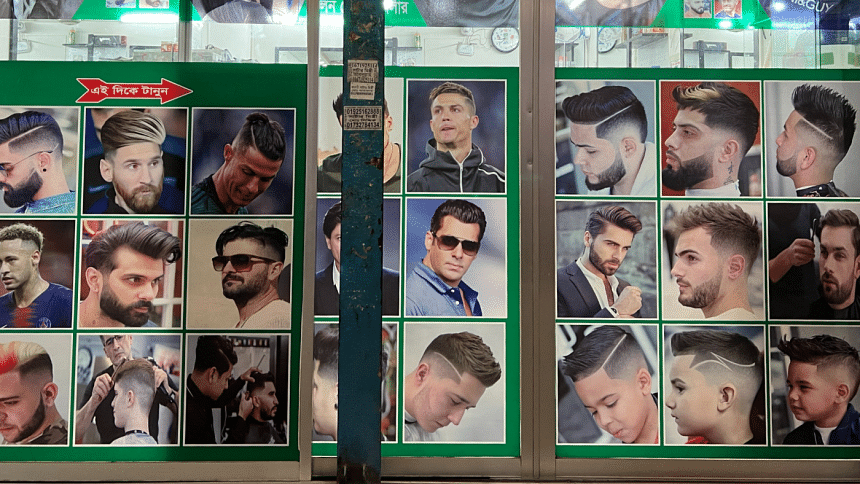 Celebrities around the world finally take notice of the unlawful use of their pictures in Bangladeshi barber shops for advertisement purposes, with many celebrities even intending to sue the local barbers. Experts suggest that if the cases actually reach the court and the barbers are forced to remove pictures of emo Salman Khan from Tere Naam or whatever it is that David Beckham did with his hair in the early 2000s, the aesthetics of Bangladeshi saloons might be in jeopardy.
"Back when Aamir Khan drove a lawnmower across his semi-bald head in Ghajini and half of Bangladesh went crazy, I was the only barber in this area who knew how to pull off that haircut," boasted Altaf Napit, chief hairstylist of Priya Hair Stylez. "Victims of boys' school atrocities were my most favourite customers in the past. The twisted sense of discipline in Bangladeshi boys' schools is the only reason this profession is still alive. As we all know, the greatest crime a school student can commit is having an opinion on how he wants to grow out his hair. It's my job to make sure these students look the way their PT teachers want them to – oppressed, tormented, and devoid of all joy in life. But now, with the TikTok revolution, we're on the opposite side of the spectrum. Teenagers are now willing to spray paint their hair, much like Ariana Grande did to her skin. And I'm open to that as well! No judgement from my end. I say Hallelujah to whatever makes you happy and keeps cash flowing into my pocket."
"Bollywood superstars and athletes with questionable haircuts has been my closest confidantes in this business," continued Altaf while caressing a portrait of Tom Cruise on his bad haircut days. "My walls are filled up with the cringiest pictures of actors and athletes I could find online. As a Bangladeshi, I'm obviously not acquainted with the idea of copyright. We have professional graphic designers stealing stock images from Shutterstock and putting them on jerseys and franchise league logos! So, pardon your local low-income barber for not asking Akshay Kumar for permission before using his 480p headshot from 2002." 
Despite earning millions, celebrities aren't willing to tolerate the misuse of their portraits any longer and many have sent their lawyers to Bangladesh to file lawsuits against local barbers. "My client is at the end of his career and is willing to milk out every last penny off of his fading past glory," said Bawl Badman, the lawyer representing professional footballer Frisbiano Donaldo, "My client isn't particularly angry at the barbers for using his portraits without permission, rather for messing up the haircuts every single time. If you're going to mess up your customers' hair and over-shorten it every time despite their constant pleading, why bother putting up the pictures at all?"
"Studies suggest that every 40 seconds, some high schooler around the world is getting bullied by their classmates for a haircut their barber messed up," said Mr Badman, "It's time we put a fight against this atrocity and bring them to court."
Remind Ifti to be quieter at [email protected]