When Brazil and Argentina Meet, It's More Than a Game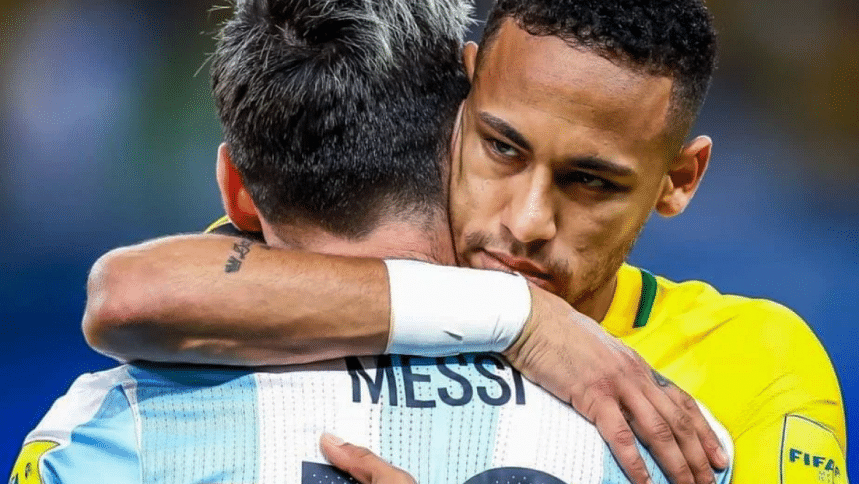 The rivalry shared by Brazil and Argentina is one where football is heralded as more than a sport. It is tantamount to a religion. 
This competition has transcended borders and hit the shores of the Bay of Bengal like never before. Bangladesh has made it to Argentine national newspapers with the fanaticism and altercation between supporters of the two nations. 
How exactly did this small nation become so frenzied about a football rivalry that they would go extra miles to show their allegiance?
Argentina has two world cups in their bag, last of them coming in 1986. The country, in fact, have not won a single international trophy since their 1993 Copa America triumph, barring the gold at the 2008 Beijing Olympics. 
In a nation where football fans like to brag about their favourite team's trophy cabinet, it's interesting that so many people still have their hearts sewn with the light blue and white flag. 
Once the world cup broadcasting history is taken into account, the fog around this issue starts to settle. 
BTV first started broadcasting the World Cup in 1974. Argentina won the World Cup in 1978 and 1986, and came tantalisingly close in 1990, where they lost to West Germany over a controversial penalty decision. 
What drew Bangladeshi TV viewers and football fans to Argentina was a man named Diego Maradona, who needs no introduction. Nonchalantly getting past defenders, bamboozling defence lines with disguised runs and serving goals on a plate for forwards -- Maradona epitomised the notion of "one man army".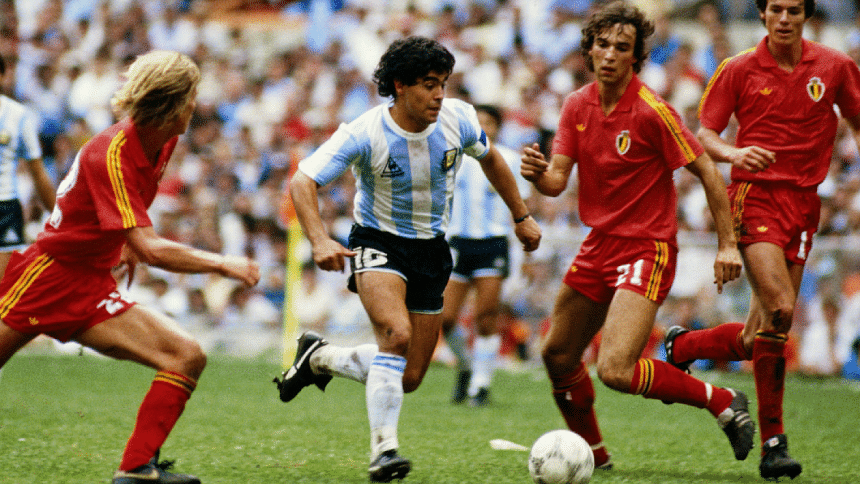 His unrelenting personality, exemplary leadership along with his on-field tantrums and off-field antics made him a character always under the spotlight; a character, who despite all his reprehensible actions, was loved by his fans. Bangladeshis even shed tears when they saw their football hero crying relentlessly after the loss in the 1990 final.
After Maradona's departure from football, Argentine fans found it hard to replace such a gargantuan figure. Players like Gabriel Batistuta and Juan Sebastian Veron gave them a lot to cherish, but with the lack of trophies, they didn't have the bragging rights. 
And in the midst of it all, the Brazilian fanbase started to grow and gain a voice. The land of beautiful football reached three consecutive finals, winning two of them, in 1994 and 2002. The latter of which was hosted in Asia.
You don't have to delve deeper to understand this fandom. An ornate trophy cabinet comprising five world cups gave their fans a lot to be loud about. Furthermore, Brazil kept producing stars who not only dominated international tournaments but also graced club football, winning individual and continental honours regularly. Stars like the phenomenal Ronaldo Nazario, Rivaldo, Romario, Ronaldinho, Cafu, Roberto Carlos, and Kaka embodied swagger in their respective positions.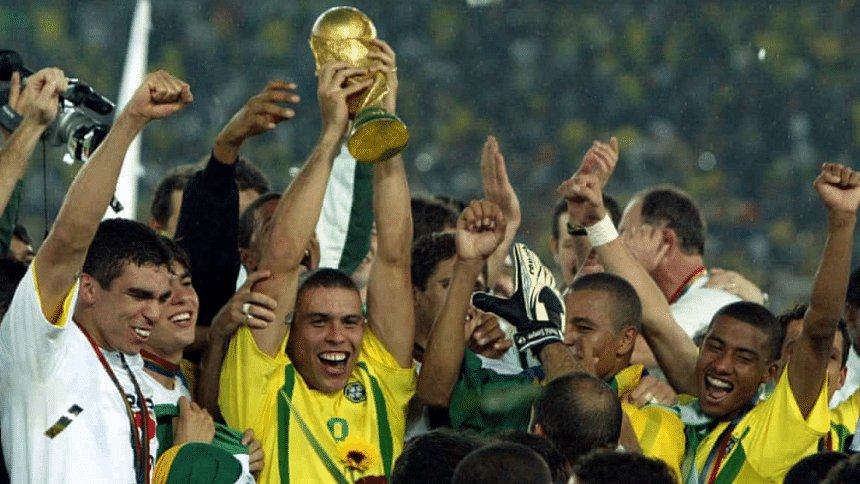 Fans who aren't quite taken to the intricate tactics of the field could easily be mesmerised by the Jogo Bonito, the flair and the fluid passing of Brazilian football. Big names and five world cups were icings on an already scrumptious cake for the samba fanatics.
This fandom became generational as children stayed up all night with their parents, grasping very little of what was going on in that CRT TV, as they were touched by their enthusiasm, tears and jubilation -- all just for the love of a team. 
Some of those kids grew up to find their own messiahs. An alien called Lionel Messi revived the case for the Albicelestes fans and the Seleção fans found the evanescent samba in Neymar Jr. 
The rituals of flying massive flags, painting houses and streets with respective colours did not die down despite a surge in European fanbase. The Messi-Neymar duo blossomed into a meaningful relationship but the fierce rivalry between their Bangladeshi fans took a dive in Lazarus pit and rose like an untamed Ra's al Ghul.
While tomorrow's early morning clash of the two footballing giants in the Copa America final may stir up new controversies, one can be sure that the Brazil-Argentina fandoms and their fanbases in Bangladesh are far from a peace offering. 
Alavi Ashraf Eram likes to blabber about his favourite movies, songs and sports. Drop him your movie critiques at www.facebook.com/alaviashraf.eram
Read more about youth, sports and fandom on SHOUT.