A beginner's guide to preparing for the SAT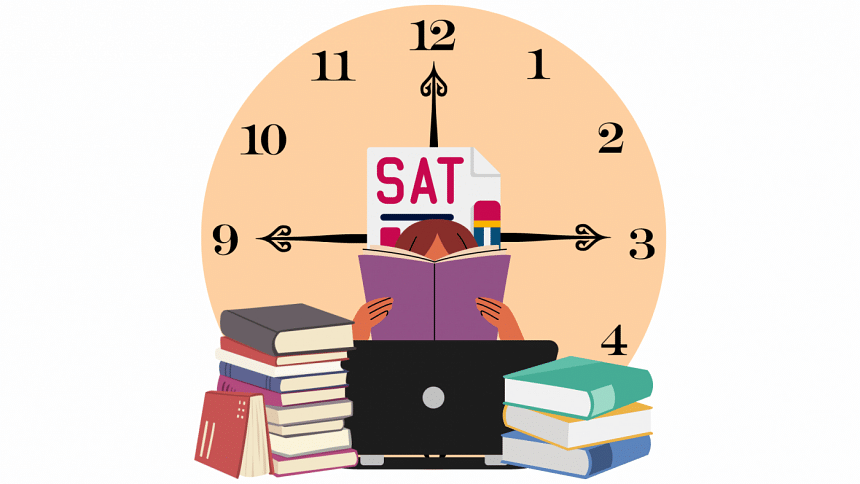 The Scholastic Assessment Test (SAT) is a standardised test widely used for college and university admissions in the United States. The test comprises four sections – reading, writing and language, math without calculator, and math with calculator.
When it comes to preparing for the SAT, everyone has their own personalised approach. In this article, I discuss everything I did to prepare for the test. 
For starters, consider taking a free online practice test on Khan Academy to know your current score and how much preparation you need to improve that score.
Reading
The reading section consists of 52 questions that are to be completed in 65 minutes. This section typically consists of four long single passages and one set of shorter paired passages.
Many test-takers struggle with this section because of the sheer volume of reading that needs to be done and the time crunch. You may have heard phrases like "skim through the passage", "read the questions first", and whatnot. While these strategies may have worked for someone else, figuring out what works for you best is essential.
While reading comprehension is a skill that is acquired over time, you can improve on the reading section by practising SAT standard passages under a time constraint. Many practice passages are available on Khan Academy and other websites.
Keep track of the different types of questions and which ones you are more prone to get wrong. The Complete Guide to SAT Reading by Erica L. Meltzer is also an excellent resource for practising SAT reading.
Writing
The SAT writing section consists of 44 multiple-choice questions that are to be completed in 35 minutes. Knowing grammar and its application is of utmost importance in this section. Specific grammar rules are always tested in this section.
The Princeton Review SAT guide has the most comprehensive explanation of all the grammar rules you will need. For practising SAT writing, Khan Academy is a reliable option.
Once you have taken the practice test, identify your mistakes in the writing section and head to the topic-wise practice section to hone your skills. Write down your mistakes and see if you're repeating them. If you are, learn the specific rule you're facing trouble with and do some targeted practice on Khan Academy.
Math without calculator
You won't need to use a calculator for most of the problems in this section. However, what makes this part difficult for many is the time constraint. The math section requires you to complete 20 problems in 25 minutes. 
The College Panda's SAT Math by Nielson Phu served me really well. In addition, Khan Academy's practice problems are also helpful for identifying your weaknesses in specific math problems and working on them. You must pay attention to time management for this section.
Math with calculator
This section consists of 38 math problems that get gradually more challenging. Test takers have 55 minutes to complete this section. 
If you are not very confident in your math abilities, the best way to go about this section is by first understanding all the key concepts that are usually tested and then practising from Khan Academy's topic-wise modules or any other credible source you feel comfortable with.