Bangladeshi edtech Shikho closes seed investment of USD 5.3 million
By digitizing Bangla learning content, Shikho aspires to improve educational outcomes for students through accessible and affordable online learning solutions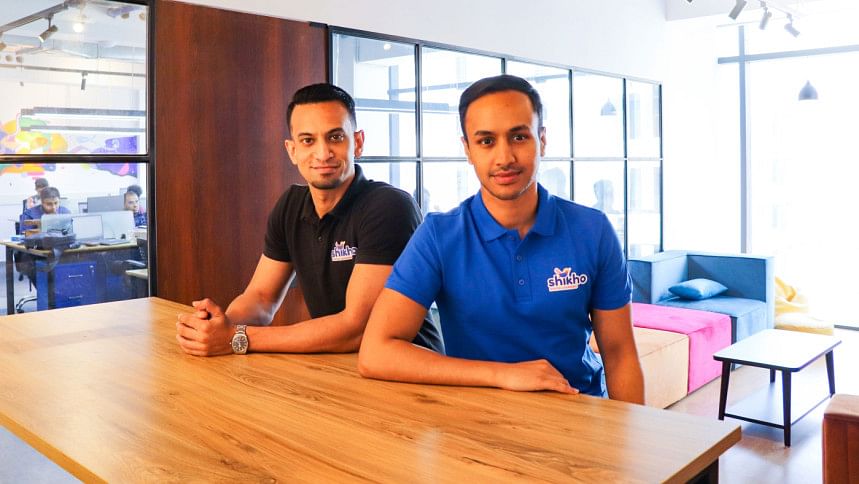 Bangladeshi edtech startup Shikho, a company dedicated to making high-quality education accessible and affordable, today announced it has raised USD 4 million in new seed funding. This is in addition to the USD 1.3 million it raised in August 2021, bringing its total round to USD 5.3 million, the largest seed funding a Bangladeshi startup has raised to date.
The investment was led by Wavemaker Partners, a leading venture capital firm in Southeast Asia, with participation from seven other global investors. These include returning investors LearnStart, the seed fund of Learn Capital, Anchorless Bangladesh, and Vibe Capital. The company has also added new backers in DSG Consumer Partners, Black Kite Capital, Ratio Ventures, and Julian Shapiro, the Founder of Demand Curve.
Shikho launched the first version of its mobile learning app in November 2020 and already has over 350,000 users spread across all 64 districts of Bangladesh, with paid subscribers currently spending an average of 68 minutes on the app daily.
Shikho provides academic courses for the Bangladeshi National Curriculum Secondary School Certificate (SSC), Higher Secondary School Certificate (HSC), and competitive University Entrance Exams. The company plans to use the fresh funding to now cover classes 6, 7, and 8, as well as add a more comprehensive and enhanced offering for vocational and language skill building. In addition, Shikho is already working on relaunching Bohubrihi, a well-known Bangladeshi professional courses platform it had acquired, with new and improved features.
Shahir Chowdhury, Co-Founder and CEO of Shikho, said: "Shikho is a purpose-driven company focused on enabling access to exceptionally high-quality learning content and instruction and transforming how Bangladesh learns by leveraging modern technology. We are very proud to have pioneered the introduction of animated video content to aid visual learning and for launching the first and only personalized, data-driven learning-app available in Bangladesh."
Using Shikho, a student is able to access unique on-demand animated video lessons; learn by solving a large bank of in-app questions with detailed solutions; track performance and progress using data analytics on a real-time basis; review summarized 'smart notes' that include definitions, formulae, proofs and 'hacks'; and finally, attend live classes with expert tutors. Students can learn at their own pace with Bengali learning content accessible anytime and anywhere at a fraction of the cost of traditional tutoring services.
"Since August 2021, the team has grown from 60 to over 300 strong spread across four different locations and we plan to continue strengthening several departments. It is truly humbling to have the support of such an established and experienced group of global investors who believe in our mission and purpose as much as we do. We have incredibly exciting and ambitious plans for 2022 and look forward to working with all our strategic partners," said Shahir.
Regarding the investment, Paul Santos, Managing Partner at Wavemaker Partners, said: "Not all Bangladeshi students have equal access to remote learning tools or high-quality education. Many feel they have to pay for expensive private tutoring to pass highly-competitive national examinations. With Shikho, students can access high-quality educational content from top teachers on their phones and computers at a reasonable price. We're inspired by Shikho's mission and excited to continue supporting them to democratize access to quality education for students across Bangladesh."
Prior to this round of financing, Shikho raised USD 275,000 in pre-seed financing from LearnStart and strategic angel investors, including Zubair Siddiky and Ambareen Reza, the Managing Directors of Foodpanda Bangladesh, and Adeeba Khan, Director of Summit Power International Limited.
About Shikho
Shikho is an education technology (edtech) company building a hyper-localized digital learning ecosystem centered on modernizing the delivery of the Bangladeshi National Curriculum and making it fit for the 21st century. Combining expertise across content, instruction, media, and technology, Shikho utilizes multi-layered gamification and modern learning methods to make online learning enjoyable, engaging, and effective. The company adapts material from the national curriculum, helping students using their platforms to transition more easily to online learning environments by engaging them with the material they are already accustomed to in traditional classrooms.
For more information, please visit https://shikho.tech/
About Wavemaker Partners
Wavemaker Partners is Southeast Asia's go-to VC firm investing in early-stage enterprise, deep tech, and sustainability startups. Since 2012, it has backed 170+ companies, of which about 150 (85%) are in enterprise or deep tech. The firm has over USD 300 million in AUM across four funds in the region, and has seen more than 10 exits with an aggregate enterprise value of over USD 700 million. Today, 75% of Wavemaker's active portfolio startups in Southeast Asia are aligned with at least one UNDP Sustainable Development Goal.
For more information, please visit https://wavemaker.vc/sea
About LearnStart
LearnStart is the seed fund of Silicon Valley based global education technology investment specialists Learn Capital. Learn Capital is a venture capital firm focused on breakthroughs in education technology. As the first dedicated firm in the sector, Learn has invested early in 50+ global category-leading companies including Coursera, Udemy, VIPKID, Nerdy (Varsity Tutors), Andela, Minerva, Brainly, Higher Ground Education, Photomath, Teachable, and many others. Headquartered in the San Francisco Bay Area, Learn supports entrepreneurs pursuing scalable learning platforms and cloud-powered instructional services intended for stakeholders of every age and background and on nearly every continent.
For more information, please visit https://www.learnstart.vc and https://www.learn.vc
About Anchorless Bangladesh
Anchorless Bangladesh is an early-stage venture capital fund focused on advancing the local startup ecosystem in Bangladesh with access to global resources. It partners with the best local founders, prioritizing businesses where scalability and social impact are aligned. The diverse team at Anchorless harnesses its experience in emerging markets public and private equity, venture capital and emerging technology startups to help companies capitalize on the unique opportunities and resources of the country—and beyond.
For more information, please visit http://www.anchorless.vc
About DSG Consumer Partners
DSG Consumer Partners is India & Southeast Asia's leading consumer venture fund with USD 250 million in AUM that invests and partners with brands specifically in the consumer category. DSGCP focuses on fast growing consumer brands building new categories in the region in the Seed to Series A stage. Since launch in 2013, DSG Consumer Partners has partnered with leading consumer brands and businesses in the region including: Veeba, Epigamia, OYO Rooms, Redmart, Chope, Perromart, SaladStop, Growthwell, Kind Kones, The Golden Duck, Brewlander, and more.
For more information, please visit https://dsgcp.com