PLAYWATCH
Gintama, the Jack of All Trades for Shonen Anime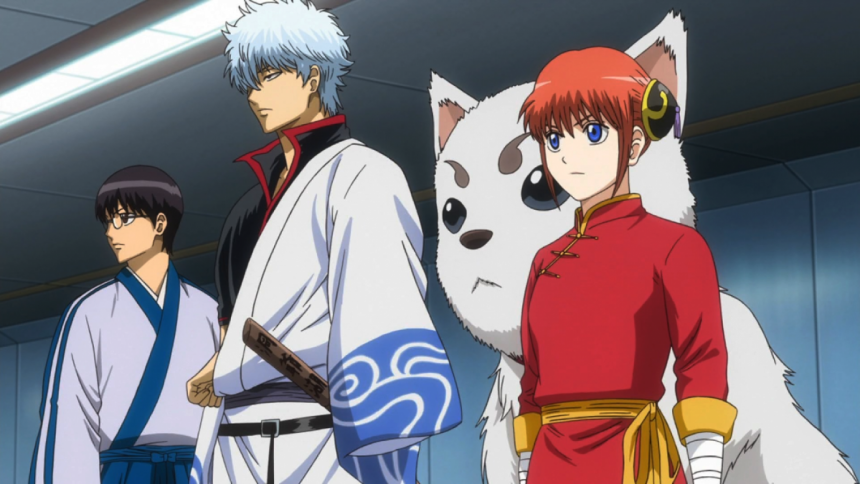 With so many anime shows in existence, formulating the genre and direction of progression for almost any of them becomes pretty straightforward. The tone set for the anime easily helps in defining the theme it is trying to portray. Sometimes we do see certain moments in any show that may deviate from its main theme, but that does not take much away from its primary setting. 
Take Dragonball for instance, which has quite a few comedic moments, but is unmistakably an action battle shonen. However, one anime often comes to mind which remains as an exception to this very mindset. 
The anime in question is Gintama, a comedy oriented show on the surface, but in actuality remains an amalgamation of various themes serving as a melting pot of several genres.
Written and illustrated by Hideaki Sorachi, Gintama was first published in the Weekly Shonen Jump magazine in 2003, and would later make its anime debut in 2006. Set in an alternate late Edo period Japan, the story revolves around the trio Gintoki, Shinpachi, and Kagura, who work as odd job freelancers in a world where aliens called "Amanto" have invaded and spread their technological advancements throughout the lands in exchange for their diplomatic dominance. 
The story advances with them living their lives nonchalantly while making new companions and saving the world along the way in their frivolous manners.
The unique worldbuilding of blending a historical period with a sci-fi theme facilitates the show to progress in a nonlinear way without drifting away from the main storyline. And all the distinctive scenarios presented in the show are accompanied by unique characters with contrasting personalities and motivations.
To say that Gintama has a strong cast of characters would be an understatement. The main cast is atypical of the principal figures of other anime, with their quirky nature being prominently exhibited. The supporting cast is also impactful, as they heavily influence the narrative while maintaining their relevance even after their respective arcs are over. 
Gintama starts off rather slowly focusing more on random comedy skits. Gradually, it starts to pick up the pace with more humorous satire, making proper use of the unique setup of the story to conjure quite outlandish scenarios. With slapstick and pantomime of said scenarios as the backbone of its comedic approach, Gintama does not hold back while taking a dig at other media, big or small, through arbitrarily parodying them, often breaking the fourth wall. 
Notable shows that have been referenced in Gintama include One Piece, Dragonball, Bleach, Spirited Away, Detective Conan, Pokemon, and many others. The show did not limit itself to only Japanese shows though. It has also parodied western shows like Charlie's Angels, Saw, Slumdog Millionaire as well as popular figures like Will Smith, Donald Trump, and so on.
Besides comedy, Gintama also has some of the most awe-inspiring action scenes in anime. The essence of a classical samurai battle can be experienced even within the show's bizarre setting, and the well-developed characters add a lot of depth to these battles. 
Alongside all this, the historical backgrounds and the sci-fi elements blend together in an uncanny manner, where the historical plot roots the story towards maturity while the sci-fi part lightens the tension around the show. 
Romance is also nicely handled in Gintama. The show establishes the dynamic among many of its characters and fleshes out the background for the others. There are moments that will make one wonder if you are actually watching a seinen anime focused around psychological relations rather than your run of the mill comedy shonen.
Gintama is by no means a perfect show. It tries a lot of different things, and not all of them work. Nevertheless, it gets many of those aspects right, and properly balances all of the elements within the show. 
After faking the manga ending twice, author Sorachi had finally brought an end to Gintama in June of 2019. The show concluded with the movie Gintama: The Final in 2021. 
To this day, Gintama remains unique to its take on the various themes of shonen, making it the jack of all trades for shonen anime.