1st International Conference on Love & Various Emotions (ICLoVE 2020)
The three-day-long "1st International Conference on Love and Various Emotions (ICLoVE 2020)" successfully took place on February 10-12, 2020 at Hotel Amaderi Dhaka. The event was organised by Bangladesh University of Professional Lovers (BUPL). Many renowned academic scholars and researchers in the complex field of love and emotions, and other dignitaries along with enthusiastic students from all across the world came together to participate in this conference.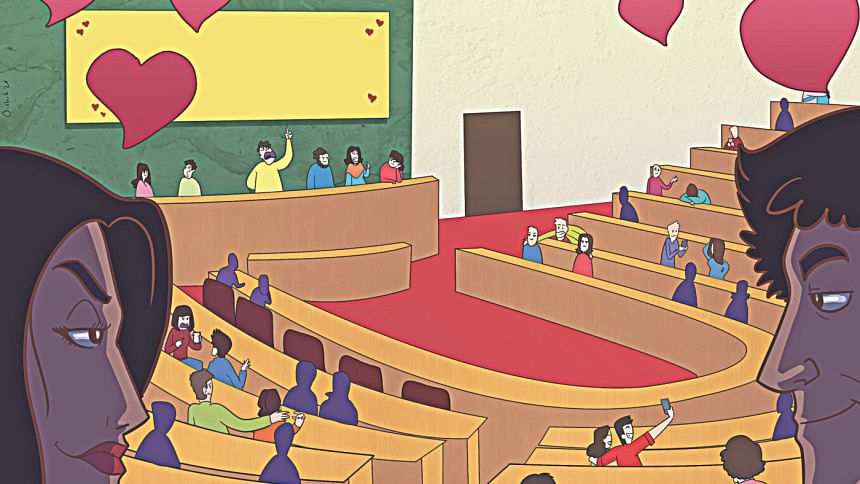 Days one and two consisted of keynote presentations exploring romance of all depths from different angles, with discussions and potential solutions to some critical problems. Over the course of the three days, various workshops were also held. One of the more popular workshops was titled "How to be a Model Third Wheeler".
This one-of-a-kind conference was overseen by Charming Prince, Joint Secretary of the Ministry of Love Affairs. The inauguration ceremony was a romantic brunch where he discussed his foray into this field after falling in love and rescuing his beloved from an evil witch. 
ROLE OF THIRD-WHEELERS
The keynote session of day one was titled "Role of Third Wheelers in Modern Relationships" conducted by Dr. Prem Pushpo, Associate Love Guru, Bangladesh University of Professional Lovers (BUPL).
"A third wheeler is to a relationship what the Metro Rail project is to Dhaka city," compared Dr. Pushpo. "You are tolerating it for now because someday, it might be of good use to you."
Dr. Pushpo explained how important third wheelers are in modern relationships. Her research suggests that nine out of ten couples turn to their third wheelers after breaking up to talk trash about their former significant other. The tenth one, however, gets back together. The research also points out that newly separated couples reach out to their third wheelers individually to tell them how they were always right about everything and how their partner had always been a bad person.
Apart from being an Associate Love Guru, Dr. Prem Pushpo is also a veteran third wheeler. She happens to be an honorary member of the Fellowship of Third Wheelers (FTW).  
PREVENTIVE RED FLAG DETECTION
The second presentation of the day was delivered by renowned love scientist Dr. Hercule Pirit of the Department of Hazardous Relationships, National Institute of Romance (NIR).
Dr. Pirit's talk was on red flag detection before entering into a relationship. According to him, 99 percent of all relationships fail due to the inability of the individuals to identify the warning signs beforehand. The remaining one percent go on ignoring the red flags until they eventually decide to take a break, thinking that a little time away from each other will help them accept those red flags.
"Prevention is better than cure," suggested Dr. Pirit. "In the case of relationships, identifying the red flags before you commit yourself is much better than ignoring those flags and then sharing that infamous 'Looking through rose-coloured glasses' quote from BoJack Horseman on social media."
In order to detect the red flags, Dr. Pirit suggested that couples should date for at least three years before making things official. He also suggested that they avoid sugar-coating things for each other. 
DATING FOR DUMMIES
The talk titled "Dating for Dummies" was delivered by Dipu Kala-Bhuna, CEO of Kala Bhuna Stories, an online dating platform for the people of Chattogram. Kala-Bhuna's lecture focused on the mistakes people make while dating, how to set up a dating profile, and how people should approach a potential dating partner prior to asking them out.
"Dating is not an easy task," stated Kala-Bhuna. "If you are not familiar with this extreme sport, I recommend that you pay attention to me and my slides instead of the buffet table to your right. Lunch is not on for another couple of hours. So, till then, your eyes should be on me."
Kala-Bhuna advised the audience to follow the "FML" approach while on a date. FML stands for "Feelings, Marriage, Love", and he strongly advised the audience not to talk about these things while on a date, especially the first one. Kala-Bhuna also showed the audience examples of good and bad dating profiles. The audience were shocked when they saw his own dating profile on the slide, marked as a bad one. They were confused as to how a dating expert was unable to work on his own dating life. But Kala-Bhuna was quick to explain that he "deliberately" ruins his dates for research purposes.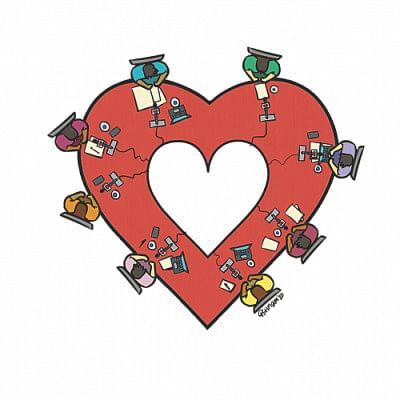 NEED FOR BOUNDARIES
Day two began with tackling an all-important topic. Guest speaker Dr. Eida Loveless delivered her presentation where she discussed the importance of maintaining individuality even after getting into a relationship.
"Yes, I understand how alien this might all sound but my research has indicated that there is actually no need to completely immerse yourself into your significant other's life. It is okay if they decide to go to sleep a little early instead of staying up talking to you till dawn," declared Dr. Loveless.
Her revelations really shocked the crowd and towards the end of the session, a lot of them posed questions like, "My person won't reply within five minutes. Does that mean he is seeing someone else? Why else would it take him so long to get back to me?" 
DEALING WITH THE JEALOUSY MONSTER
After a small break for snacks, the presentations continued. The second keynote presentation of the day was given by Mohabbat Mia, renowned author of the book Love in the Time of Social Media.
He talked about what drove him to write the best-selling book, "You see, every relationship has insecurities and that's okay. But, the emergence of social media has amplified those fears and insecurities. This is actually an elaborate ploy to keep us busy checking which posts our partners are 'heart' reacting so that we don't pay attention to the aliens taking over. I was just like you people once. Naïve. Then, one day I dreamt that the aliens were taking over and after waking up I knew right away it was a sign. I realised what I had to do and I immediately started writing this book."
Further questions regarding the topic at hand were shoved off as unimportant. "The aliens are taking over and you're worried about your partner liking an Instagram model? Shame on you," he concluded. 
KEEPING THE ROMANCE ALIVE
Along with being a crowd favourite topic, this was also the last presentation of the day. The crowd was still bright-eyed even after a whole day of hearty and intellectual discussions. This last presentation was delivered by Dr. Gether Flowers, whose doctoral research was on how to keep the spark alive in a relationship.
It turned out relationships actually require some work. Even though a person toils day and night to woo their partner, the work doesn't stop after they manage to bamboozle their significant others into being with them. Apparently, one needs to work actively throughout the entirety of the relationship to make their partner feel loved just like they felt in the beginning. The crowd was surprised and most took notes on the little ways they could be more romantic towards their respective partners.  
CLOSING CEREMONY
The closing ceremony of the conference was graced by the presence of the chief guest Dr. Dave Das, Honourable Member of the Chamber of Unsuccessful Lovers (ChUL).
The ceremony began by awarding the best papers of the conference. The papers titled "A Qualitative Analysis of the Friend Zone", "Role of Artificial Stupidity in Premature Break-ups", and "Comparisons between a Break and a Break-up" received the best paper awards in their respective categories.
This was followed by a short cultural programme where popular bands Panic at the Bijoy Sarani Signal, My Formalin Romance, and The Strokes entertained the audience.
Finally, the event was brought to a close with a vote of thanks from the conference secretariat, and a few short speeches by the conference guests and sponsors. The night ended with a short meet-and-greet with the press, and a gala candlelight dinner.
Faisal wants to be the very best, like no one ever was. To survive university is his real test; to graduate is his cause. Send him memes and motivation at [email protected]
Tasnim Odrika likes pineapple on pizza and is willing to fight anyone who opposes her on this. Reach her at [email protected]