All aboard the Steampunk Train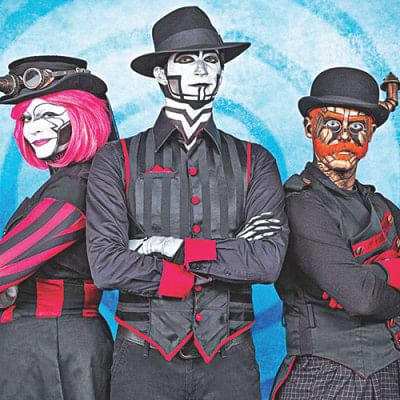 Ever heard of steampunk bands? Me neither, until very recently. Steampunk is a sub-genre of science fiction that is set in a historical period, usually featuring steam powered machines. Steam Powered Giraffe is one such band that incorporates steampunk not only to its music but also to its performance. 
The band consists of three singing automatons played by twins Isabella "Bunny" Bennett and David Michael Bennett and Bryan Barbarin, who refer to themselves as Rabbit, The Spine and Zero on stage respectively. Hailing from San Diego, the band started out in 2008 and has made quite a splash with its unique performance style. 
The thing that makes Steam Powered Giraffe so intriguing is the fact that they combine humour, robot pantomime, story-telling and music in their performances. Their stage names are more than just names - they are characters with individual background stories. Their songs have distinct themes and narratives that are usually introduced to the audience with the help of skits and sketches at the beginning of their performance. All three of the members have a background in theatre arts and pantomime, which makes their acts extremely believable. 
A common factor in their music is the use of multiple harmonies and counter melodies that weave together seamlessly. The rare mixture of high and low scales by the different singers is delightful to hear. It is also a lot of fun to sing along with their songs - they range from upbeat tunes to slow, melodious ones. They use acoustic guitar, keyboard, melodica, and create numerous quirky sounds for their music. One of the songs that introduces most people to the band is a heart-warming track titled "Honeybee". Other notable ones include Captain Albert Alexander (pirate themed), Rex Marksley (western styled), Brass Goggles and Ice Cream Parade. 
Although they started out by performing in local fairs and conventions, Steam Powered Giraffe gained quite a huge amount of its success from YouTube. In fact, they have such a good connection with their fans that every time there is an album release or concert, they do live stream countdowns. They even live stream concerts on YouTube. The band also has its own webcomic. And one of their members, Rabbit, does a lot of the band's art. All these little details add to the uniqueness of the band.
However, the most fascinating aspect by far is the band's lore which you can find on their website. They have a full-fledged sci-fi story that tells you exactly how the band got its name and how it all came to be. 
Steam Powered Giraffe is definitely worth hearing (and watching), if you're looking for an unconventional and imaginative experience. 
So without further ado, I would urge you to "attune your ears to the grinding gears!"
Farah Masud is a humanbean and that is all you need to know about her. Please don't try to contact her anywhere, especially not in person.