Things to remember if you've just graduated university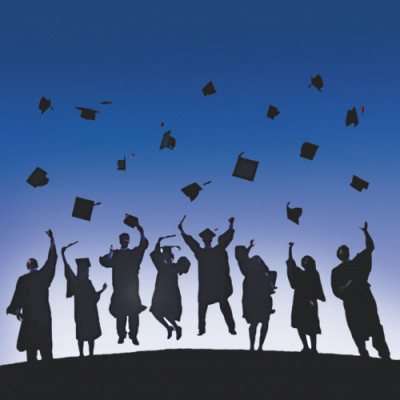 Congratulations on graduating university. You've been preparing to step into the real world your entire life. No matter how many self-help articles you've read or unwarranted advice you've received from well-meaning family members, you can't help but feel a sense of uncertainty plaguing your days. You keep thinking, what now?
Transitions are always tricky. So, before you step into the world of incessant paperwork and late-night emails, calm down, grab a cup of tea and remind yourself the following.
TAKE A BREATHER
For the first time in a very long time, you don't have a clearly defined path ahead of you. There's no routine scheduling which classes you should take, no syllabus outlining which books you should read, and no WhatsApp group with sympathetic friends guiding you through calculus. You have had your entire life mapped out for you - until now. When that realisation sets in and you sense an approaching panic attack, fight it. Remember: everyone else is exactly where you are. Give yourself a break.
LIFE IS NOT A HIGHLIGHT REEL
Repeat after me: no one is living the life that their social media insists they are. Beating yourself up over a carefully curated Instagram feed, complete with spectacular excursions and decadent desserts, isn't healthy. Chances are, that trip was part of a company visit for a job your friend finds marginally fulfilling and that dessert is one of many photos from an ancient outing recycled for instant social media validation. Trust me, your life isn't more difficult than anyone else's. Everyone has their own trials and tribulations to conquer.
YOUR ACTIONS DEFINE YOU
Let me guess. You're rolling your eyes wondering why I would waste paper writing down such generic advice, but hear me out. Remember that time you agreed to help your friend with his assignment only to bail last minute? Or that time you promised to design a logo for your sister's online business only to forget for the nth time? In the real world, particularly the professional world you're about to venture into, make commitments with the intent to see it through. Most of the time, you'll be held to your word. No matter how much you want to please your boss by taking on more than you can deliver, always ask yourself, "Can I follow this through?" If the answer is "No", take a rain check.
THE REAL WORLD ISN'T AS SCARY AS IT SEEMS
People will often take pride in reminding you that life isn't fun and games after graduation. Do yourself a favour and tune them out. Is the real world all carnival rides and candy-flavoured lattes? No. Was it before you graduated? Still no. Ignore those who've bought into the lie that a job is where souls go to die. Your work will be frustrating one moment and fulfilling the next. Contrary to popular belief, it is possible to find meaning in your job. All you have to do is try. First step? Avoid the naysayers.
YOU'RE ALLOWED TO FALTER
If you think your first spring post-graduation is an invisible clock ticking away until you embrace adulthood, I've got news for you. There's no ultimate deadline for you to figure out your life. You'll make mistakes, miss out on opportunities and possibly burn a few bridges before you get to a state of mind you're comfortable with.
Life is an intricate balancing act that we're all trying to navigate. So, calm down and give yourself time to get it right.
Mithi Chowdhury is a dog-loving-movie-watching-mediocrity-fearing normal person. Either that or a penguin. Find out at mithichy612@gmail.com