When you're single but your friends are not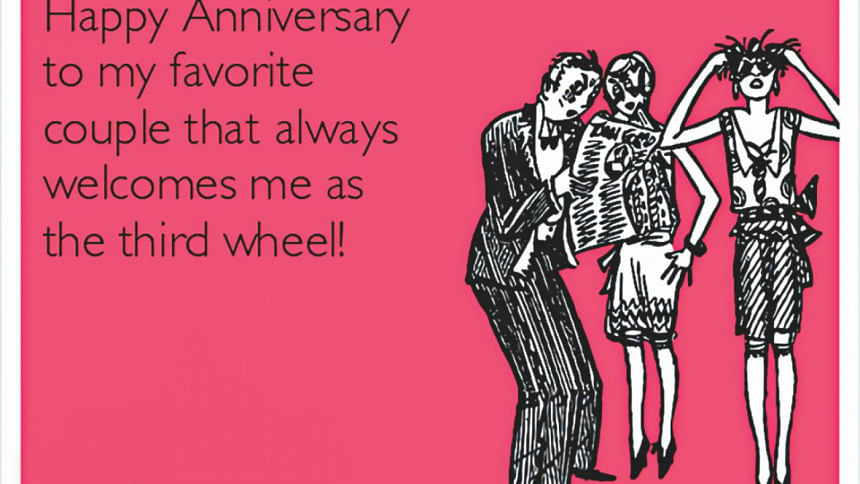 As Beyoncé says in her song "Single Ladies", come my single lads and ladies, as I take you on a journey through the rants you suppress when your sweet friends abandon you and sail with someone else:
EXTRA CHEESE ON YOUR PLATTER
One day you'll wake up, single as ever, but maybe on that day one of your friends won't stay single anymore. From that day, refrain from ordering extra cheese with any meal at all because your life is going to get cheesier than ever. Your friend will drag you to their dates, tag you in all their cringe-worthy posts, and speak volumes about their romantic stories. What once was a strictly friends-only hangout will become an over-the-moon date because your friend needs to see both you and the love of their life at the same time. So while some burger places proudly serve so-called cheese burgers which are devoid of cheese, your life drips with so much cheese that you even reek of it when your friends are not around.
GETTING THE TEMPORARY POST OF A JUDGE
Your friends will fight with their significant others, and before you know it, you will become a court judge. They, along with their beloved, will present their cases precariously to you, and it will seem as if their lives depend on your verdict. They will try to convince you that it's not their fault (or was it?) when in truth they are just trying to convince themselves.
PUTTING UP WITH SUGGESTIONS TO CHANGE YOUR RELATIONSHIP STATUS
The one thing your not-so-single friends can't wrap their heads around is that you're single but not ready to mingle. Your friends want to go on double or quadruple dates and so they are always trying to set you up with random people. Irritating hints like "Angle Pori Sadia is really smart. Give her a chance", "Vilen Samiool told me he has a major crush on you" and "ARE YOU GONNA DIE SINGLE?" just don't seem to stop.
MORE OCCASIONS FILLING UP YOUR AGENDA
Before your friends were in a relationship, you had to only remember their birthday. Now, you have to keep track of not only your friends' and their counterparts' birthdays but also the exact date and time Polash smiled at Shilpi. Although they do let you go if you fail to remember this significant event but that doesn't mean you get to excuse yourself from the celebrations. Any other time of the year, you may see nothing wrong with commenting "Mamma, treat de" to almost every little post, but now you are no longer in the mood to go for ice-cream as your friend gives the squad a treat for their happy nth monthaversary.
However, don't let these trivial problems get you down because your friends' happiness matters the most and while you sulk, you're going to be there for them.
Maisha Nazifa Kamal is a procrastinator who is tired of responding whenever someone says "Maisha". Find out if she's the Maisha you were looking for at [email protected]