A bright future for professional accountants
In conversation with Lindsay Degouve De Nuncques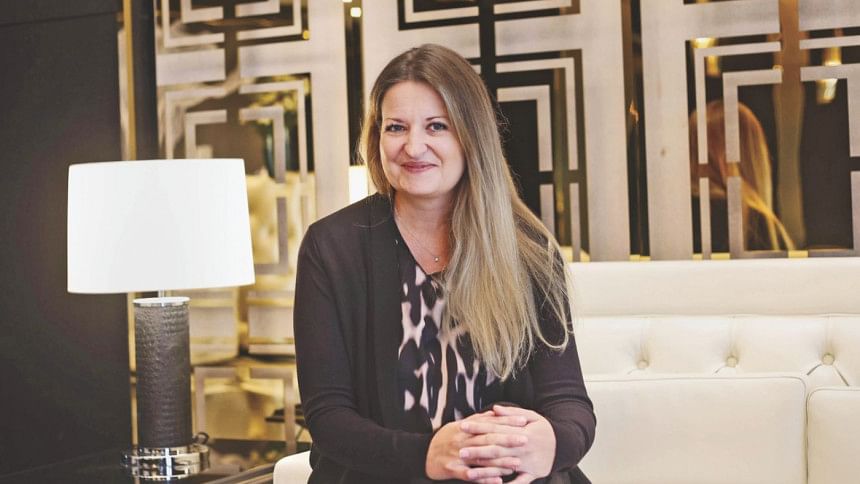 A graduate of London School of Economics, as well as being a strategy professional, Lindsay Degouve De Nuncques has been a pioneering employee of the Association of Chartered Certified Accountants (ACCA) with paramount experience in corporate governance and business development. She is currently working as the Head of ACCA – Middle East, overseeing the strategic interests of 11 countries. We had the chance to speak with her regarding ACCA's current initiatives and developments in Bangladesh, and the rest of the world.
What was the initial plan you had set in mind when you planned on visiting Bangladesh?
Lindsay Degouve De Nuncques: The main purpose of the trip was to come and speak at the CFO Conference, held by the South Asia Federation of Accountants (SAFA). I was invited to speak about the skills and competencies that would be required from the future accountants and also to discuss initiatives with the ACCA team here.
How do you think ACCA students from Bangladesh compare against students from other countries?
Lindsay: The students and affiliates I've met here have a lot of drive and ambition regarding what they want to achieve. I heard some fantastic facts about how the economy of Bangladesh is thriving. So I believe that ACCA students here have a great opportunity to develop skills that we know employers demand. Most importantly, ACCA has one global standard and so, a student who has passed the exam here has passed exactly the same exam as students in Shanghai, London or Dubai. So these graduates will have much to contribute anywhere they go.
Does ACCA have any specifications for teachers who teach here in Bangladesh?
Lindsay: While we do recommend students to attend classes under an Approved Learning Provider (ALP), ACCA is quite flexible regarding how students educate themselves. We have a good number of certified instructors here who hold similar standards as the ones in other countries do. When we certify these teachers, we look into things like the facilities of the training centres, the course outline, and teaching plans. We also look at the qualifications of the teachers. At times, we see that some of the teachers are not professionally qualified themselves yet teach the courses pretty well. So, ultimately, the key thing we look at is the pass rate of the students who go to these learning providers.
Why do you think students who are enthusiastic about accounting should consider ACCA over an academic degree in Accounting?
Lindsay: Having a professional qualification means that the students know how to apply the knowledge practically. Companies will always favour someone who knows how to utilise the knowledge they have acquired. So, when they are hiring an ACCA graduate, they know that they are hiring someone who can add value to their business. We have many ACCA holders who are working in top-level positions in various organisations. Moreover, what most people may not know is that ACCA is equivalent to a Master's degree as per UK NARIC (National Recognition Information Centre). So, if anyone is interested in having an academic degree as well as a professional one, they can get their bachelor's degree and get their ACCA qualification after that.
Why do you think students should pursue an ACCA degree, and ultimately the career path that the degree offers?
Lindsay: Every single organisation needs to manage their budget and finances. As newer technologies come in, accountants are helping their companies by not only presenting the numbers, but also helping them understand what those numbers imply and thus driving the business decisions themselves. Accountancy is a fantastic career option for students who are looking for a qualification which can provide them with options and opportunities to have a progressive career. This is why we see an increase in our member landscape every year across the globe.
Do you feel that the number of interested students in ACCA is increasing in Bangladesh?
Lindsay: The country has a large young population with a booming economy that is engaging lots of overseas organisations to trade and operate in Bangladesh. Therefore the need for accountants is already there. These foreign organisations look for qualifications they recognise and can use as a benchmark to identify the best candidates for their companies. ACCA is a qualification that is globally recognised and these graduates are high in demand all over the world. The students in Bangladesh seem to understand this global trend and so the number of students who are taking up ACCA is increasing.
Why do you think someone should consider studying ACCA as opposed to other professional degrees?
Lindsay: One of the things about ACCA is that we are very committed to local relevance. We are always talking to employers, universities, and schools to understand the specific requirements of job market in Bangladesh. We have 90 offices and centres around the world with over 700,000 students and affiliates and so, wherever our students and members end up, they have direct support from ACCA and other students/members.
What type of students would you particularly encourage to pursue the ACCA degree?
Lindsay: Anyone who has completed at least eighth grade, can start pursuing ACCA through its foundation courses. There is no age limit as such. We do however have minimum educational requirements, like English language proficiency, and we work with BPP University to provide free English language courses. We also have free online courses for our introductory qualifications. This flexibility, combined with our international and global presence, makes ACCA stand out as a professional qualification for anyone who is determined, dedicated and can think creatively.
To find out more about ACCA visit www.accaglobal.com