Sustainable startups by the youth, for the people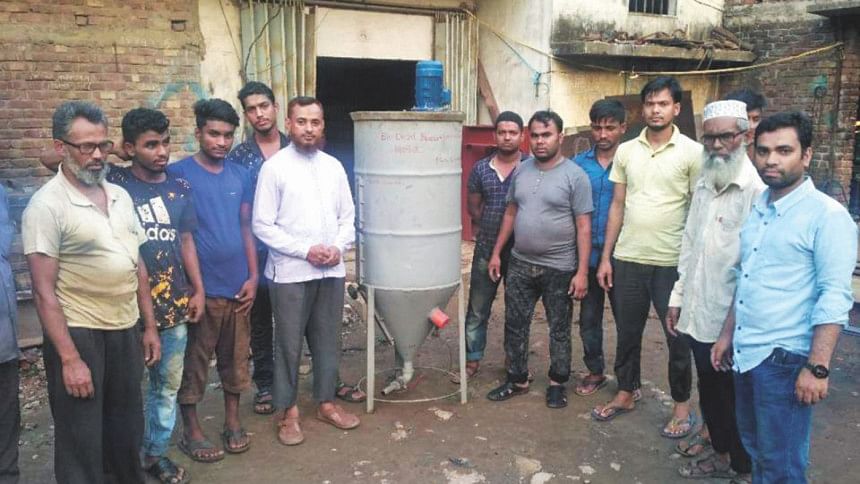 On a random Ramadan evening a few years ago, Abdulla Al Hamid, then a student of United International University, noticed the huge amount of waste generated from cooking oil. "Most iftar items are deep-fried, and local restaurants keep reusing their cooking oil, which is an unhealthy, carcinogenic substance. Consuming food fried in this oil can lead to gastric problems as well," he said, "but it's not easy to dispose of this oil either."
So began Hamid's quest to find a more sustainable way to recycle vegetable oil, which resulted in him founding Biotech Bangladesh, a startup that makes biodiesel from used cooking oil. They will be participating in this year's Youth Co:Lab Summit co-organised by Citi Foundation and
United Nations Development Programme in Hanoi, along with Avijatrik, a Bangladeshi startup for sustainable tourism.
The Biotech team built a reactor that now makes 1000 litres of biodiesel every day. Their product has been extensively tested -- it emits 30 percent less carbon than fossil fuel, and is four percent more efficient. It also creates less smoke.
"After conceiving the idea of turning used cooking oil into biodiesel, we realised that there has been a lot of research on this in Bangladesh, yet none of it had been implemented in real life. We received seed funding from a2i, and began working on securing raw material and building our reactor," Hamid said.
When Biotech started its journey, the primary challenge was convincing restaurant owners to sell their used oil. "Bangladeshi businesses do not have a culture of recycling, but we had to establish a proper supply chain. At first, the prospects seemed bleak, but gradually we have managed to strike deals with fast food chains. Now we have a steady supply of cooking oil," Hamid said. Recently, they have struck a deal with international chains KFC and Pizza Hut, and they are well on the way to building a sustainable business.
"Now that we are almost past the pilot stage, our goal is to scale up the production. We're talking to many other fast food chains which produce a large amount of used oil daily, and we're establishing a foolproof collection and transportation system."
After winning the national round of Youth:Co Lab bootcamp, Biotech and Avijatrik teams received extensive training from Toru, a business incubator. "The training has helped us immensely, especially during our negotiations with different partners and stakeholders. Our team is very young and dedicated, but a successful business also needs soft skills. This training helped us map out a clear direction for Biotech," said Hamid.
"The training was arranged by United Nations Development Programme (UNDP), and it covered everything from writing basic emails to complex problems that may arise in business," said Nazmul Islam, founder of Avijatrik, "We're still receiving support from Toru."
Avijatrik's origin story is one of trial and error. Nazmul mentioned that he and his partners' first venture was a traditional travel agency, but they soon realised that Bangladesh had potential for something more innovative and eco-friendly.
"A travel agency is, well, basic. It adds nothing new to an already established travel industry. I dreamt of creating a travel ecosystem that is self-sustainable without having to alter the environment," he said. Avijatrik is an online platform for community-based tourism. For example, if you book a tour in Chittagong Hill Tracts, you will get to stay with the local community, and experience their true culture.
Nazmul mentioned that he wanted to empower rural communities and give them an alternate income opportunity with Avijatrik, but it wasn't easy to convince people to come on board as hosts. "Our first try was at Srimangal, which did not go as planned. Then we decided to partner up with a few NGOs that have already established a trusted relation with locals in different areas. We visited a few communities in the Sundarbans, Mongla, and Shatkhira, and finally made a successful pilot run," said Nazmul. After a year of building networks, Avijatrik launched its commercial site in 2016.
While they had to heavily rely on self-funding at the beginning, they received support from GP Accelerator in 2017. They have not looked back ever since, and have continued to grow after last year's Youth Co:Lab bootcamp.
"At the moment, we have around 1000 families that host tourists, and 500 vendors and entrepreneurs that provide services such as boating, trekking etc. We serve around 200 customers per month. There's a steady stream of revenue, but our goal is to grow and cover the entire country," said Nazmul, "We want to have at least 5000 host families and 300 vendors on board in the future."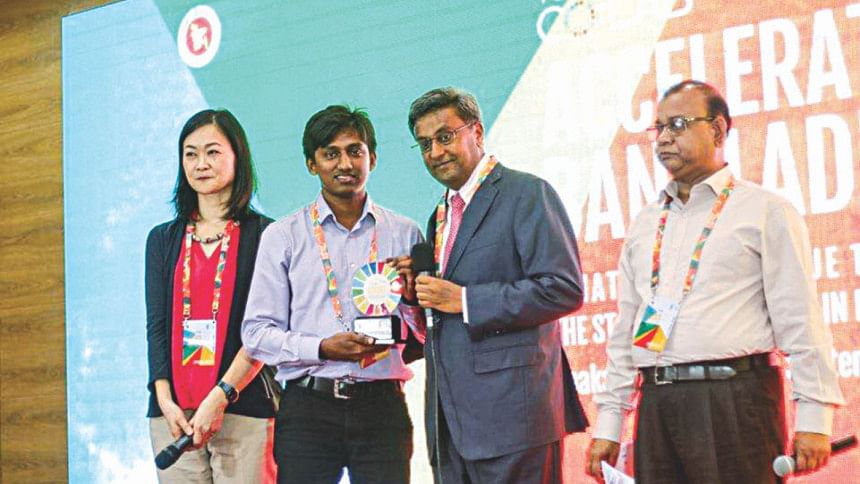 Hamid and Nazmul both started their businesses when they were at the brink of completing their university education. They could get secure jobs, but instead they chose to invest their time and money into innovative startups. When asked about their motivation behind choosing this unconventional career path, they both had inspiring answers.
"Often, merely surviving can be a challenge, with such a young team in a new business," said Hamid, "But my ultimate goal is sustainability - our business is helping the environment, and we are constantly improving the supply chain. Innovation requires dedication, and we have plenty of that."
Nazmul began working on Avijatrik soon after graduating from Chittagong University, and his personal motivation was to always help people. "There is immense potential in the Bangladeshi people. My goal in life was to always help the country and Avijatrik is a step in that direction. We want to make an impact in rural income, and showcase the hidden treasures of Bangladesh."
Biotech and Avijatrik teams will be joining the global social entrepreneurship movement through Youth Co:Lab Summit in Hanoi, Vietnam. Co-created in 2017 by UNDP and Citi Foundation, Youth Co:Lab aims to establish a common agenda for countries in the Asia-Pacific region to empower and invest in youth, so that they can accelerate the implementation of sustainable development goals through leadership, social innovation, and entrepreneurship.
The writer is a sub-editor at The Daily Star's City desk.