A day in the life of a buff Bollywood guy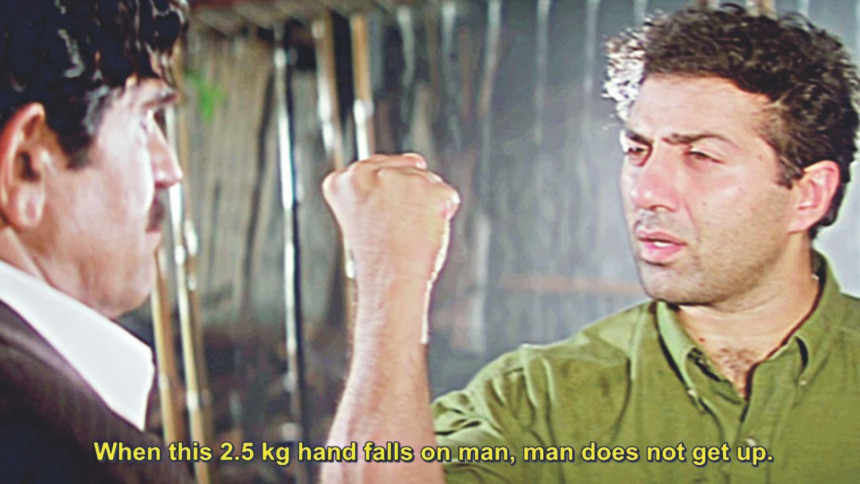 This cannot be happening again. It's the third day in a row. What does a guy have to do to find a shirt around here? I have ransacked my apartment, scoured every nook and cranny, with the sun shining through the window on my body, throwing my twelve pack abs into perfect shimmering focus without any conscious effort on my part, and do you know what I have found? Nothing. Not one top in sight. This is how the first hour of my days have been spent ever since I grew into this physique. But will anyone believe me? Oh no; of course not. Why would they? It's always a constant barrage of "Dude, we get it; you've built a body, but please put a shirt on!", or "You'll take someone's eye out with that gleam, don't you own a shirt?" "No I don't!" I want to yell out after an hour's hunt.
Finally though, I see something promising. Right at the back of my closet- which I swear had five perfectly good shirts just last night- I can see a pair of sleeves. I take it out, only to groan in exasperation. Sleeves, yes. Buttons? No. What kind of a cruel joke was this? Looks like it'll have to do.
Now I have to get to work. So last year, I realised that buying a motorcycle, regardless of my inherent ability at being able to drive them and their cost-efficiency for a single guy like me, was not an option. It'd just be playing right into the stereotype. Therefore I decided on getting a sweet family sedan, which some would call overcompensation. To those people, I say, just try walking in my shoes for a day. If only the blasted thing ever decided to start though, I'd thank my lucky stars. Today was another walk-to-work day, I decided, after trying at the ignition for fifteen minutes. No wonder people at work thought I'd only gotten in for my looks; I was never in on time.  
As I walk down the street with my shirt flowing behind me, for some reason a group of people start walking behind me in synchronisation. If I could have a penny for every time a flash mob began following me and dancing to moves I knew intrinsically, I wouldn't have to work at all.
I scurry before the coordinated moves begin, and manage to lose them by ducking into an alley. This shortcut might get me to work in time after all, I'm thinking, right when I hear a scream ahead in the shadows. No, no, no! Not again. I check my watch in desperation. I really don't have time for this today.
I am a Good Samaritan at heart though, with a thorough admiration for Uncle Ben's last words, so I go into the shadows knowing full well what I'll find. And yes, there it is: five goons, harassing a damsel in distress. She sees me, and instantly there is a dazzling smile on her face. Calm down lady, there's five of them, I might not save the day here, you know. Then again, I know I will. Of course these goons are the typical ones, coming at me one at a time with the most obvious moves ever. I've gotten pretty good at this over the years, so I decide to immobilise them gently. I shove the first man with the lightest of touches. Alas, it's utterly futile. With a crack like a gunshot he goes flying through the air. Oh no. I'm sorry, I didn't mean to do that. Before I can go to make sure he's alright though, the second guy announces his advance with a long drawn out shout, and I push him back instantly. Off he goes through two walls, the bricks crumbing like sand around his body. Really? This again?  I shake my head. I've come this close to being fined with destruction of public property thrice now.  
At least the other three scare away after this display. Phew. I look at my watch, and I am in fact late to work again. Great. As I try to escape the scene quickly, the woman comes running towards me and puts her arms around me. Okay, I'll admit, this bit I don't usually mind. Today though, it's not something I can deal with. I have a standing offer for coffee with my other three damsels in distress of the week, so I pull myself away from her with a casual "You're welcome. Stay in school" and skedaddle out of there as fast as possible.
By this time, I decide the only way I won't be fired is if I take a bus to hurry to work. It's a dangerous move, since there is about a ninety percent possibility of me locating the fourteenth love of my life sitting beside me, but considering all the tropes I'd been through already today, I think I might just have an uneventful time for the rest of the day.
The bus starts moving just as I reach the curb, so I know I have to make a run for it. Of course I make the bus just in time, and holding onto the steel rod I pull myself up. However, it looks like I've grabbed onto the hand of coffee date number four, who is smiling shyly at me while staring at my arm. I look down at my bicep which is peeking back at me through my ripped shirt.
You have got to be kidding me! I had one good shirt!