Negative Review: Worst Experience Ever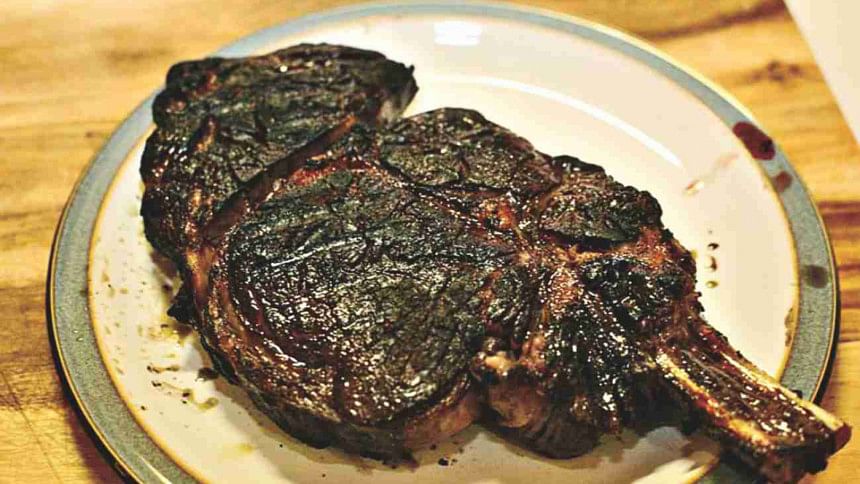 The other day, my "friend", Porshi, and I went out to eat at this restaurant that apparently serves "yammy" steaks as stated by many other reviews. For years I've seen my friends going out to eat these large slabs of meat and posting them on Instagram. Whenever they invite me to try them out, I decline the offer. Not because I'm from a financially strained middle-class family trying to live up to my rich friends of Dhaka and keeping the façade intact; I just think the steaks in Bangladesh are rubbery and flavourless.
After a lot of persuasion and a 50% discount offer, I finally decided to give it a shot. The interior was great, with private cubicle style tables for intimate conversations. It was perfect for Porshi and me to bond. We sat down and called for the waiters but for some reason, they completely ignored us for five minutes. Okay, they ignored when I called them, when Porshi waved at them, one of them just ran to us and said, "Yes, madam?"
Porshi started ordering. "What would you like to have, Cena?" I saw all these different types of steaks on the menu. I would've picked a nice big one but I wasn't hungry, so I pointed at the small one to the waiter – originally a 1000 taka steak with 50% off, so 500 taka. "And I'll have a tenderloin, rare please," Porshi said. 
The waiter went away with our orders and then the waiting game began. During that time, I was talking to Porshi about how weird it would be to be in a relationship with her, to which she replied, "I don't think it would be that weird, I mean, we're both so similar." Okay, now was the time to steer this into the finish line. "You think so? Well, since we're here, why don't we just…" "Madam, your steak." Wow, such abysmal service! He should've brought the food at the right time. So disappointed.
"Hey, isn't this the best? Two friends enjoying steaks, haha." Yeah, sure. Porshi cut her one open and to her shock it was well done. She called for the waiter and demanded an explanation, to which he replied, "Madam, the steak is very good and rare. It is Australian cow." She was bewildered by the response and just told him to change it. He declined and kept saying that it's a good steak. My luck was even worse. I cut mine open and found a strand of hair. I tugged on it to show it to the waiter, attached to the strand was a small bug, attached to the bug was a metal screw. Fortunately, the waiter promptly told me that he would change it. I told him to get a new one and not to take the old one because I wanted to take a picture and I don't like wasting food. He gave me an aggressive look and replied, "Yes, sir." I was the alpha male.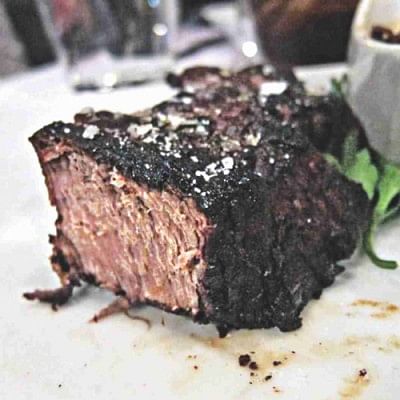 After finishing our meal, the waiter came with the bill. It was 1200 taka plus 180 VAT. While Porshi put her part on the bill, I was checking whether I had loose change. This didn't seem right; I almost always have the exact amount. There must have been something fishy with the bill then. I asked for the VAT registration paper, expecting he would give an excuse. He came back with the paper. I wasn't done yet. I asked for the Wi-Fi password, went into the registration checker and entered the number. They were registered. Everything seemed fine until…I calculated the bill myself. The total bill was actually 1379 taka. Busted. I rose up and started berating him; justice had to be served. The waiter kept apologising and requesting us to just pay 1379 but I can't let him off that easy. I threatened him that I would give a bad review and the look on his face was priceless. Porshi kept watching us while sitting down. Her eyes were so wide, she was probably admiring me for fighting for the right cause. After ten minutes we finally decided to end it. I requested Porshi to lend me some money.
I guess all the good reviews were made by corporate shills. This is a great marketing tactic, and the worst part is the admins are bought as well. There's no place for honesty in today's world.
Test: 0/10

Locetion: 7/10

Sarvice: -10/10

#BoycottBeefHut 
Response from BeefHut: You filthy people are not welcome as our customers. Go take your ugly girlfriend to Moon Kabab or somewhere.
Shoaib Ahmed Sayam is a master of procrastination. He tortures himself by watching fake sports.Help him at: fb.com/ooribabamama