If 'Breaking Bad' were made in Bangladesh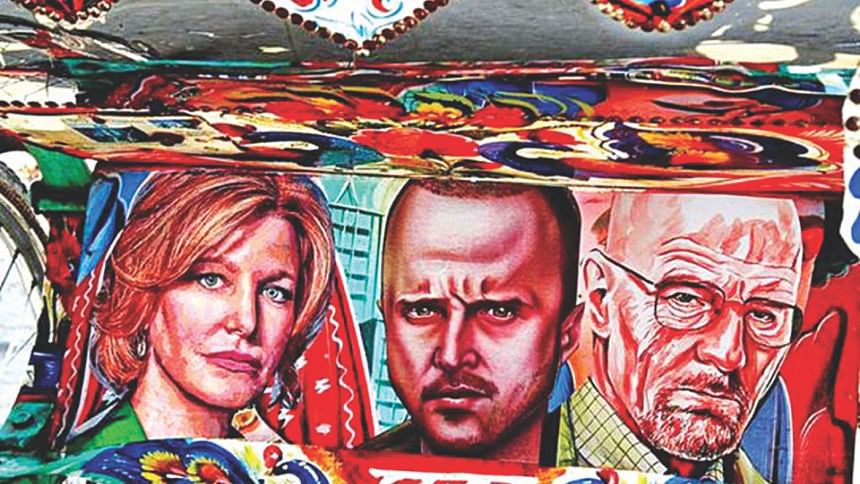 Synopsis: A traditional Bangladeshi family faces hard times when the only earner, Waqar, discovers that he has a severe case of tuberculosis. One day, he spots his old student Jisan Patwari distributing an extremely tasty, albeit foul smelling, jackfruit. One thing leads to another and they set up a secret chemistry lab in the hilly lands of Rangamati. Here, they learn to produce 99.7 percent formalin-free kathal and thus begins their journey as the new fruit kingpins.
Waqar Waheed: He is an aging chemistry teacher going through a mid-life crisis, and whose coaching centre business is not doing well. His students often make fun of his mellow nature and laugh at his oiled-up moustache behind his back. As the story progresses he transforms into a bald man with oozing swag. 
Shakila Waheed: Waqar's wife is growing intensely concerned and suspicious of her husband's clandestine activities. She takes up a job at a garments factory to sustain the family. Eventually she discovers Waqar's secret and this leads her to cheat on him with her boss, Kuddus.
Chhotu: Meanwhile, affected by polio, Waqar's son is worried whether he can get enrolled in a reputed private university or not. His only part in the show is to whine at the breakfast table while having ruti and aloo bhaji.
Jisan Patwari: "Biggyan, mama!" is his catchphrase. He is not a bad kid, but he often hangs out with the wrong people of the moholla. He plays a huge part in distributing the addictive formalin-free kathal in the neighbourhood.
Hanif Sardar: A hardened detective in the narcotics department, Hanif is muscular, bald and does not accept bribe.
Mariam Sarder: Hanif's wife is the most annoying character in "Breaking BD". Her shrill voice can make the crows on Dhaka streets disappear and all her gossip revolves around Hindi serials.
Salauddin Ukil: He is a sneaky lawyer and he helps out Waqar and Jisan during their brush with the law throughout the story.
Rustam the "Ghash Foring": Owner of a mega food chain in Rangamati, "Lotsa Anarosh", Rustom is always clad in exquisite lungi. His establishments supply formalin-free fruits illegally in the guise of the restaurants.
Random Episode: Waqar and Jisan escape from the crazy fruit lord, Tuku Salman. Waqar goes for a fruit deal and the following conversation happens as he demands, "Say my name!" The fruit dealer answers, "You are Hashu Bhai," to which Waqar shouts in a commanding voice, "You're goddamn right!" Finally, Chacha Salman (Tuku's father) and Waqar execute a plan to blow Rustam up with an exploding kathal. Rustam comes out of the room fixing his imported lungi, only to drop dead on the ground.
Final Episode – "Selina": 
Waqar saves Jisan from Kala Jahangir's gang after an epic half an hour of violence at a garage in Dholaikhal, where he uses a contraption on a thelagaari to take the goons down. While Waqar lies face down on the floor of his beloved Kathal Lab, an emo Rabindra Sangeet plays in the background.