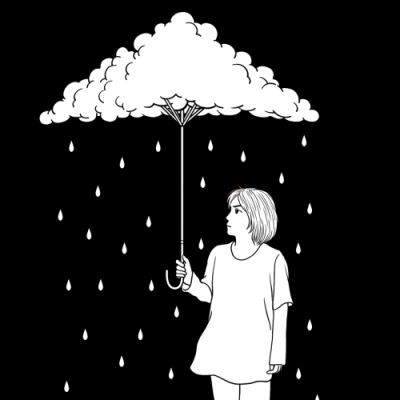 It was rather a pallid looking steel box; grey-shaded, almost colourless and drained of life. Which made it ideal for a twelve-year-old girl secreting away all her shenanigans, out of everyone's reach, safe and sound in a dust piled corner in the attic.
For all my troublesome nuances could actually beget troubles if I had not learned to bury them deep, both in the back of my head and that decrepitly faded steel box. Like those brief, queer love letters I've received from the boy I shared my notes with, or the witty comments me and my friends passed about during the class. Apart from getting caught for all this, what worried me the most was being discovered for who I really was – a soppy little crybaby. For all those unread and unposted letters I wrote to Maa and Paa.
"Dear Maa,
It's been eight weeks and twenty three days. When are you coming back for me? Remember? You promised you'd take the next available train back to Dhaka and take me with you as well. I have my bags packed and stuffed, my old raggedy shoes all polished and my frizzy, knotty hair braided flawlessly. I await your return, bring me KitKats on the way back, okay?"
Drip. Drip. Drip. The teardrops all soaked and faded amid the paper. See? A crybaby. I couldn't handle being mocked for this, I was a grown up and I must act like one even if I haven't mastered it entirely.
But Maa didn't visit, not even when the next available train whizzed past Dhaka without me being aware of it; just as I quietly stayed unaware of how two weeks moved past to three years till I was finally reunited with her. I remember that day vividly because it almost felt as if one of those letters came to life. Receiving her phone call, a few drops of tears (still a crybaby!), tidying up in a clementine pullover and faded grey jeans, shoes all polished, hair braided on one side. I packed my bags and all that belonged to me without anyone noticing – my pallid metallic box of childhood secrecies or one may say, my survival kit for enduring three years courageously away from my parents to a remote city with my aunt. A lifeless steel-made box holding all the liveliness I had in me for all those desolated years.
The writer is a student at the University of Dhaka.