Dawn and Diatribe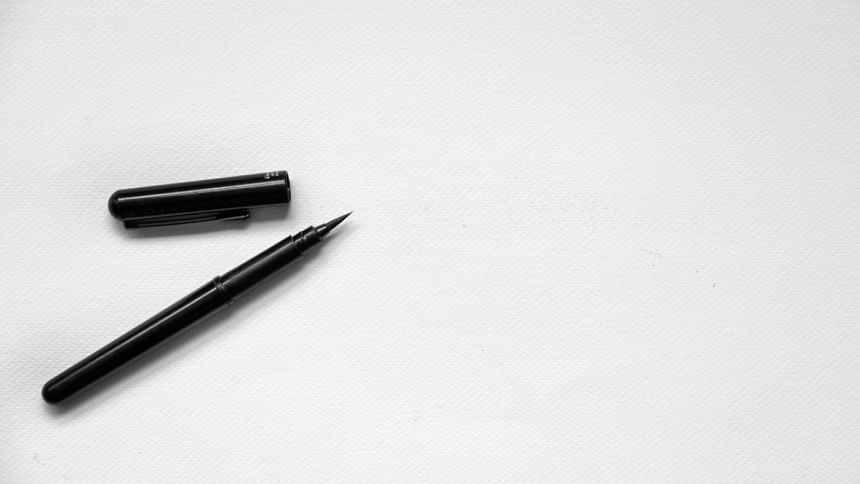 One drab midnight, I woke up in the middle of an unfinished story.
The paper I slept on clung to the corner of my mouth. My mouth felt bitter, as if the protagonist in my story had just been betrayed by the love of his life. The cold wind that was sneaking in through the slight crack in the window was unforgiving. The intruding wind left its triumphant mark all around me in the form of scattered manuscript and broken glass. How I managed to sleep through all this could have been the plot for a mystery novel but thrillers have never been my forte.
I looked at the glittering hands of the wall clock in my room. Their neon-clad dials proudly proclaimed it was 4:35. Being awake at a time such as this is problematic because you either go back to sleep and miss all the alarms in the morning or just stay up and then regret every decision in your life. I decided to do the latter. But first I needed to figure out what I had been doing and what story I was writing. The story, I decided, must have been so interesting that I tired myself to sleep or perhaps so boring that even I could not get through it. Whichever it was, I needed more clues to piece it back together again because the papers in my hand all had mere scribbles on them, the type that only a man with the last drop of sentience would write.
The good news with my current predicament was that the pen in the table in front of me announced with a yell that perhaps he could help me. The bad news, however, was that pens aren't really supposed to talk no matter how late in the night it was and how sleep-deprived you are. A drowning man clutches at a straw. I suppose it makes sense for a lost writer to clutch at a pen no matter how sentient it might be.
"Look who finally decided to wake up," chimed in the pen. His voice sounded raspy, like that of a 70's noir movie hero.
"I don't remember deciding to wake up but it is a decision I regret nonetheless," I admitted. "Sorry if this sounds rude but how are you even talking?"
"It is not a question of how but why my child. Do you remember what you have been writing?" calmly replied the pen.
"Afraid not. But I can bet it had a cheesy romantic angle," I replied
"The cheesiest. Even made this old man blush," nodded the pen, or I think it did. You can never tell with pens.
"Then help me remember it, because I ran out of stories. I do not know where my protagonists should end up and how their lives would turn upside down. I cannot find a reason why they would take on a heroic journey only to find themselves in the end. I fail to make the words trail off to a big finale. And I can not make the words appear out of nowhere, filling out my thoughts," I urged. "Help me."
I stared at the lifeless pen in front of me. The glitter on it from the sun seeping into my room almost made it feel alive. Its silence stung even though it had no reason to talk to in the first place. The short moment of its sentience during the delirium faded away like the night sky making its way for the dawn. I picked up the pen. With dithering hands, I wrote the first line of my story.
One drab midnight I woke up in the middle of an unfinished story. It had the cheesiest romantic angle but was one of the better mysteries.
Nuren Iftekhar is a crusty old man who likes fiction, indie games and every flavor of waffles. Send him raccoon pics at [email protected]