Universities, not students to pay VAT: Muhith
Says comment about public university teachers was a misunderstanding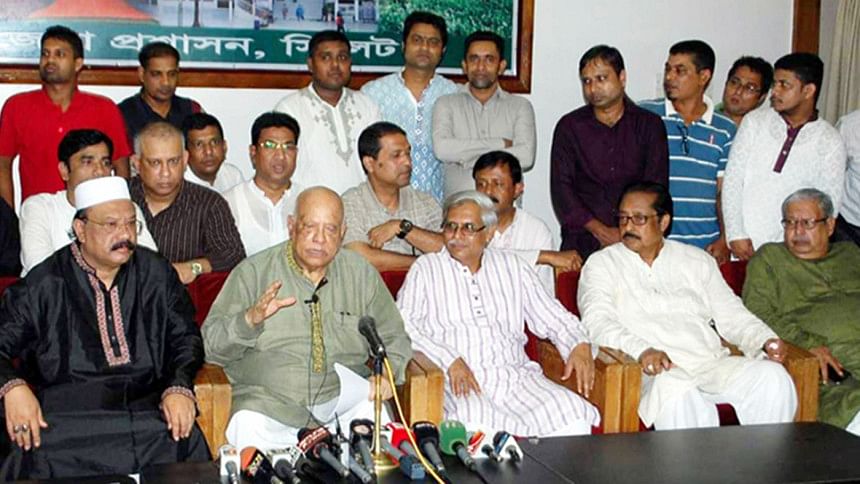 --Private university students will not have to pay any VAT: Muhith
--Universities will have to pay the VAT without increasing any tuition fee
--Muhith apologized for his comment on public university teachers
Finance Minister AMA Muhith today said the private university students will not have to pay any value added tax (VAT).
He said the universities however will pay the VAT without increasing any tuition fee.
The minister's comments came amid widespread protests by the students.
Meanwhile, the National Board of Revenue (NBR) in a press release today said it is the private university authorities, not the students, who will pay the VAT.
"The VAT has not been imposed for collecting from the students as it remains included in the existing tuition fees. The university authorities are fully responsible to pay the VAT, not the students in any way," said the release.
Earlier on July 4, the NBR issued a notification imposing 7.5 percent VAT on the tuition fees of the private universities and medical colleges.
Speaking to journalists at Sylhet Circuit House, the finance minister also apologized for his comment on public university teachers who are demonstrating for separate pay scale, saying that it was a misunderstanding.
The teachers began their demonstration without knowledge of the government's decision about the pay scale, he said adding he had used a wrong term to address this, which might have been disrespectful to the teachers.
He added that it was not his intention to disrespect the teachers.
The public university professors are also in the Grade-1 of the new pay scale and will be paid a monthly salary of Tk 78,000, Muhith added.
Private university students have been agitating for withdrawal of the 7.5 percent VAT slapped on their tuition fees by the government in a clash yesterday between the students of East West University and police at Badda.
On the other hand, teachers of public universities have been pressing a four-point demand since May. Their movement has intensified after the new pay scale was approved on Monday.
The teachers held demonstrations all over the country on Tuesday, protesting the "anomalies" in the new scale. Later in the day, speaking to journalists about the movement, Finance Minister AMA Muhith said, "The most educated section of our population has gone for such a movement due to their lack of knowledge."