Rare Art Styles You Should Know About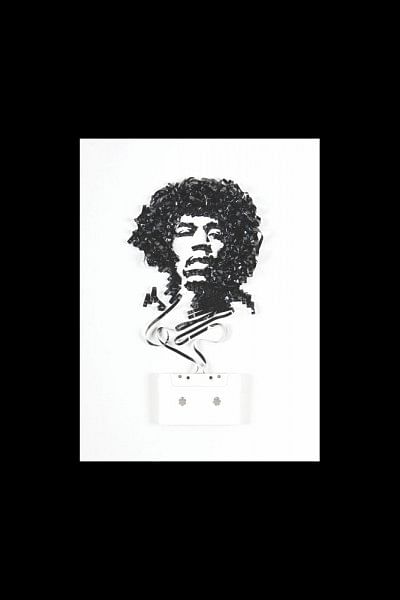 Art is a vast topic. There are really no characteristics which define art. It can range from sketching, colouring to sculpturing. Anything that fuels your imagination is art. And thus, I have put forward some varieties of art which goes out of the norm, and shows that creativity has no bounds.    
Sticky Notes Art
Yes, you read it right. There is more to sticky notes than writing to-do lists, reminders and notes. How to perform this art? You literally just stick them up.  A little bit of planning is required before you start with this, as it is usually a big scale project. Having a variety of neon colors makes it easy to make your art bright, and creates a pixelated effect.  Sticky note art usually makes sceneries or picture messages, covering a whole wall.
Matchstick Art
This really brings "playing with matches" to a whole new level.  Plain old matchsticks are used to make any design, objects or characters. They are usually attached to a suitable surface or can be bundled into perfection to produce any 3D shape, standing free of any surface support. Just as a precaution, it is advised to stay away from fire when using matchsticks.
Popcorn Art
Who would have thought the most popular theatre snack could be an artist's tool? Popcorns' various shapes are enhanced into miniature structures to form a scenario - a playground with people, trees, and bicycles.  A little bit of thinking out of the box is required here. You have to be able to see popcorn as a little boy, a bear or even a tiger. To brighten the whole picture, the popcorns can be coloured, preferably with poster paint.
Smoke Art
This actually made me stop for a moment and appreciate artists. Probably the best I've come across, this art is most fascinating when a glass bottle interior is coated with black smoke and then stroked to make beautiful and dark sceneries. Of course any other transparent closed surface can be used, but in bottles, the smoke creates an illusionary, circular effect which has a sense of suburban decay, and a tint of gloominess, making the art mesmerising.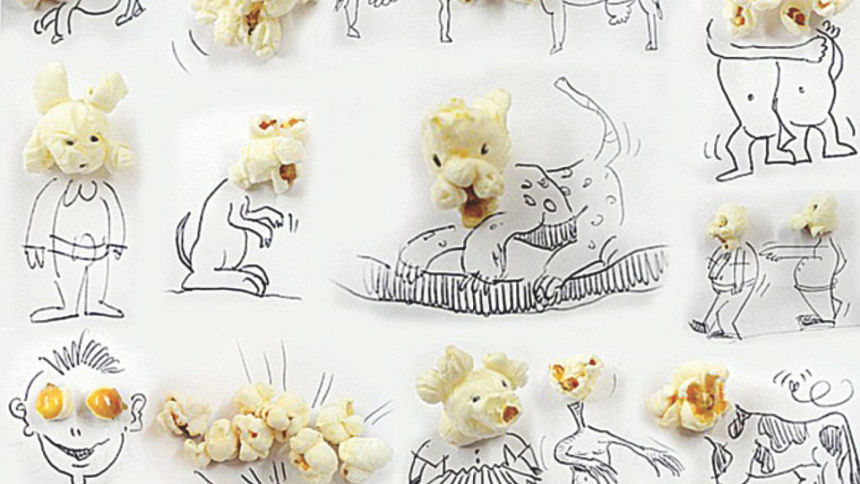 Tin Foil Art
You will most definitely find it rolled up in your kitchen, dining room or store room. Rather than only using it for wrapping food, tin foil has been used to make miniature structures consisting of everyday sceneries like flowers in gardens, and large scale sculptures, or abstract paintings. By twisting and turning, tin foils also create the perfect picture used to make 3D sketches. The shiny surface further brightens your work and different folding techniques produce various shades of silver, making the art even more gorgeous.
Colour Pencil Art
At first, I was quite surprised to find out that people actually consider using pencil itself as art. This works quite similarly to matchsticks except colour pencils make the structure much brighter and bolder. The larger size and curvature of the pencils enables bigger designs to be created. The pencils should be as sharp as possible to create a sheer aura. However, care must be taken so that it does not cause injuries.
Cassette Tape Art
Remember the old cassette tapes? There is actually a good use for it now, thanks to art lovers and their creative brains.  It is basically carried out by taking out the tapes and using it to shape your picture, instead of pencils or colours. It can be a presentation of a person, or scenery. Not exactly a 3D effect, but the art or design sticks out of the surface, which is usually anything white, to reinforce the black tapes.   
Shadow Art
I am not kidding. One might think that you don't really need anything for doing this art, since its shadow, but that's not the case. The best part of shadow art is that you can use any material you wish. The art lies in shaping the objects in such a way that they create a shadow of specific shape like a face, flower or bird. A strong light source is needed over a dark surface to make this work. You will be shocked by how beautiful it looks.
Nusrat Jahin Angela is married to music and dreams in Technicolour. Reach her at [email protected]