Opposite day in Dhaka
I woke up expecting another cough inducing, road congesting, ear deafening day – but for some reason it felt oddly different. A gentle, cold breeze caressed my ugly face. The sun was generous today. It fed my skin with its nourishing vitamin D. The air was as fresh as that of a tri-state area garden where foreigners romanticise the country while being oblivious of the sewage that spills over my street. Should I be happy about all this? No, because I know disappointments await me. So with that in mind, I wore my trusted t-shirt and camo shorts – trying my best to stay between the kamla and the !@#$boy spectrum – and stepped out.
As soon as I went out, a bevy of rickshaws surrounded me. My eyes widened involuntarily, and my mouth moved in silence – forming words of bewilderment. "Mama koi jaiben?" one of them inquired. "Dhanmondi," I answered shaking off my confusion. "Koto?" I questioned. He asked for 80 taka and I quickly agreed. You can rarely take advantage of a rickshawala who has no idea of what the actual fare is. This was one of those days. Suddenly the guy said, "Mama, 80 teka beshi koiya falaisi, 60 teka te loiya jai." If my eyes could get bigger they would have dropped from their sockets. What the hell was going on? Was this guy especially dumb or really nice? He must have been fresh off from the village and still didn't know how ruthless Dhaka can be. Yeah, that made sense. I'll give him a few days; he'll either go back or assimilate into the other fare-inflating members of the rickshawala community.
It was a Sunday, but it was a Sunday like I'd never seen before. The road was eerily silent – just a few vehicles. I quickly took out my phone to check whether my stupid brain went on autopilot and dragged me out on a public holiday or something. It was a regular Sunday. Maybe I'm hallucinating? No horns, regular signals, rickshawalas not cursing each other's family and apologising instead… How did everyone learn manners and proper road etiquettes in a day? I stayed glued to my seat while scratching my head furiously.
A lot of girls were out today and they were staring at me. Any other day, I'd be over the moon and tell all my friends how much of a player I am. This NEVER happens. Was there something wrong with me, more than the usual? Was my zipper open? No, it's shut like the doors to my heart. I was squirming and fidgeting like crazy on my seat. I had to figure this out, so I tried to see what they were looking at. It seemed they were fixated on my not so hairy or manly legs. For no indiscernible reason, I felt so exposed. It was like I were a chicken who was targeted for his tender legs. Never had I regretted wearing shorts so much. A middle-aged woman contorted her face and yelled, "Oi, pa dhakos na ken? Lojja shorom nai?" I already feared all types of aunties but now all women as well.
On the bright side, I observed a wonderful scene. A guy was lying on the road, seemingly wounded. But instead of everyone surrounding him and just watching, some people called an ambulance, waited for it to arrive, and helped carry the injured man to the hospital. While it's great to see people actually being helpful, a part of me was a bit curious about what would happen if he just stayed there. Probably die but you never know.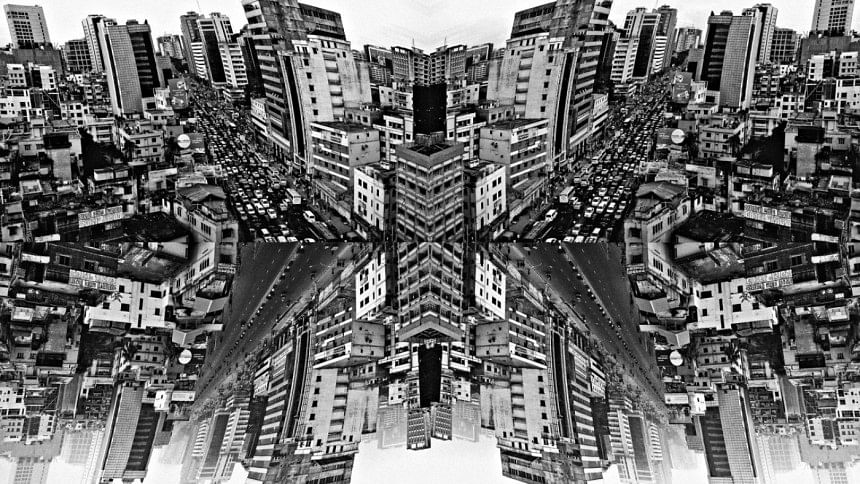 While on my journey I ran into my neighbour aunty. Well, not exactly "ran", she screamed my name like a banshee and stepped in front of the rickshaw. I had no other choice but to jump down and entertain her for a few minutes. Turns out I miscalculated and the conversation dragged on for like half an hour and the rickshaw had to go. Usually the conversation is her just asking me random stuff and finding a way to rub it in my face how her son is so much better than me. Well, this time I had a card up my sleeve. Her first comment was that my hair was too short, and suggested I grow it out, like her son is doing. Then she asked me which university I got admitted into, and I answered, "ZUET". Her answer was, "Ahare, private e porar taka nai, na? Thak, bepar na." Wait, what? The one thing I fought for to show everyone I'm worth something and to humbly brag about was being shot down by the person who should care the most. It almost felt like she betrayed me; the relationship we had for so long had fallen apart. I had finally realised that something else was wrong and it wasn't just me.
After that horrid conversation, I didn't feel like going to class anymore. It's not like I'm going to amount to anything, and even if I could, degrees mean nothing now – the motivational videos on YouTube said so. So, I just waited for the bus to take me home. After a couple of minutes the bus was coming my way. The gate was open and I was planning on making a run to get on. But it suddenly and completely stopped just in front of me. I was frozen in my running position for like five seconds, the bus seemed frozen as well. The driver shot me a ridiculous look like he wasn't at fault for just stopping and wasting precious time that he would waste in the traffic jams anyway. Without thinking of all the weirdoes I encountered today, I got on.
This was the best bus I had ever been on. All the people standing were in the back, it's as if they knew that standing in the front would block themselves and others from getting on or off. The bus was keeping adequate space between all the surrounding vehicles. At this point I just accepted everything. I was probably in a parallel, jumbled up world. The conductor came to collect the fare and I heard a guy asking, "Koto nila?" Here we go, let the fare war start. Well, it did start but not how I expected. The conductor was arguing that the fare was 15 taka. The guy demanded that he should just keep the 20 taka note. Eventually, everyone just yelled at the conductor to keep it. He half-heartedly did. I just NEED to go to sleep.
I jumped off and started walking down the alley to my house. I spotted a bunch of rowdy guys standing together. Great, I was going to get mugged. They approached me after seeing me walking alone.
"Hey, do you have money on you?"
"Nah, man, I'm pretty broke."
"Aw, dude, that sucks. Kids your age need some cash to go out and eat with friends and stuff."
"That's fine, bro, I don't have any friends."
"Damn. It's okay, my man, we have some cash on us, it's not much but take it. If you need anything else let us know, we'll be right here."
"Give me your phones."
"Oh, sure, you need to make a call?"
"No, just give them up, I want them."
"Sure thing, we'll just buy new ones, right guys? I think you need them more than us."
"You're damn right I do."
Today was interesting to say the least. I think overall it was a good day if not just novel. Am I hoping tomorrow to be the same? Well, if I get more free phones then why not?
Shoaib Ahmed Sayam tortures himself by watching fake sports and Vietnamese cartoons.
Send help at: fb.com/ooribabamama