Where is Winter?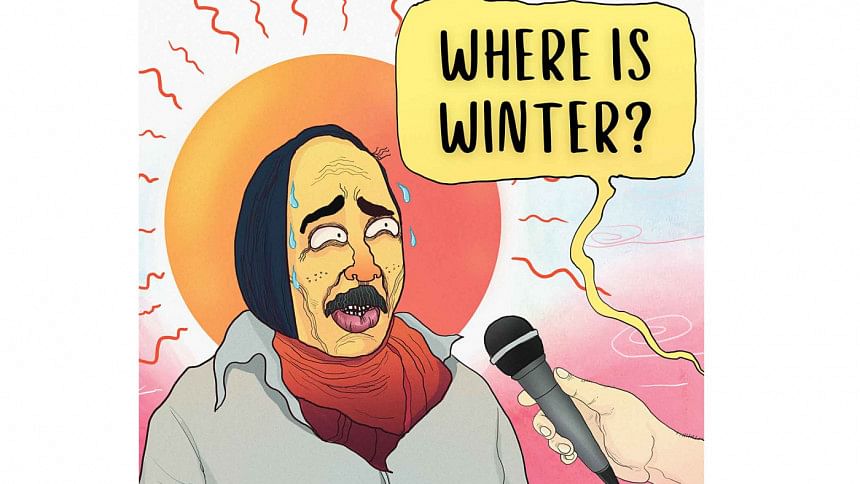 Fleeting days, lingering nights. What's expected to sink the mercury yet makes it reach great heights. What am I?
You guessed it right, it's a sorry winter.
As lowest temperatures "surge" every season and headlines obsess over cold wave forecasts, overtime, we have witnessed changes in Mother Nature's bitter cold guise. I am supposed to be shivering under covers, sipping hot tea (or hot chocolate as I'd prefer) with my numb fingertips prancing across the keyboard. It is mid-January; the calendar should scream winter. But, #WhereIsMyWinter.
Thirty years ago, we'd be already living at biting temperatures. I know we don't go sub-zero in Bangladesh; anything around 10 °C assuredly puts us in a daze. It's 2021 and we are currently getting by some kind of a climatic mood-swing. Historically, winter rages on from November till February in the country. But I am now wondering if I should start tucking away my winter clothes? Are you even using them?
Misty mornings, balding trees and chapped lips – ah, the sweet hallmarks of winter. Foggy sunrises, too. If only they were a thing today. In fact, the span of mist every morning hardly counts. Make that idle morning, please. Mornings that are unnecessarily lazy, if not hazy. The (slight) drop in temperature sends us endotherms straight to dormancy, we cannot help it.
On second thought, is it even fog? Or are we confusing it with smog?
Remember when we took the first cold spell in the city as a sign to bring on the winter fashion. You see, how many have you worn outside? No, it doesn't count if you took off your shawl after a few hours or if you held your jacket all day no matter how gracefully. It's okay to not be able to match that sweater with your shirt. Some of us did not care to go for winter shopping to begin with. I tried to put together a "cute winter look" I had saved on my phone since May, but it made me scratch and sweat till I gave up and changed into my pyjamas.
While on the subject, I think I have outgrown the last pair of gloves I had bought ages ago. At one point in time, my drawers almost flew open with a massive collection of socks. Yes, socks. An essential item to protect your feet from frigid floors (ring any bells?). By the way, mufflers are pretty much extinct now.
Moving on. It seems none of us realised that we do not see our foggy breaths anymore. The thrill in puffing out smokes has faded amidst the bread-and-butter frenzy. The science behind this is even more compelling. On a fine (read: sweaty) summer day, the temperatures are warm enough to let the water vapour we breathe out to stay in that gaseous state. On a wintry day, it can get cool enough (say, about 45 F or 7 °C) to let these vapours condense into tiny droplets of water that we see as a cloud of fog. In short, it never gets cold enough.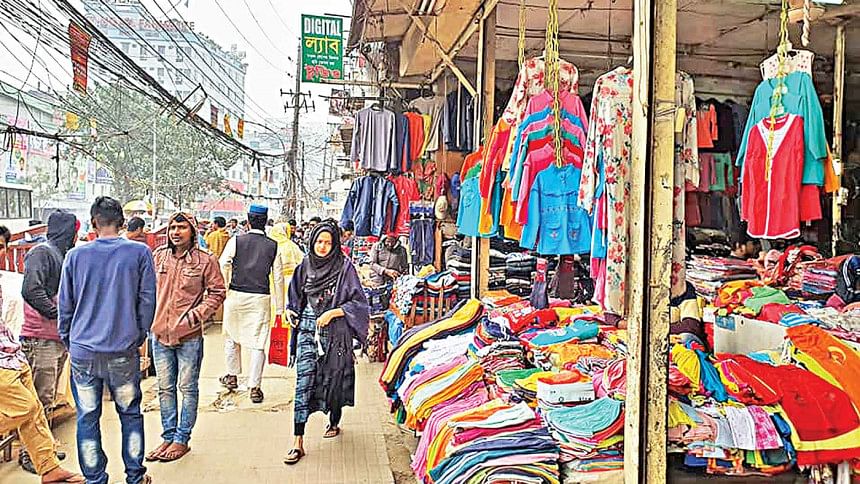 This is just the tip of the iceberg. And that iceberg is called climate change, friends. Winters are to get warmer and shorter as time passes by. Its effect is all the more evident in guest birds who come and go as they please, nonetheless have a pattern of arrival and retreat. Aside from the pandemic and the subsequent stupor in anthropogenic chaos, the bird show often presents us with alarming signs followed by disappointment. Is it possible that, someday, these birds may never return? Will there be any special reason to visit the Jahangiranagar University campus in future winters?
It is a strange affair; to have a whole season slowly wiped out or be turned into a series of cold spells. While that counts as a plus for those who despise the time, they certainly cannot evade the chill when in North – a true, cold horror that calls for layers of gear.
Back in the city, however, what are layers? It is unfair on the urban crowd to be missing out on the cold for reasons scientific or not. On an average day, a quick stroll brings beads of sweat running past temples, and no hint of quiver. The Sun is never veiled except for the first hours. The rest of the day feels almost like summer, or a warm spring day. It is at night when we try to force-feel the season by pulling over blankets, only to push our feet out after a while. For some, the electric room heaters never made it out of the packaging.
Being positioned in Dhaka, my experience of winter has always been an urban one. I mentioned this to a climate enthusiast and they mumbled something about urban heat and there being less greenery in the city and most city roads being black and grey and absorbing more heat than a rural area and something about pollution from vehicles too. I'm not sure if this alone explains my brother walking around in shorts last December, and me contemplating about turning on the fan every hour, but I'm sure there's a connection.
As we hop from one generation to another, stories change. The outlook on the season falls on a spectrum of emotions and feelings. Despite contrasting experiences, time and time again, the winter spirit never fails to rise. Picture campfires, fairs and steaming cups of tea, coffee or whatever you like.
As the chills sweep past, festivities begin. From nobanno utshob to pithautshob, from kantha shelai to kombol bitoron, from bhapa pitha to khejur er rosh – these are the moments that fill the memory lanes. I made a few spirited attempts to whip up a few different types of pithas myself to keep the tradition alive, but the wobbly, disjointed results taught me a thing or two of the expertise and patience our elders possess in the kitchen. Despite all that, I think it is the pitha in all its glory that steals the winter show, and of course, our hearts.
Once again, as you flip through the pages, who knows what the weather would feel like...
Hiya loves food that you hate by norm – broccoli, Hawaiian pizza and Bounty bars. Find her at [email protected]