How to Travel Like a Pro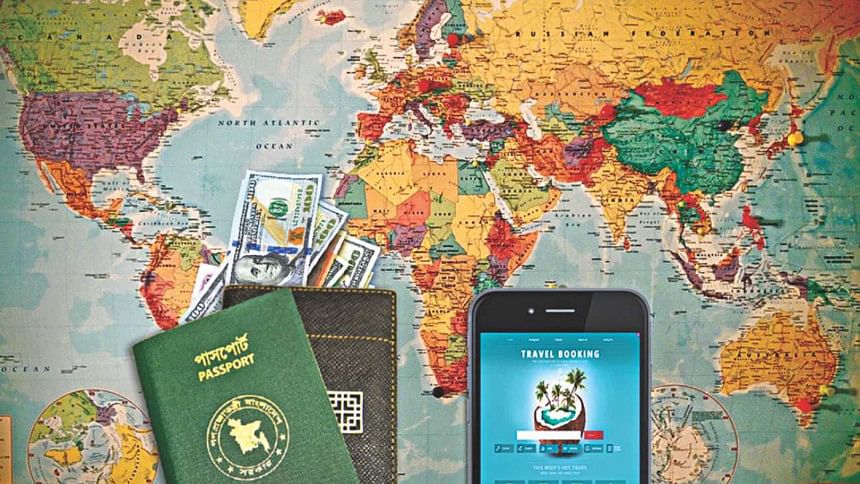 If there's any thread that connects all the people on this planet irrespective of their nationality, race or culture – it's their keen interest to travel the world. But what actually separates the real travel enthusiasts from the rest is the intensity of such desire and the ordeals they are willing to undergo to make the trip no matter what. 
Travelling sounds, and is, fun but there are also some not-so-fun aspects that precede, prevail during, and follow the trip that most of us don't want to get involved in or have no idea about. Take for example, planning. It's an issue that we, more often than not, are happy to let the travel agents take care of. There's no problem with that, of course.
However, letting a travel agent fix the trip itinerary takes away the sense of connection. Travelling is something personal – planning and deciding the itinerary have to be done on an individual basis. What fun are those clichéd "X days/ Y nights" trips that local travel agents advertise on their Facebook pages? More importantly, their set schedule might not work for you. 
In this article, I'd like to present some ideas and tools to help you plan better for your next trip. Probably you know all these already, but I'd like to present them in a sort of DIY-style, and also introduce some useful websites and their efficient usage. It will help you plan better, but more importantly, it will give you an actual idea of how much it's going to cost you. We all have this impression that it takes "a lot of" money to travel, but how much? That idea is often vague. Hope this helps!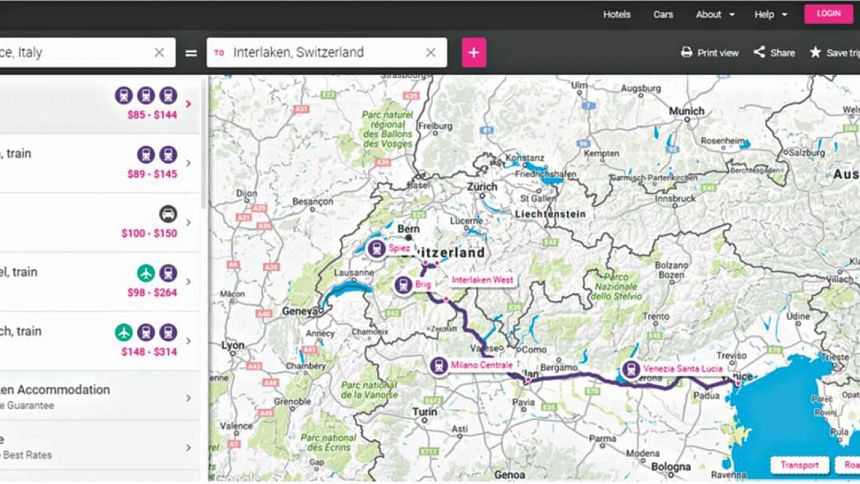 Google Maps and Rome2Rio: Get Real Ideas about Transport

Figure out where you want to travel and how long you can afford to stay there. Suppose, you want to go to Egypt. Find out the places you want to visit, like the Giza Pyramids, Alexandria Library, Karnak Temple in Luxor, Abu Simbel in Aswan or the gorgeous beaches of Marsa Alam along the Red Sea coastlines. The choice of places you want to visit totally depends on you, not any random operator's set itinerary. So finalise the places yourself. 
Use Google maps and a handy website called Rome2Rio (https://www.rome2rio.com/) to find out how to get from point A to B, and your preferred mode of transport. For example, you can go from Cairo to Aswan by bus or by plane – what medium of transport you choose depends on your budget and time. Flights save time but cost more; may not always be the same case though (flights in Europe cost less than train or bus, if booked beforehand) – figure out what costs less in that particular country. Browse through travel forums. Planning, if done systematically, is almost as enjoyable as travelling itself.  
Keep a .docx File Open All the while

Always. My suggestion would be to open two separate files. One for the junk raw info and the other for the specifically planned itinerary. 
For the second file, rename it with the place that you're planning to travel e.g. 'Solo Egypt Trip' or 'Family Trip to China'. Outline day to day itinerary like 'Day 1: Dhaka – Kolkata (by air). Sightseeing in Kolkata. Night Stay in Kolkata' or 'Day 8: Alexandria – Cairo (by bus). Cairo – Aswan (by air). Night Stay at Aswan.' The formatting depends on you totally, but in this itinerary, write everything down clearly: day-wise distribution, modes of transport, places to see, where you'll be staying at night. Makes planning a lot easier, believe me!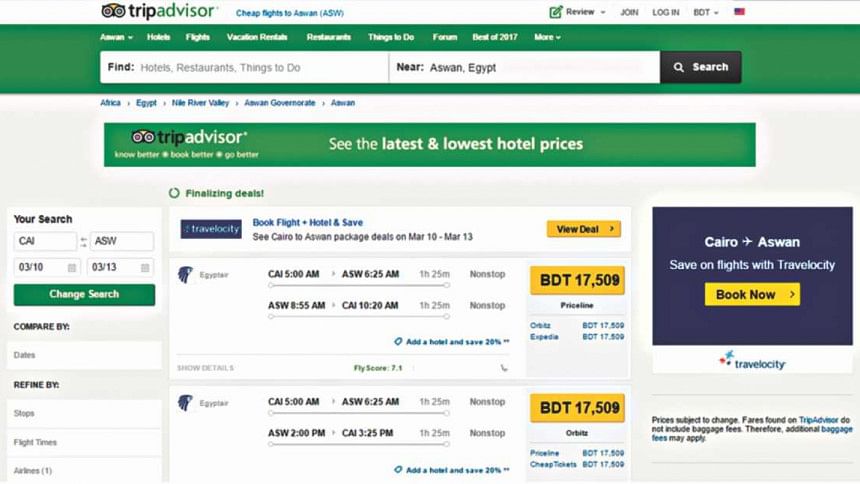 TripAdvisor: One-stop Solution for Flight Bookings

When it comes to travelling abroad within budget, there are three parameters to keep in mind. You can call these 'Costing parameters': Transport, Accommodation, and Food & Sightseeing. You can plan wisely and save on these. But if you plan late and seek the help of agents at the 11th hour, you may as well be paying up to twice as much than what's actually required of you.
Now, flight costs. One word: TripAdvisor. There are lots of similar flight booking websites, yes, but I like TripAdvisor for its simplicity. They keep it really neat, and the android app also works perfectly. You enter your departure and arrival airports, put a random future date (dates in case of return trips) and TripAdvisor will present the best combination of flights tailor-made for you. Set the currency 'BDT' in the settings option, and it will show flight costs in taka.
According to a study of CheapAir (https://www.cheapair.com/), the golden time to book a flight is 54 days ahead of the journey to get the cheapest deal. It also suggests a golden range: 21 to 112 days before the day of the flight. But sometimes there are problems with visas and NOCs and stuffs like that, as a result, these golden rules cannot be maintained all the time. But don't worry, booking 30-35 days ahead will do just fine.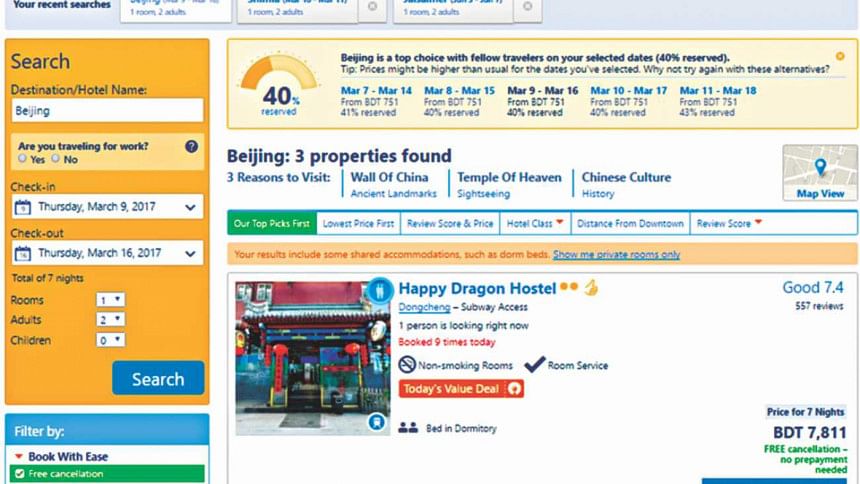 Booking.com: Hotel Bookings were Never this Easy

As for accommodation, at this age of the internet, you can stay anywhere in the world within your desired budget. The world is open and the information is free, so you can handpick your hotels according to your budget. Let me tell you how.
Suppose you want to stay in Beijing for 7 nights at 14K – that's 2K/night, and it's the maximum you can afford. Easy. Go to any hotel booking website and DIY!
My personal recommendation is Booking.com for its user-friendly interface and powerful filtering tools like 'Book with ease', 'Your Budget', 'Facilities', 'Review Scores', 'Meals' etc. In the above case, for example, you put in '0-4200 BDT/night' under the Your Budget filter, 'Breakfast Included' under Meals, 'Free Cancellation' under Book with Ease and 'Good: 7+' under Review Scores. Put all these and there you go, you have the best possible combination of hotels to handpick from. You need a credit card number to book, but they don't charge a penny. You can pay after you arrive at the property.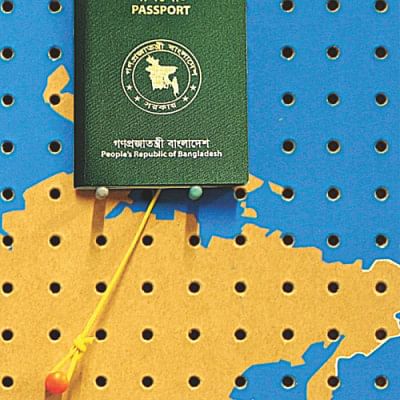 Couchsurfing.com and beyond

If you already don't know about it, visit https://www.couchsurfing.com/ now and become a member. It's a wonder of the 21st century and a blessing for budget travelholics in disguise. You can stay for free with locals at almost any place in the world. Likewise, you can also host people travelling to your country. It's completely free and a wonderful opportunity to meet new people, get acquainted with different cultures and have great experiences.
Traveling is not just about executing the itinerary; it's also a great deal about planning. In this article I have jotted down only a few points for you to begin with. The more we travel, the more we learn. But this mindset is important: traveling is a holistic experience, and we should be involved in every segment of it, otherwise we'll miss out. The world is your oyster.
Ishtiaq Ahmed is a travel enthusiast who devours fictions, dreams of Paris and writes only when his brain parasites need a place to crash. He can be reached at [email protected]