Sodium Batir Gaan - Together for music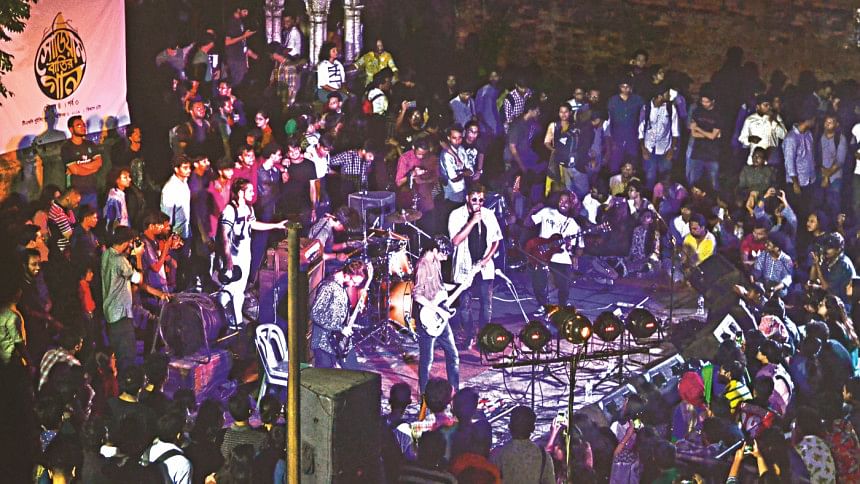 University of Dhaka (DU) has always been a focal point for cultural activities in the capital for generations. Sodium  Batir Gaan has grown to create its own little bubble of music and culture within the campus and it has been proving to be one of the most popular music shows in town.
What started its journey on March 2016 inside the game room of Teacher-Student Centre (TSC), with around a hundred audience members, now hosts over a thousand spectators within the TSC swimming pool area.
Although their more regular crowd involves students from DU and the neighbouring institutions, the show's popularity has reached music lovers throughout the city. Every few months between March to December, people gather to watch new artists or upcoming acts perform covers, tributes, as well as original music.
"When I was still studying in DU, I would find small clusters of people gathered near different parts of the campus, playing and singing along to music. I wanted to create a platform where these hidden artists could connect with listeners who would appreciate their music," said Yasin Shafi, ex-DU student and one of the founding members of Sodium Batir Gaan.
The show is separated into "seasons" with each of them consisting multiple "episodes". So far, there have been four seasons, with a total of 17 episodes; each episode features 5 to 6 solo artists or acts.
The organising team ensures they retain the philosophy of the show, with their core priorities being a diverse line-up of artists, an open venue within the campus premises and an inclusive environment that welcomes all kinds of people to come and enjoy the show.
Amit Pramanik, a fourth-year student of the Department of Economics at DU and a core member of the organising team of Sodium Batir Gaan, said, "With each show we try to make sure we have a variety of unique musicians — be it a Rabindra Sangeet cover band, a solo artist performing original Bangla songs, more popular bands like Meghdol or even rock musicians. We also try to ensure that we include at least one or two female artists in each show."
Each episode is organised entirely with the help of the more culturally active students or DU alumni, who donate and raise money for each show. The show is free for all and the team tries their best to make sure the artists get as much traction as possible through their platform. "Even though we cannot pay any of the performers, the continuing popularity of our show allows these artists to gain a following through our platform in a very organic way", said Yasin.
Moving forward, the Sodium Batir Gaan brand wants to venture into other areas, but only under the condition of staying consistent with its core purpose.
"We are aware that we have an opportunity to make this show much larger than it already is, but we don't want to go through a process that will force us to commercialise this programme. We want our audience to have a place where they can just enjoy music with their friends and loved ones within the comforts of a campus that welcomes anyone and everyone," said Amit.
The show concluded its final show of the year with their 17th episode last night on November 20. The line-up included New Shonar Bangla Circus, Sovvota and the Band, The Seesaw Quartet, Abstraction, Shadiul Alam Jibon and more. The show will return with newer artists next year and as always, it will be open for all.
To find out more about Sodium Batir Gaan, visit their Facebook page at www.facebook.com/SodiumBatirGaan