British High Commissioner and Trade Envoy welcomed at UCB
"The delegates' exclusive visit demonstrates that we are bringing a notable change in the local education scenario," says Group CEO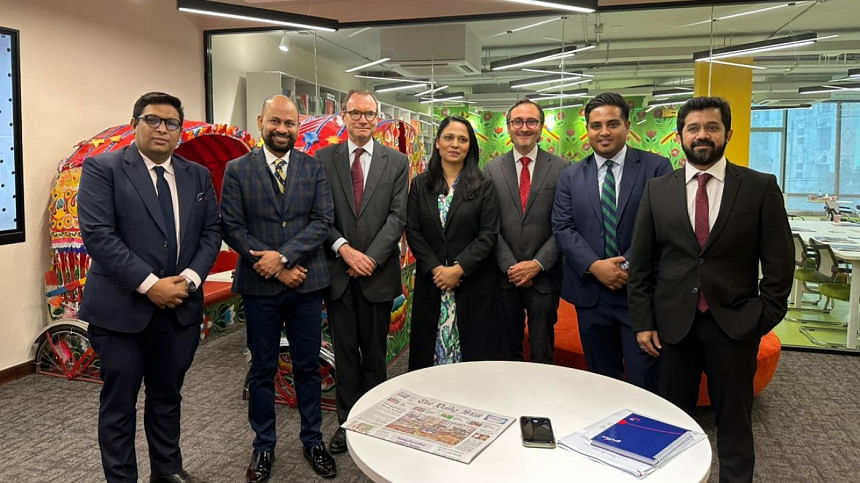 Universal College Bangladesh (UCB) – the STS Group entity providing world-class education in Bangladesh – was recently graced with a visit by high-profile delegates from the British High Commission in Bangladesh and British Council Bangladesh. The dignitaries' exclusive visit to the UCB campus took place on January 10 where they exchanged views on UK Higher Education opportunities in Bangladesh being offered through UCB, the first international education provider in the country approved by the state's Education Ministry.
The delegation comprised HE Robert Chatterton Dickson, British High Commissioner to Bangladesh; Rushanara Ali, UK Trade Envoy for Bangladesh; and Tom Miscioscia, Country Director of British Council Bangladesh. On behalf of UCB, the guests were cordially greeted by Dr Sandeep Ananthanarayanan, CEO, STS Group, Higher Education; Mosharraf Khan, COO, UCB; Amid Hossain Chowdhury, Marketing Head, UCB; Mohammad Mehrab, Head of Enrolment – LSE, UCB; and Kazi Khairun Ahmed, Head of Enrolment – Monash, UCB; along with other high officials of the organisation. The visitors at the event discussed potential collaboration between the UK and Bangladesh to enhance the scope of international standard education in Bangladesh.
The exclusive academic facilities, as well as the excellent environment for the students' self-growth, ensured at the state-of-the-art UCB campus, were appreciated by the honourable delegates. For the very first time in the country, UCB is offering full undergraduate degree courses in Business, Accounting, and Finance as a recognised teaching centre of the prestigious University of London. The courses are directed by the globally top-ranking institute – the London School of Economics and Political Science. Besides, UCB offers Monash pathway programs in Bangladesh wherein students could do Monash University Foundation Year - MUFY (Grade 12 Equivalent) and Monash College Diploma in - Engineering, Business IT (Australian Undergrad First Year Equivalent). 
"It was a great experience for us at UCB to welcome (His Excellency) Robert Chatterton Dickson, Rushanara Ali, and other honourable delegates at our campus and present before them our sincere endeavours to open up better avenues for international education for local students," said Dr Sandeep. "They have thoroughly listened to our success stories, as well as about our shortcomings, and we were privileged to receive valuable suggestions and feedback from them, which we are going to keep in mind for further improvement. Needless to say, the delegates' exclusive visit to the UCB campus demonstrates that we are bringing a notable change in the local education scenario despite many challenges, and we are truly encouraged by this acknowledgement," he added.