A melancholic, yet soothing read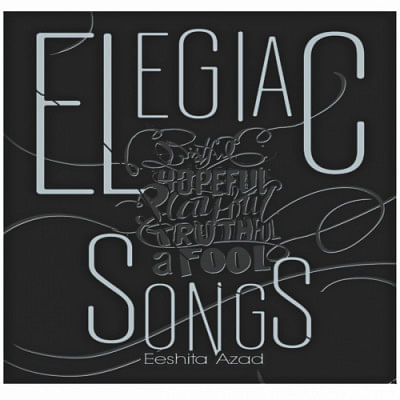 Through her poetry anthology 'Elegiac Songs', Eeshita Azad does a wonderful job at describing the several stages of love, loss, joy and grief. The elegies reflect the contemporary style of her writing. The emotions conveyed in her poems are raw and presented without any sugar-coating. The book starts with a brilliant opening piece that grips the readers from the get-go.
The poems in this anthology come in five parts, namely – 'Wistful', 'Playful', 'Hopeful', 'Truthful' and 'A Fool'. And these titles give away the underlying themes behind the poems in each section. Each part has a separate artwork to go with it, which sets the tone for the rest of the section. The combination of subtle and obvious use of literary analogies and anecdotes within the poems keeps the reader engaged at all times.
Several of the poems in this collection reflect the struggles of being a woman, more specifically a woman in a romantic relationship. The poems, 'Sun' and 'Darkness' both carry a grim undertone, suggesting the agony of loss of love. 
Some of the pieces in the section 'Playful' are empowering. In 'War of the sexes', the poet addresses the reader directly, challenging them to be fierce and take the lead.  In 'Mini Poems' she writes, "We are all looking for a saviour, / But becoming the saviour can save us. / Save us all.' The brevity of the verses creates necessary impact that is required of the poem.
The section 'Truthful' holds some of her best works in this collection. The poem, 'Her Husband' portrays the striking reality of our society, while 'Blue Building' articulates the damage that an unhealthy relationship can cause. 'Not A Rebel' is one of the unique pieces in this section because it subtly explains to you that it is okay and even important to stand against the flow of tide.
Overall, 'Elegiac Songs' is a collection you can pick and read at one go. The poems will take you in their melancholic but soothing embrace and leave you questioning the world around you a little more.
'Elegiac Songs' has been published by Journeyman Books and it is available at all major book stores in Dhaka.