6 Things I Learned From Cheating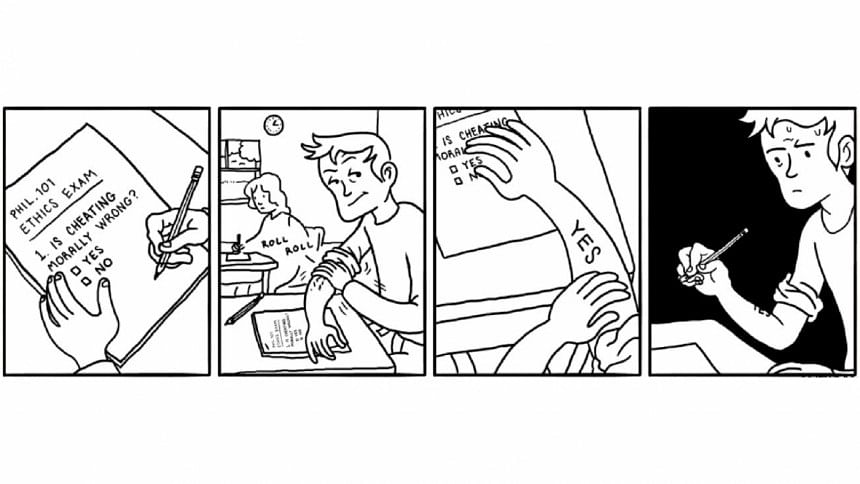 Our parents are dead serious about grades. Sometimes to satisfy our parents or to pull up our CGPA, we seek aid of unethical means. (cough… cheating… cough). Having cheated at some point in the past, I've realised that this habit leads to eventual doom. Let me tell you how. 
1. Cheating is risky business. Of course, you know that already. But dig deeper and identify the risks associated. For starters, if your invigilator sees you peeking into your neighbour's copy, your answer script may be suspended for precious minutes. On the other hand, if you get caught with a cheat sheet, the consequences might be even worse. What if the invigilators cancel your paper, leading you to fail the course? What if you get suspended or even expelled by the disciplinary committee for violating the code of conduct? Even if you get away this once, your reputation will get tainted and you'll be in their bad books. 
2. Your parents definitely won't be happy. It isn't just the fact that you got caught cheating for which they'll be disappointed. This incident will in fact cause them to think whether or not they've done a good job raising you. And believe it or not, your parents will blame themselves subconsciously for not being able to teach you ethics. All the hard work and money they invested into your upbringing will seem like a waste. Do you really want to put them through that?
3. The board exams will be harder for you. Be it SSC or O-Levels, HSC or A-Levels, board exams generally ensure strict proctoring and invigilation. And sensibly speaking, that's how any exam should be. If you develop a habit of cheating in exams, you will face problems when taking board exams. As a result, your grades will not be as good as you'd wish them to be.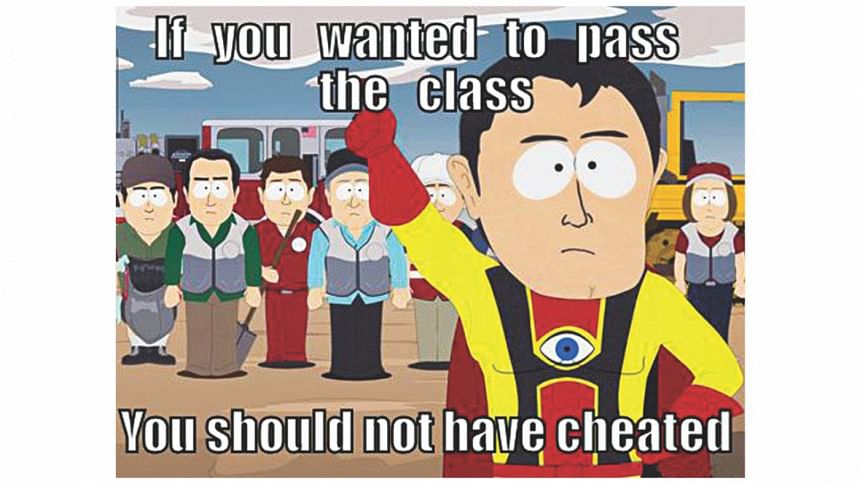 4. You'll face issues when you go abroad for studies. Regardless of what you think, education abroad is not easy. Oh and guess what? Any sign of cheating or plagiarism and you'll be in deep trouble; this may include getting expelled from the university. 
5. Problems in your professional life. Once you become a chronic cheater, life can get tough. For example, when you go in for a job interview and they ask you all the technical questions, you'll not be able to answer. Why? Because you didn't study, and rather copied them off someone else's paper. Now even if you get the job, are you really competent enough for it? Will you really be able to pull off the tasks like a pro on a daily basis without sufficient knowledge? Poor performance can get you in sticky situations, and your career may never flourish if this goes on. 
6. Intelligence matters. The pretence of intelligence, however, is a big no-no. 
It's easy to succumb to short-term happiness and cheat in an exam or plagiarise, or to not study at all in hopes of being able to cheat. But you shouldn't let your short-term gain blind you and make you a loser in the long run. So, rather than seeking help from other sources, use your brain, study and excel. 
Arman R. Khan is a caffeine addict and a dreamer who takes life one day at a time. Correspond with him at fb.com/arman.r.khan