"Driving Digital Innovation" at BYLC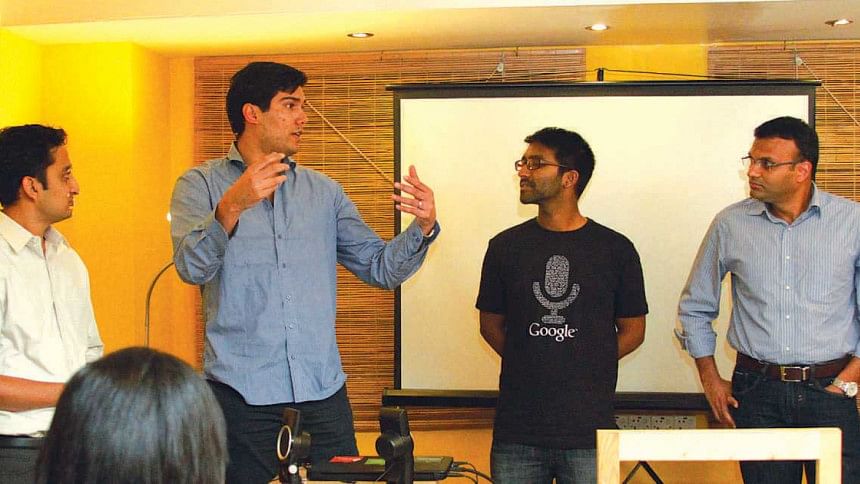 At the headquarters of Bangladesh Youth Leadership Centre (BYLC), an event titled "Driving Digital Innovation" was held on February 12, 2015. Three speakers from Google – Nayem Chowdhury, Fazal Ashfaq and Bickey Russell – delivered interactive and motivational presentations that made the workshop enjoyable. The event was open to all, though with limited seats, and took place at the 'L-Lab' of BYLC.
Nayem Chowdhury, Global Agency Business Manager, Google London Office, began his presentation with two questions: "If not now, when? If not you, who?" While encouraging the young audience to come forward with more innovative contributions to the society, he explained how simple and inexpensive it can be to come up with new, groundbreaking ideas. Nayem explained the importance of embracing failure and aiming high, while reminding the crowd of how history punished non-innovative organisations.
"Improvise. Adapt. Overcome." – is what Fazal Ashfaq, Industry Analyst, Google South Asia Emerging Markets, titled his presentation. And true to that tagline, he showed the audience how important it is to figure out creative solutions. Recounting his own experiences in Singapore, he provided many examples of adapting to tricky situations, which included the story of how Google Street View came to life in Bangladesh. He kept the audience brainstorming with many scenarios that required them to think out of the box. Fazal also emphasised on the fact that it is much easier to reach out to the youth of Bangladesh than that of most other countries.
Bickey Russell leads the Agency Development, Global SMB Revenue Organisation, Google Mountain View office. In his speech, Bickey highlighted the significance of leadership and 'slow ideas'. During his 7 years at Google, he discovered how valuable it is to get to know one's customer, how productivity increases manyfold when one is happy and the necessity of learning on behalf of the whole team. Through very practical scenarios worldwide, he demonstrated how visible and invisible problems have been countered in the society as innovative minds triumphed. "Testing, iterating and simplifying an idea is the way to go," he added.
After the presentations, a Q&A session took place, where participants posed questions regarding Google and its plans for the progress of innovation. While wrapping things up, Sumaiya T. Ahmed, Communication Officer of BYLC and one of the organisers of the event, said, "We were very excited to organise the event with three bright minds from Google, who graciously gave us their time to share their experiences with the BYLC Graduate Network and other participants. We will be coming up with more fun and exciting workshops and events at the L-Lab."
All three presentations had one thing in common – they talked about the core philosophy of Google: the tools for getting connected to the global organisation are only clicks away. "The event was helpful, as we got to hear stories of how Google encourages innovation from Googlers themselves. Attending the event was also a win because of the networking that happened after the presentations ended. Plus, I got to try on the Google Glass," was what Ayon Khan, an enthusiastic participant of the event had to say.
The Leadership Lab, or simply, the L-Lab, is BYLC's new continuous learning platform dedicated to disseminating valuable knowledge to aspiring students from all mediums of education in Bangladesh. In addition to core leadership offerings, this platform helps foster participants' core competency skills through a variety of workshops.