Urban Escape: 2015 Ford Escape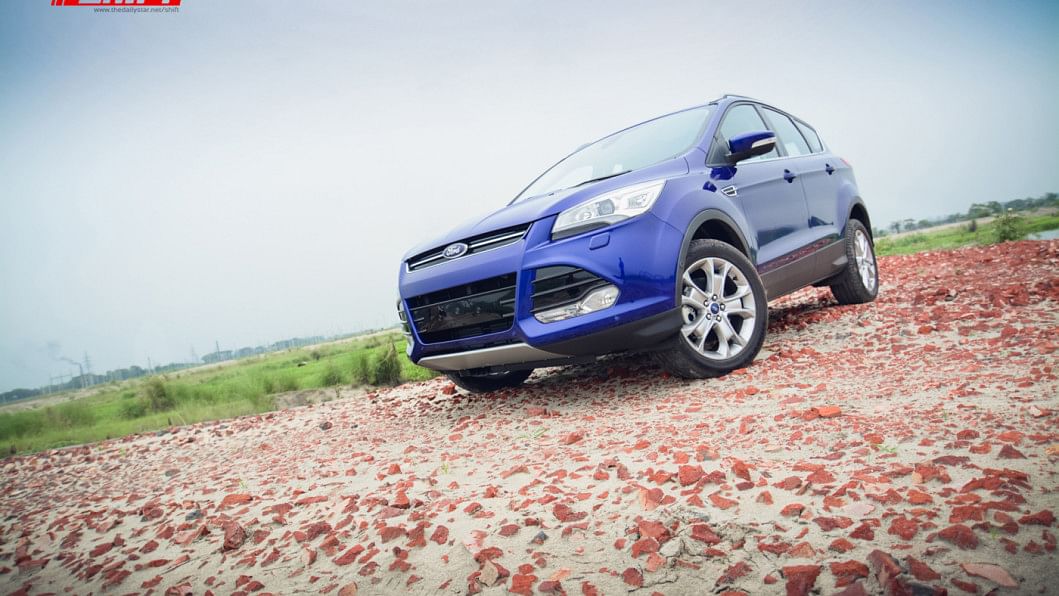 What is it?
The Ford Escape is a compact crossover. As such it promises more car-like features and handling but with the added magic of an SUVs ground crushing power. That makes it straight away appealing as a city slicker. We find out how and if it manages to deliver on either.
Does it make you look good?
Ford once used to design cars only using set squares and a straight ruler. They made capable, functional boxes when they made anything that wasn't called a Mustang. For a while even a Mustang was a box in the early 80's. In the late 2000's someone decided Fords needed to look interesting. They made the GT. They redesigned the Mustang to sell in record numbers and they made the Focus for Europe. All great looking cars. And that trickled its way toward the rest of the line-up.
The Escape has plenty of curves that collect at fluid creases and then move away in other directions. I like how it looks. It gives off an impression of being lithe and sharp. The semi SUV looks like a lightweight boxer when compared to its rivals. The Nissan X Trail for example has gotten bigger and flabbier as did the Honda CRV. Bloated is the word. The Escape looks like it went on a body building diet and sculpted itself. Creases are the in thing for car design but overdo it and you look like a Hollywood celeb with too many facelifts. So far, the Escape in the right side of handsome.  You will get noticed but avoid the white or black colors. This car thrives in blues and reds.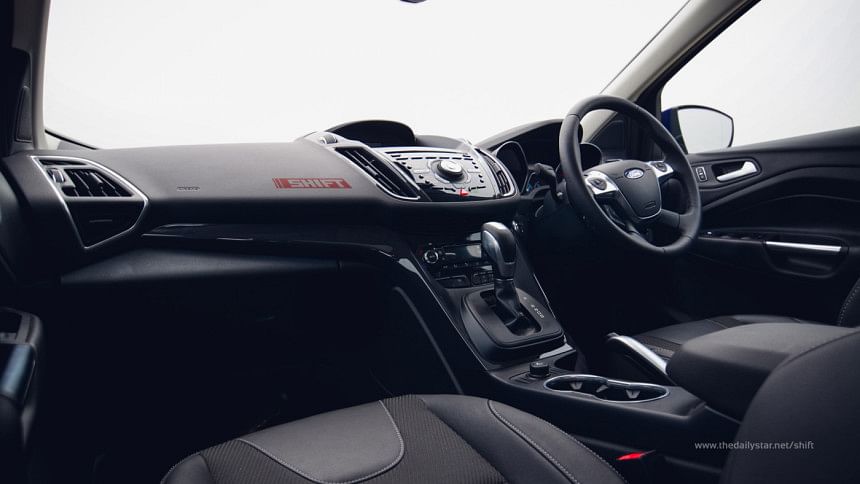 Does it comfort?
The interior is spacious as expected with large comfy seat especially up front. The driver's is 6-way adjustable with rake and reach for steering column. Fiddle around for a few seconds and you can set a very comfortable arrangement. The belt line is low so the windows are big allowing you a clear unobstructed view of the outside chaotic world.  It was very easy to get acquainted with the dimensions of the car from the get go.
What are the fancy tricks?
The gadgets are plentiful. A nifty little feature is the keyless tailgate opener. It works by unlocking and lifting up the gate when you move your foot under the rear bumper. The sensor detects your foot but only when your key fob is on you. Great trick when you are carrying things. But quite pointless in our country as we have legions of workers waiting to open and load our weekend groceries for us.
The options list is quite exhaustive as you can upgrade the stereo till your ears bleed. The standard array of aircon and info display is there althought Ford's SYNC voice activated system isn't part of the package. One gripe is the controls for aircon are placed low down. It's the one thing I fiddle with most and I wish it was placed higher.
The ergonomics are well thought out as every driver-important controls were easily within reach. Car dashboards don't need to look like a spaceship, they need to work like one: smoothly, unobtrusively.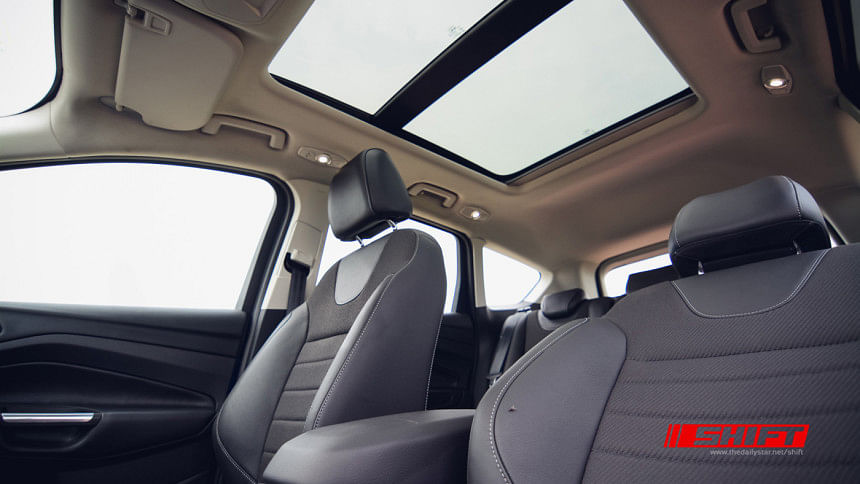 How does it protect?
The model we get here has all-wheel drive (AWD), ABS, traction control in the form of ESC and seven airbags including one for driver's knee protection. It has an anti-theft system to protect itself when you leave it behind. But most people have a chauffeur to sleep in it and look after it.
Does it grunt?
The Escape worldwide has several juicy engine flavors to pick from. And they are all turbo. Turbo is the go-to tech now for power and efficiency. We get the 1.6 and 2.0 the latter of which is what we got because more power is always more tasty.
The Escape is a moderately large car yet the base engine works well. The 2.0 turbo motor pumps out about 239 hp at 5700 RPM. 0-100kmph times are around 7 seconds. Officially as well as based on what I gathered from the owner forums, it returns a decent average of 9.78 kmpl (23 mpg). Highway figures are 11.9 kpl (28 mpg). Which is all good news.
To further help with the fuel efficiency is a new trick gizmo called Active Shutters fitted behind the front grill. At higher highway speeds, the shutters close so that it is more aerodynamically slippery like an oiled snake. Now comes the bit you petrol-heads want to know.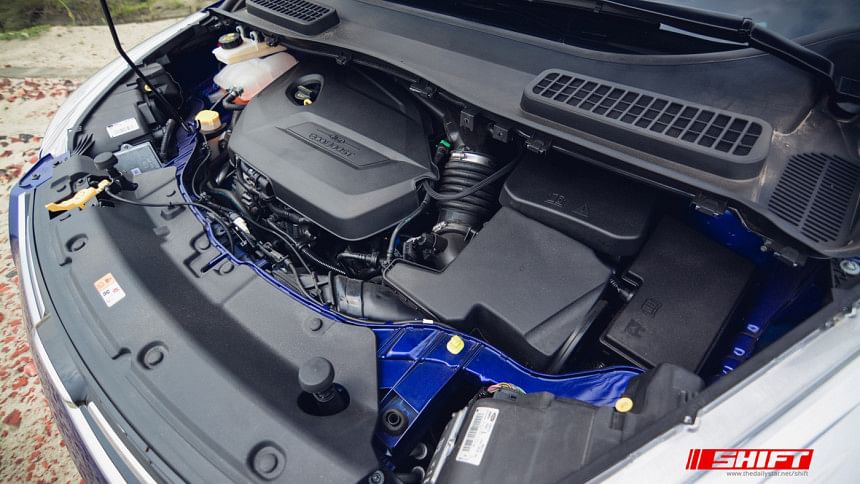 How does it move?
The day we took it out for a spin we also had the new Ecosport diesel along for the ride. I picked the keys for the latter cause the Ecosport is a manual and I have been dying to try that out. More on that later.
I didn't expect the Escape to impress. Sure enough, the moment it started rolling I could feel it was going to be a solid yet typical car. The 2.0 engine is responsive enough in normal driving. What's normal? Trundling through traffic, rolling down the windows to curse at people, avoiding rickshaws and waiting for some ministerial motorcade to pass. It did all that with aplomb.
Everything inside is quiet. It is easy to look out of and thus easy to maneuver. The power assisted steering wheel does just that. It assists instead of being an annoying nanny that wants to take over control. In slow speed traffic, the wheel is light and nimble.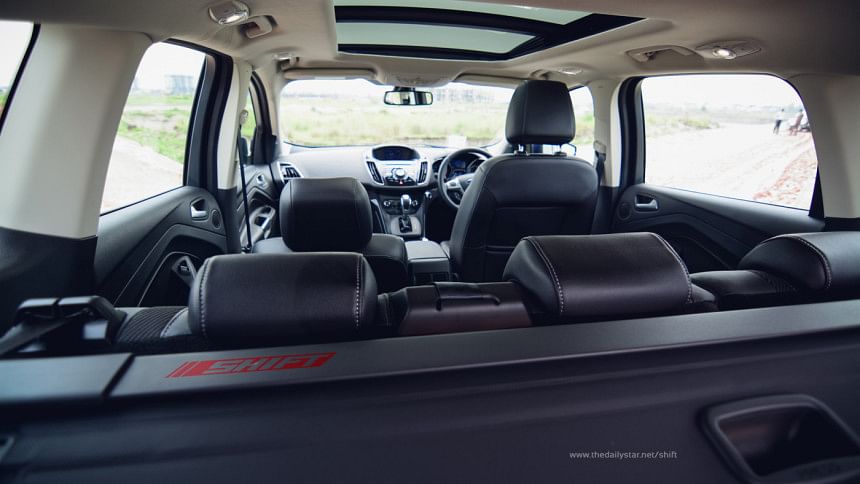 Things change when you floor it. Because of the smaller engine, it revs up quick to pull you and your chunky photographer passenger along. But as the speeds go up, the steering gets meatier, firmer although feedback from the wheels is very low. The Escape is happy when you keep the revs up and keep it moving. I put the 6-speed transmission into S mode and each gear change was easily held all the way to 5000RPM before I decided that this is somebody else's car and promptly shifted up. The buttons are on the gear stick and changes take half a second to engage safely but once you get the hang of the timing, you'll wonder why people don't use this more often.
The ride is more like a car than an SUV. The damping is controlled so there are no sudden shocks as I trundled over massive potholes big enough to have it's own mayor. Changes in direction are fluid without too much accompanying body roll. You basically aim, the tyres bite and the car turns. Typical SUVs have a habit of forming a small committee to decide whether to listen to your steering input or not. Not this.
The Ford has excellent brakes as well. In Edmunds brake testing, the Escape came to a stop from 100kmph in an excellent 115 feet. It is apparently 8 feet better than the class average.
What's the verdict?
The Ford Escape You is a compact SUV that handles brilliantly for a high riding car, has decent gobs of power and looks complementary enough to stay fresh looking for quite a while. It comes with plenty of comfort, safety and bragging rights features. The engine is quiet although in S mode you can have it scream a little harshly before it shifts. It's a bit of an enthusiast driver's mini SUV that doens't guzzle muhc fuel. And at the end of the day, you and your wallet will look good stepping out of it.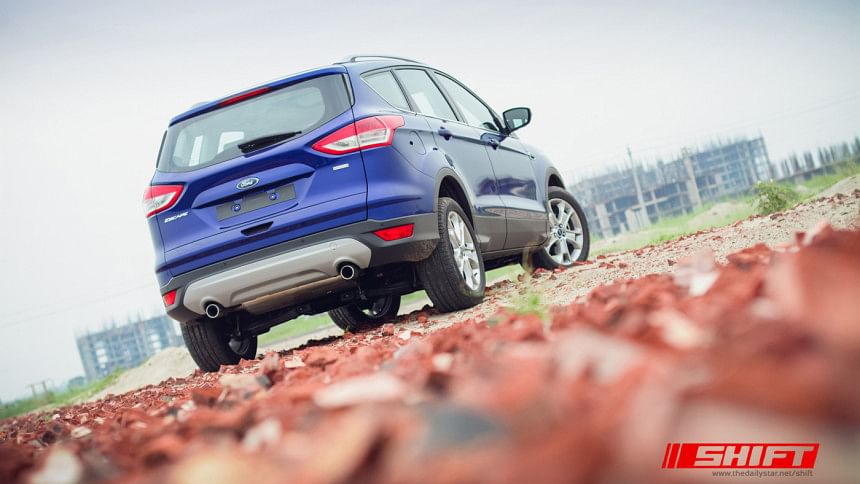 Specs
2015 Ford Escape
Engine: 2.0 L turbo EcoBoost 4 Cylinder, (239 hp @5,700 RPM).
Transmission: 6-speed SelectShift Automatic, All-Wheel-Drive.    
Features and options: 5 seats, leather, dual-zone climate control air-conditioning with rear AC, steering mounted audio and Cruise Control, Active Park Assist with reverse sensor, panoramic roof, rain-sensing wipers,  smart keyless entry, 7 Airbags, 8 speaker Sony audio system.  
Price: 72 lakh taka (2.0L), 68 lakh taka (1.6L). 
For details, contact AG Automobiles Ltd.