Test Drive
Diesel X-citement: 2014 BMW X5 xDrive25d
Taxes have dropped and so have the prices of sub-2000c cars. And this X5 just became the hot cake.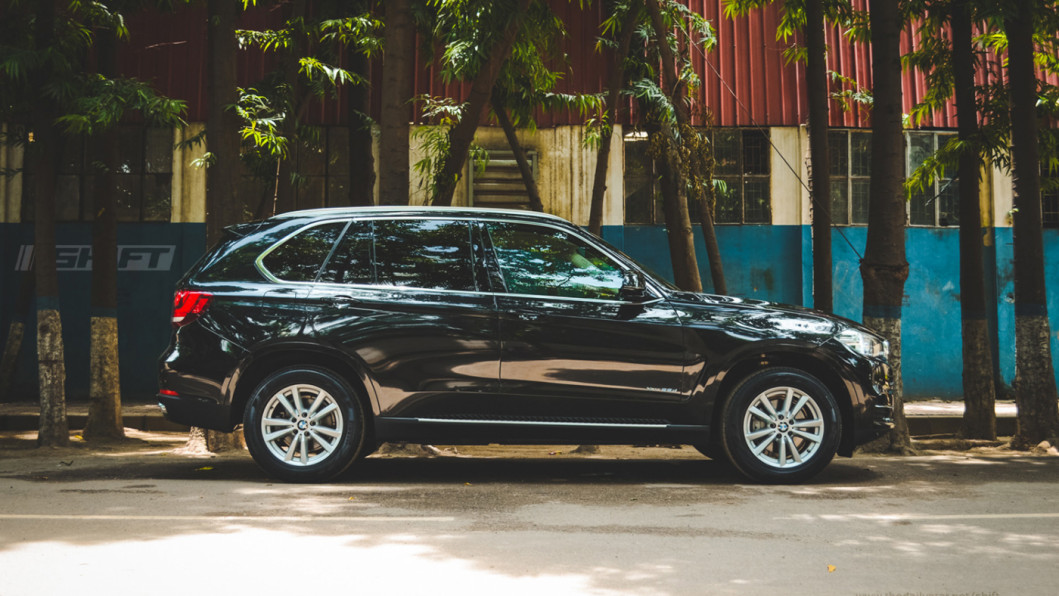 Small displacement/high output is the in-thing for car makers all over the world. Lighter is better. Save the ozone layer and the sunglasses wearing polar bear all in one fell swoop. And technology has finally caught up with what we want – more horsepower from judicious sips of fuel.
BMW has launched its latest iteration of the X5- its largest SUV. But while it is still large on the inside, the design outside has been tightened with more fluid curves that make a sleeker, more compact package. And it's lighter by almost 90kg over the previous model. We find out if that lightness has paid off dividends in the performance department.
Expecting big SUVs to be sporty is like expecting Justin Beiber to belt out a cooler rendition of 'Smoke on the water'. But these are interesting times and four-cylinder engines offer plenty of oomph even in cars nearing two tonnes in weight. Magic word is 'turbo'. The two-stage turbo on the 2.0 diesel squeezes out 218bhp and quite an amazing 332 lb/ft of torque. And all that torque comes in at a measly 1500RPM. Basically, whenever you want it. All this suggests fun times on the road.
That trademark kidney grill now becoming an angry moustache
The road starts off with a lot of potholes because that's how we like to build roads in Bangladesh. The SUV has the telltale diesel clatter but it is so muted that you'd have to be in a quiet room to hear it. Inside, everything is hush-hush over the acres of leather and wood. We're not saving any cattle here. This is a comfortable place to be in. I love buttons and there are buttons everywhere doing things you expect or otherwise. Powered seats, sunroof, mirrors, everything. There is space for seven people inside. The ride is comfortable and the firm suspension settings make the big lug of a car feel much lighter than it is.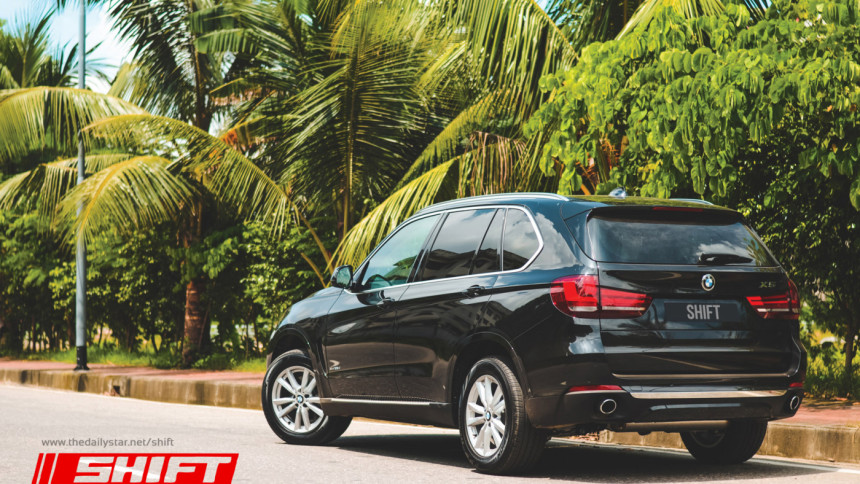 And then there's the open road. This thing accelerates quick. It isn't a sportscar but it will outrun just about anything that is out on our typical Dhaka streets. O-100kmph comes in about 8.2 seconds. For an SUV with a small engine, that's fantastic. The real fun comes in the in-gear sprints. That humongous torque just makes it a breeze to pull away whenever and in almost every gear. The 8-speed automatic is slick and smart and shifts without youknowing. Like a good butler, it stays in the background.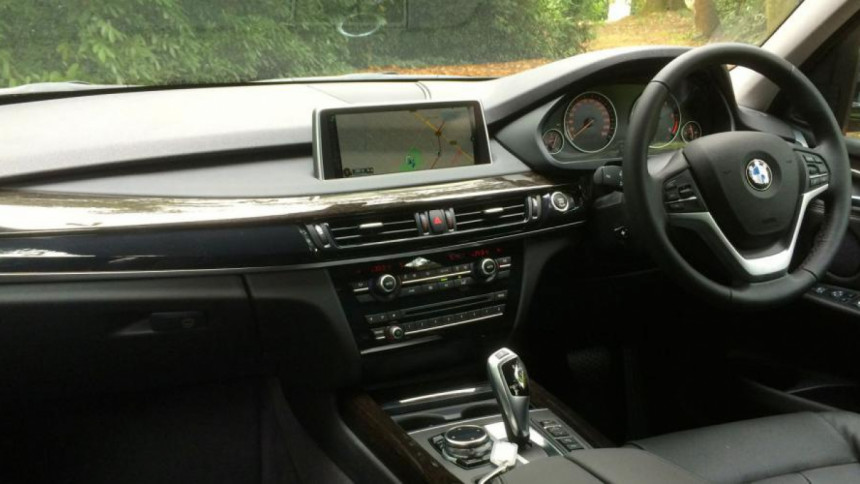 In keeping with the environment friendliness, there's an ECO mode where the X5 tries to drink as little fuel as possible. It is Ramadan after all.  The dash changes to a small graphic that shows you whether you are doing it right or exceeding the frugality. That's no fun. The SPORT button however, is. Everything changes noticeably. Faster downshift, louder throttle, revs held longer. This small tank corners very well without exhibiting too much body roll, despite the high ground clearance. You don't want to be sitting in the back all cozied up in cars like these because these are meant to be driven.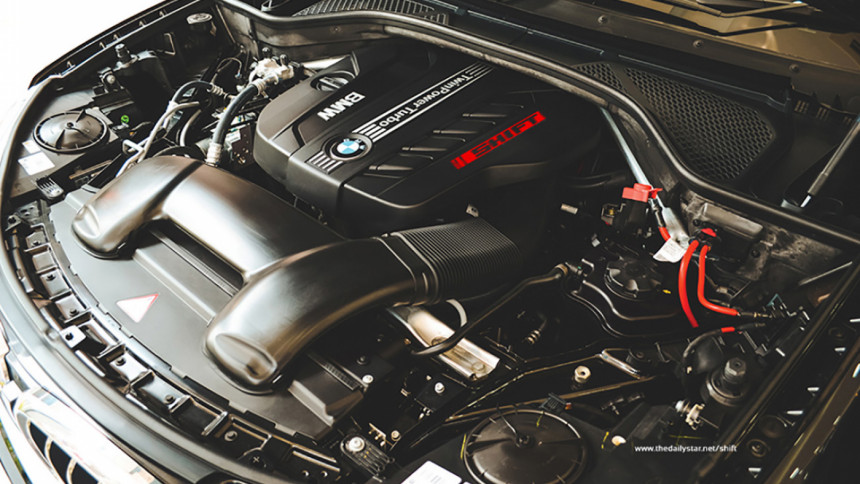 So how good is it? It's brilliant. It's big and it's very aggressive looking even for an X5. And that before adding the M Sport bits and pieces to make it look meaner than an angry rabid pitbull. There's enough creature comforts to keep you cool (or warm depending on weather) in our endless traffic jams. The newly updated iDrive information system is very intuitive, letting you navigate through all features and settings with ease. The backup camera offers accurate information on where you are heading and where a dog is in the way, with the use of green and red overlaid pathways. The adaptive headlights are not only smart enough to avoid dazzling the oncoming cars but can also illuminate around corners. There's also a 'Hill Descent Control' feature that safely and automatically allows you to navigate downhill slopes at less than walking pace without any input from you. Of course, it's highly unlikely these cars will see much off road activity. As for the engine, it's powerful enough. It will propel you across the tarmac provided there's enough open tarmac to be found. And if you want more, you can always order the 3.0.
Price starts at 1.95 crores. We suggest getting the black rims. For more info on specs and the price, contact Executive Motors Ltd.
SPECS
2014 BMW X-5 xDrive25d
Engine: 1995cc turbocharged 4-cylinder
Common Rail direct injection diesel engine,
218 hp @4400 RPM,
332 lb-ft torque @2000 RPM.
Gearbox: 8 speed automatic
with Steptronic, All-wheel drive.
Wheels and tires: 255/55 R18 wheels.
Brakes:  Ventilated discs front,
solid discs rear.
Price: Starts from 1.95 crore taka. For full specs, please
contact Executive Motors Ltd.