The trend-setter: AE80 Corolla with 4AGZE implant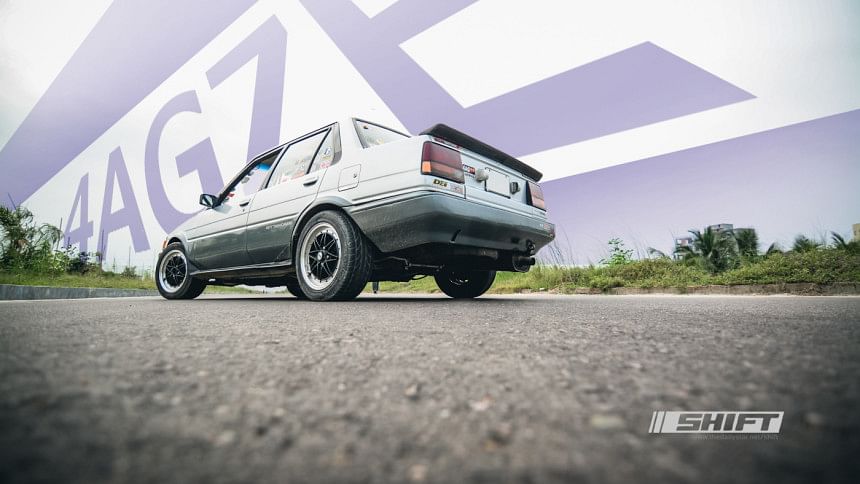 When you think of it, fashion is a fickle thing really. The same wallet breaking cosmopolitan dress that is believed to be 'in' one week might be next week's car mopping rag. This constant desire to keep up with the latest trend might lead to serious identity crisis in the long run. On the other hand, there are those that choose to follow their own paths and relish in pushing the limits to create a constantly evolving unique statement of their own.
Mohtasem Munir Chowdhury Sakin is one such self-styled person. How? Well, the shorts clad DC shoe flaunting Club GT t-shirt boasting jolly young fellow is a die-hard car fan of Bangladesh to start with. It would require more than just one feature to cover his total scale model collectibles which can be deemed pricier than his AE80 corolla. Not only does he own a rather unusual AE80, he also has an extraordinary X90 Mark II and a war hero Jeep. But instead of getting distracted like how any car enthusiast would, we would focus our attention to the Rolla today. After all, that is what it all began with.
What is the story of the chassis? Like father like son. The phrase was meant for Sakin and his dad. The motor enthusiast father owned a fleet of VW Beetles in the wee ages of Sakin. In 1991 he got hold of a then new AE80 to little Sakin's joy. The son inherited the 80 during college years and magic began. It is rare to find this model of Rolla subjected to be the lab rat of experiments these days. It is very difficult to find one in a good shape and Sakin considers himself extremely lucky in this regard, given the fact that after so many years their 80's chassis is still intact. The price tag of a used and abused 80 might be cheaper than a genuine aftermarket HKS or GReddy exhaust system from Japan. But do not let this fool you into thinking that Sakin's piece is like any other Government or NGO run civil servant. It is, in fact not civilized at all. Sakin brags about his affinity towards his Rolla due to the uniqueness of it and how it has seen him grow over the years. Modern day amateur tuners not go for the 80 Rolla when it comes to car modification, but they rather choose the E90 model due to the sheer availability of the thing. As a result, Sakin's worked out Corolla is so exceptional, it's super cool.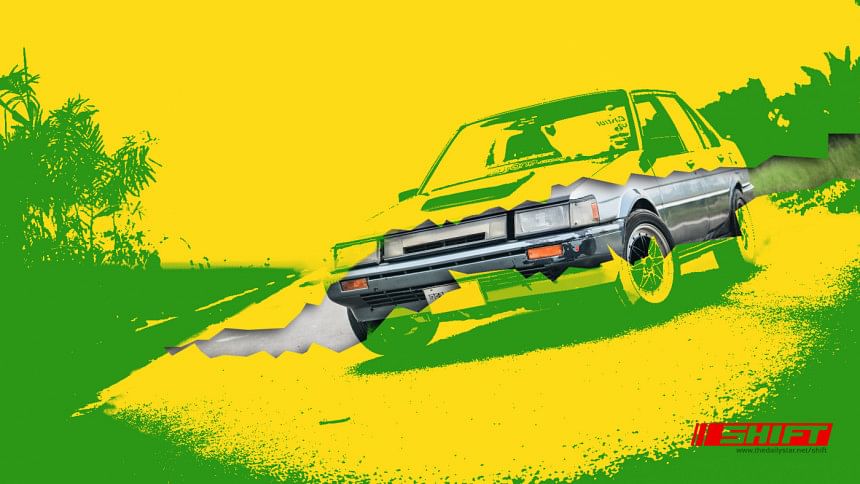 Evolution of the 80: Once the old 2A carb died out, Sakin sourced a 20V silvertop, wired it with a blacktop MAP wire and chucked it in the AE80. During the early 2000s, there were literally five cars with swapped 20Vs in them, unlike now, when 4A-GE is regarded as the national GT engine of the nation. The fading black car got extended fender flares built out of sheet metal, giving it the much needed aggression. These days' kids with 20V swapped E100s and E90s like it when they zoom past innocent drivers. But that is nothing compared to the awe that Sakin's old unsuspecting E80 used to generate when it would rev over 8,000 RPM and fly by during the mid-2000s. 
The car was not meant for show. It was a daily driver, taking Sakin from university to home. He would occasionally run it to Bandarban as well. That means it was a conqueror of rugged terrains, well sized pot holes and steep speed breakers. Eventually after half a decade of (ab)use, he contemplated on an identity change. After much debate, a two tone scheme of silver and grey was selected for the Rolla. During the make-over, Sakin found the time and worked on the motor simultaneously. Thanks to his occasional South East Asian sprees, sourcing some shiny gizmos to fire up the 20 valver was not an issue. He installed brand new Toda valve springs, oil pump, TRD head gasket, ACL bearings and replaced a few other tid bits.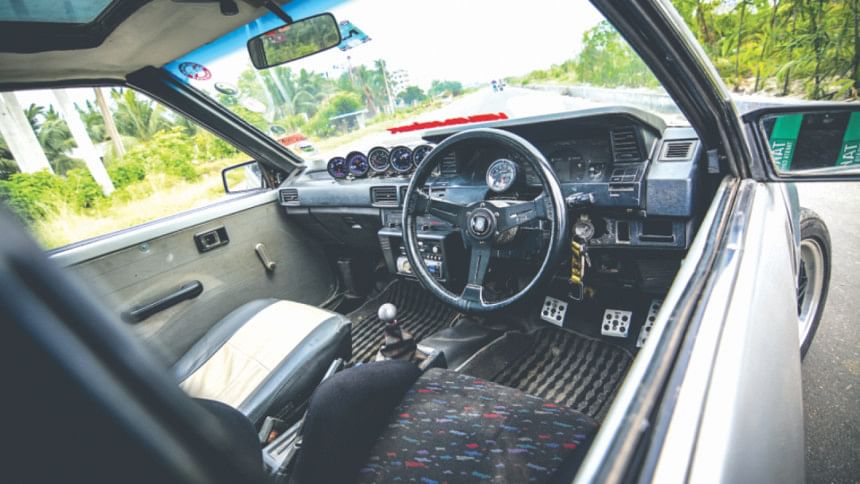 Why the supercharged 4A? The old fighter was back with a bang- better looking and faster! But good things don't last. Sometimes they get better! With the swelling number of indifferent 20V swaps in the country, Sakin adopted a different story that matched his trend setter attitude. Since extracting some extra juice from the already high strung motor would mean going the higher duration cam way with tuned ECU (which would be ridiculously expensive), Sakin thought of a better approach. 4A-GZE. On an eventful trip to Malaysia, Sakin along with a bunch of car crazed folks imported near to half a dozen of performance motors, out of which two happened to be 4A-GZEs. One for Sakin's AE80, and another for a tiny Starlet GT (whose story we will tell too). So the swap began- in the basement of a good friend, which houses plentiful cars we at Shift fathom exciting.
Besides the cost-benefit analysis, Sakin had more to tell about the GZE unit of Toyota's 4A. "It is the rush you get when the supercharger spools at 10 psi and because the blower's pulley is relatively small, it does so at lower RPMs. As a result, there is more grunt without having to press the right foot deeper. This conversion is not the first of its kind in the country- just about one or two such examples exist; But not in an 80 Rolla. That's what it makes it so special." Not only is it that, but his particular specimen is from a last generation AE92 supercharged MAP unit with a compression ratio of 8.9:1, throwing in 165PS and 210 N-m of torque as opposed to 165 N-m of torque of his previous N/A 20V.
The quirky bits?  There are no windshield wipers. No wiper fluid container. Despite having an illuminated interior thanks to the many 'essential' aftermarket gauges, Sakin's old Corolla's RPM gauge still does not work! The sticker bombed 80 guarantees a treat to inquisitive eyes. It almost seems like an oversized Hotwheels replica with matching matte black TOMS side skirts, trunk spoiler and hood scoop from an AE92 Levin. The driver seat was replaced with a Bride mesh bucket with Takata 4 point harness although the remaining seats were kept bone stock squishy soft. Why not bother? Because why bother? The best add-on on the 80 has to be the sun roof, that too from a Honda. As if that is not eccentric enough. The face of this particular Rolla is in fact not from a Rolla- I was the victim of Sakin's lunacy when he took me with him to the distant village of Pahang in Malaysia to source the AE86 nose lift - a full package of Hachi Roku head lamps along with the perspex grille with integrated fog lamps and de-bossed LEVIN badge.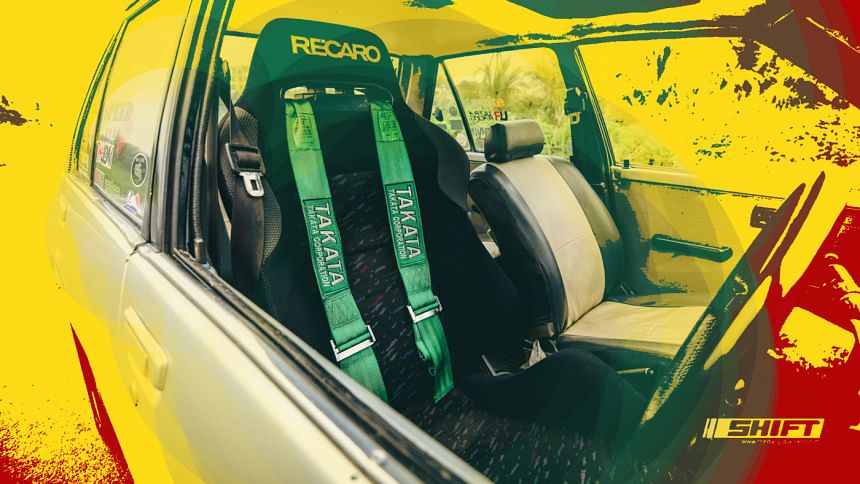 What does it do to onlookers while it spools away? Due to the ruler chiseled high ass of the 80, you cannot fail to notice the rear solid arms wrapped with shiny white Ultra Racing sway bars and slightly cambered out Yokohama sticky road tires. All that merely highlights the obvious menacing nature of this toy-like car, but it's when Sakin notches down a gear, when all the drama begins. The slightest throttle fires up the blower that whines like a wolf while you will try hard to keep up with the speed trails.  
Timeline of the heart transplants
1984 - 2004 2A-C
2004 - 2013 4A-GE grey top (silver top motor with black top wiring + MAP)
2013 onwards- 4A-GZE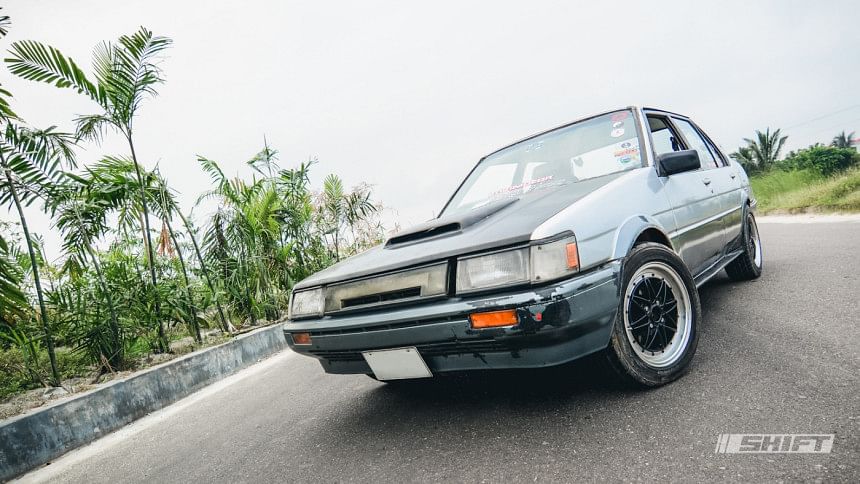 Current specs
Engine and accessories- 1.6L 4A-GZE with a SC12 supercharger, K&N 3" air filter and oil filter, Samco radiator hoses, AE101 dual core radiator, TRD fuel filter, AE101 fuel lines and Walbro 255LPH fuel pump, 3" mandrel bent exhaust piping with a MagnaFlow inspired endbox
Transmission- E52 5M/T with a TRD short shifter
Fluids- Motul .4 brake oil, Total SM900 engine oil, Toyota radiator coolant
Brakes- AE101 Ceres GT front slotted discs and rear solids, AE101 master cylinder and booster, Safe Brakes steel braided hoses
Suspension- Ultra Racing front and rear strut bars, front and rear sway bars, front fender bars, Zerone springs, KYB shock absorbers, Cusco polyurethane bushes
Wheels and Tires- Equip 03 15" 7J wrapped with Yokohama S- drives 195 55 R15
ICE- Pioneer head unit with Kenwood amplifier and speakers
Electronics- Racetech oil temperature, oil pressure and water temperature gauges, NRG AFR and boost gauges
Interior- Nardi Signature series steering wheel, Honda Integra DC 5 gear knob, driver seat Recaro bucket with Takata harness
Exterior- TOMS AE82 side skirts and boot lid spoiler, AE86 Levin facelift- headlamps and grille with built in fog lamps, AE92 Levin supercharger hood scoop to air the top mount intercooler and too many stickers that weigh down the SC12 blower's boost