Reviewing the Hero Thriller 160R DD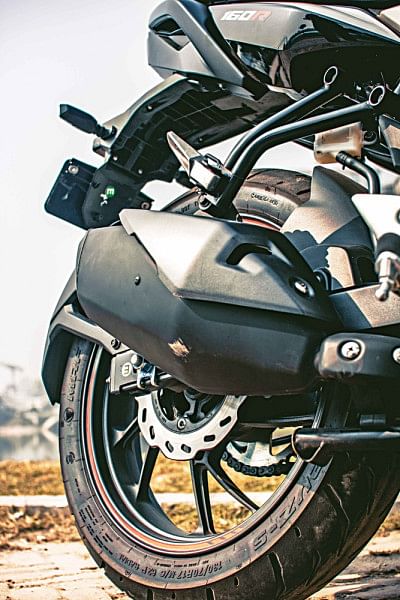 What is it?
Technically, it's the new Hero Xtreme. But according to the Hero staff, since the old Xtreme is still quite fresh in our memories, they decided to change the nameplate to avoid confusion. To summarize, the new Thriller 160R is a sporty commuter from Hero that competes with bikes such as the Bajaj NS 160, Honda Hornet, and Yamaha FZS V3.0.
The look
Elegant, especially for a Hero. The entire design of the bike is quite reserved, right down to the low profile badging. Indicator lights are tiny, but get away with because they are powered by LEDs. There is some nice attention to detail such as a heat shield in front of the exhaust and rubber end tips on handlebars to smooth any damage caused by an accidental drop. The fitting and finish of the bike is excellent and the materials are of very good quality, though some standard Hero cost-cutting roughness —bare metal start lever and ugly long battery vent tube— exist. The seat is of a long bench type, giving riders plenty of options in terms of riding position. One mildly infuriating feature is the pillion grab handles are molded as part of the rear fairing, meaning the passenger can only hold onto them but not fully grab them.
The tech
The Thriller is packed with quite an assortment of modern bells and whistles. All around LED lighting, fully digital backlit instrument cluster, automatic headlights, etc. There are also some nice extra touches, such as a hazard warning switch for emergencies and a side stand warning light for all of us absent-minded bucketheads. That said, the presence of these advanced features makes the omission of a gear indicator even more baffling, as it is clearly well within the company's capability. In terms of safety, Hero managed to include single-channel ABS on its dual disk brakes, a feature that used to command a quite steep premium only a year ago.
The ride
Surprisingly versatile. At slow throttle and steady acceleration, the Thriller acts like any other commuter. The ride is smooth and comfortable, with the suspension smoothing out all bumps with ease. Twist the throttle with some enthusiasm however, and it's a different story. The advertising material boasts a 0-60 km/h of 4.7 seconds, and we can confirm it's certainly possible. In fact, you can hit triple-digit in the third gear, as long as you are willing to push the bike to its full 9,000 RPM redline. Though doing so will do a number on your fuel economy, because even the 10 intelligent sensors the engineers put into the bike's fuel-injection system can't compensate for that kind of power demand. As for attacking corners, the bike is quite lean friendly, and you can trust the bike to stay upright in a turn. The ABS does a decent job of stopping the bike on its tracks, as during our drive, we always came to a stop without locking up our wheels. The biggest issue we had is with operating the switchgear, as the armored riding gloves kept snagging on various bits when we tried to indicate or press the horn. While annoying, this issue can be potentially fixed by any rider with a bit of practice.
Verdict
The Hero Thriller provides one of the best value-for-the-money options currently on the market. If you are looking to upgrade from your old 100/120cc commuter to something safe, modern, and fun, keep this one in your mind. It can be both a comfortable daily commuter and a fun weekend thrill machine, depending on your riding style.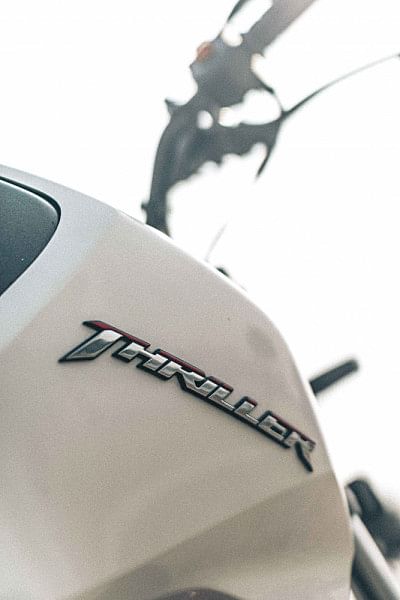 Specs
Engine: 163cc Air-cooled, 4 Stroke 2 Valve Single cylinder OHC (15 bhp, 14 Nm of torque).
Transmission: Five-Speed-Manual
Brakes: single-channel ABS. one pistons per calipers
Suspension: Telescopic (37 mm DIA) with anti-friction bush, 7 step Rider-adjustable Monoshock
Features: Automatic headlamp, full LED lighting, fully digital instrument panel, side stand warning light, and engine cut off.
Price: BDT 1,99,990/-