Project Cars: 2004 Mitsubishi Lancer Evolution VIII
Dawn Run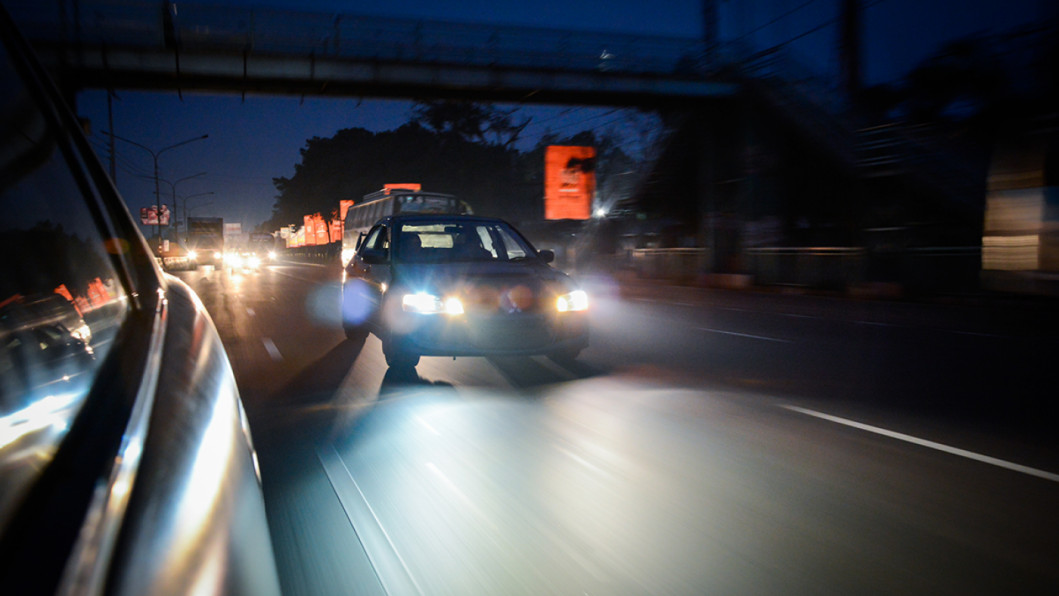 This is the fourth Evolution we've featured on Project Cars, and it's a testament to how rapidly things have changed in the local automotive scene. It takes dedication and a solid understanding of performance cars to own, drive and tune a Lancer Evolution, and we have truly come a long way from the days of simple engine swaps.
4:58 AM
Tasdid's phone call jars me from a light sleep I promised myself I wouldn't get into. Quick shower later I'm on the road, powering towards the meetup point in Dhanmondi. Dhaka is a beautiful orange streetlight tinged blur and other than a goods laden truck and an ambulance, there's nothing else on the road, and it's a glorious time for a drive.
5:08 AM
Just about 5 minutes on the road and I've arrived. The Evolution is waiting in front of a black gate, silvery grey paintwork half hidden in the shadows, as if the beast is waiting to pounce. I get out, introduce myself, and meet the owner, Sourav Mahmud. Along for the ride is Eeshan Zaman, with Tasdid and his camera riding shotgun. The plan is set and we get ready to move.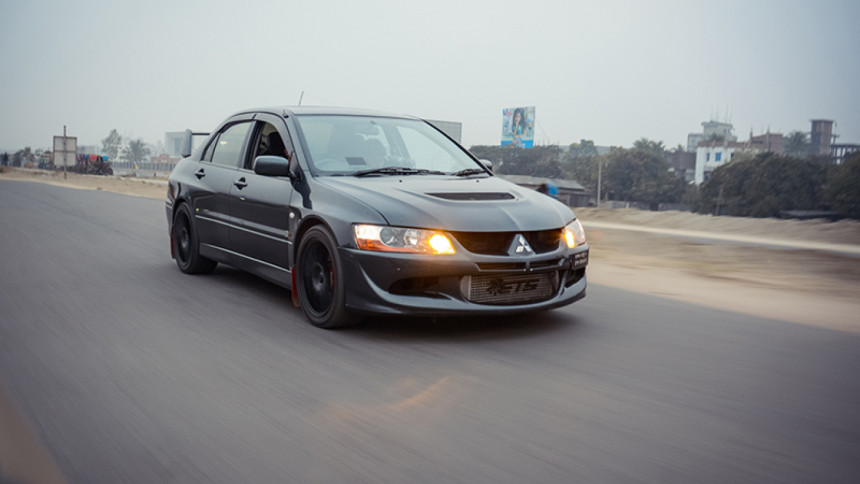 5:12 AM
Heading towards Jahangir Gate, the empty roads coax and tease. A glance at my rearview mirror tells me the Evo is barely being contained by lazy gear shifting and gentle throttle blips. Tasdid, leaning out the window of my aging Vista, takes a few rolling shots, marveling at the way the metallic grey paint and muscular lines of the Evo reflect the streetlights as we rush past. Before Tasdid can fix the settings on his camera, however, Sourav gets tired with the slow pace and opens up the taps on the emptiest stretch of road on our morning run. A downshift, a ferocious discharge from the blow off-valve and the stillness of the night shatters into a million cantankerous pieces, the exhaust note ripping up the fabric of time and space as the Evolution launches itself into the horizon.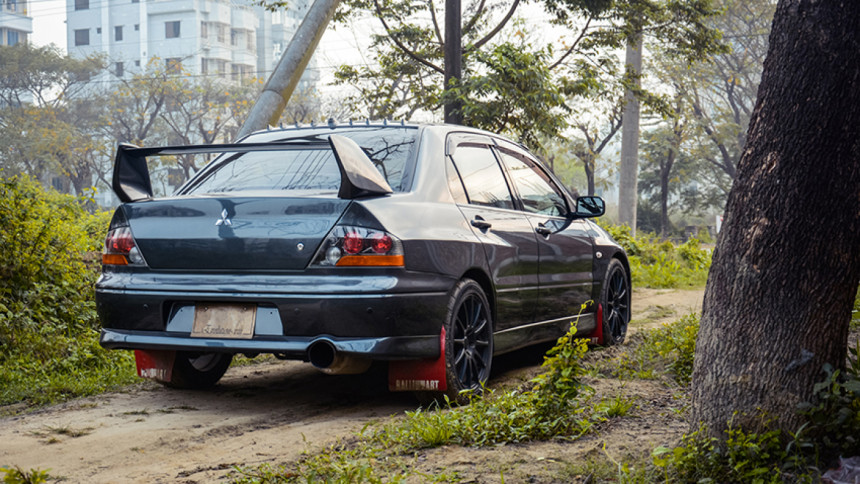 5:32 AM
Sourav realises there's no way an old Vista falling apart at the seams can keep up with the 400+ whp tuned monster of his, and graciously takes it (relatively) slow till we reach the photoshoot location. The sky is almost clear now, and as Tasdid gets about his business, I start work on mine.
"Why the Evolution? Why not something else?" I ask Sourav.
"I've had my share of performance cars in Dhaka, and after owning a Celica, 4AGE equipped cars and so on, the Evo is the top dog. It's the most fun you can have with a car in Dhaka considering how stable, usable and practical it is compared to other performance cars. I love the way the Evo drives, I enjoy it a lot."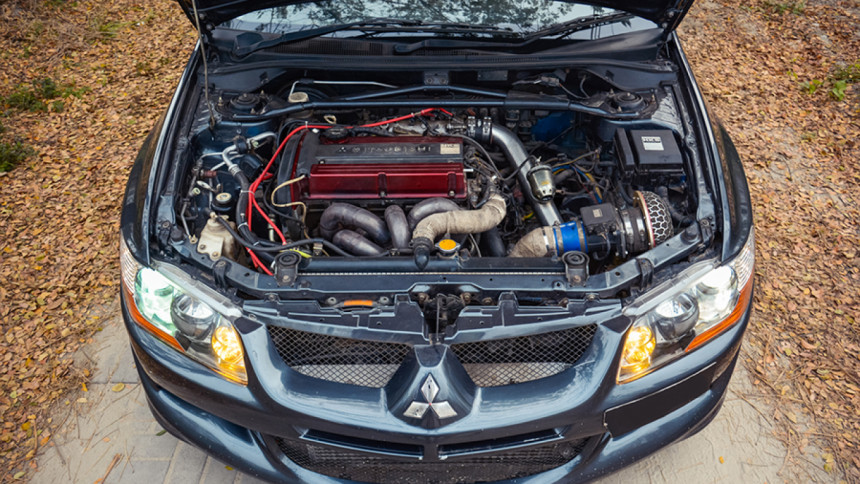 6:12 AM
There's no doubt the Evo's beauty isn't the skin deep sort because the visuals tell you a lot about its abilities on the road. Tuned by the famed gurus at Autosmith, the Evo utilises a full ETS Turbo kit (Garett GT35R turbo, ETS intercooler, exhaust manifold, intercooler piping, exhaust downpipe) in combination with other goodies (TiAL wastegate, HKS SSQV IV blow-off valve, Injector Dynamics 1000cc fuel injectors, HKS intake system and HKS Hi-Power exhaust). Even with stock internals, Sourav says, the Evo is making quite decent power, more than enough for a bit of fun on empty roads.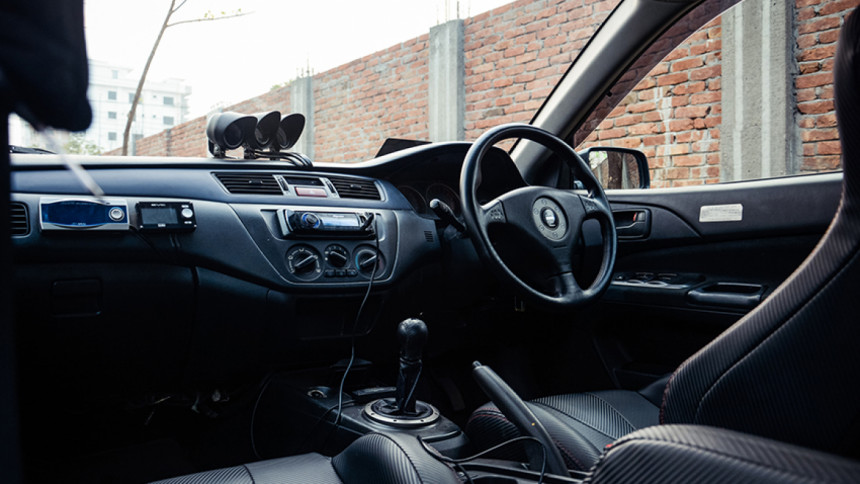 7 AM
With the photoshoot wrapped up, I get ready to find out what the Evo is like at full bore when I'm inside it. With Eeshan bringing up the rear in my Vista and my hips being squeezed into cookie crumble in the Evo's passenger bucket seat, we set off. Sourav drives in an assuring way, shifting with just the right mix of confidence and caution. This is clearly a man who does not take unnecessary risks (see side panel and his take on driving safety), and it shows.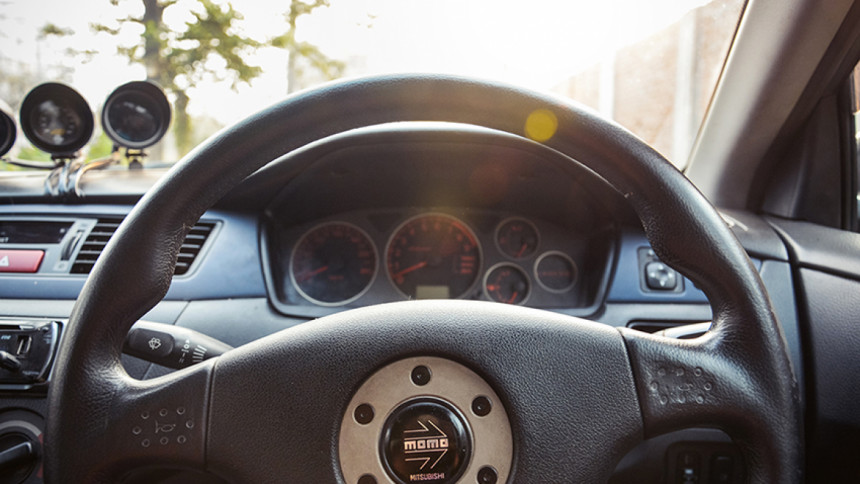 7:08 AM
Coming off the Kuril flyover, at full power, the Evolution displays an enormous amount of grip and constant stability as it keeps pulling and pulling. And pulling. The amount of ground this beast can cover in short bursts of speed is incredible, and even though time seems to slow down at triple digit speeds, once the brakes are engaged and you float back down to earth, its astonishing to realise how much distance you've covered.
8:45 AM
A filling breakfast composed of chicken jhal-fry, mogoj bhaji and paratha later, its time to reflect on a morning well-spent. The Evolution is a truly astonishing car, and no matter how many chances I have to get acclimatised to the sound and fury of an Evo or an STi, these machines keep throwing knock-out punches. It's almost like a mistress whose charm you can't shake off no matter how hard you try. Would we have it any other way? Of course not.