Solar Impulse 2 to make New York fly-over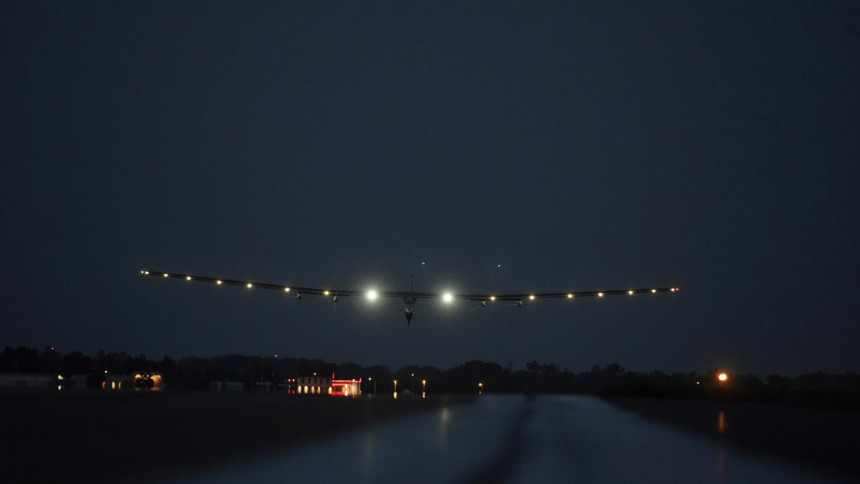 A plane powered entirely by the sun is flying to New York City.
The Solar Impulse 2 has taken off from Lehigh Valley, 87 miles (140km) west of the "Big Apple", on a journey that should take only a few hours.
The flight will mark the completion of the trans-America portion of the aircraft's bid to circumnavigate the globe.
The solar-powered plane will end up on the east coast of the US, ready for a daunting crossing of the Atlantic.
A repaired plane and team
Mission planners have got permission from air traffic controllers to do a photoshoot above the Statue of Liberty.
This is expected to occur around 0200 local time (0600 GMT).
Once this is done, the plane will be called into John F Kennedy airport.
Pilot Andre Borschberg is at the controls for this flight. His business partner Bertrand Piccard will take over for the Atlantic leg.
Deciding when to cross the ocean will be a tricky decision. The slow-moving, ultra-light plane needs benign winds, and the team concedes that the right conditions may not present themselves for several weeks.
The project has made excellent progress since renewing its global challenge in Hawaii on 21 April.
In 2015, Solar Impulse flew eight stages from Abu Dhabi to Kalaeloa, including a remarkable four-day, 21-hour leg over the western Pacific - the longest flight in aviation history in terms of the time it took.
It was damage to its batteries on that stage, however, that forced Solar Impulse to lay up for 10 months, for repairs and to wait for optimum daylight length in the northern hemisphere to return.
The quest will be complete when the plane arrives back in Abu Dhabi.
The Solar Impulse plane is covered in 17,000 photovoltaic cells. These either power the vehicle's electric motors directly, or charge its lithium-ion batteries, which sustain the plane during the night hours. It is intended as a demonstration of the capabilities of solar power.


LEG 1: 9 March. Abu Dhabi (UAE) to Muscat (Oman) - 772km; 13 Hours 1 Minute
LEG 2: 10 March. Muscat (Oman) to Ahmedabad (India) - 1,593km; 15 Hours 20 Minutes
LEG 3: 18 March. Ahmedabad (India) to Varanasi (India) - 1,170km; 13 Hours 15 Minutes
LEG 4: 18 March. Varanasi (India) to Mandalay (Myanmar) - 1,536km; 13 Hours 29 Minutes
LEG 5: 29 March. Mandalay (Myanmar) to Chongqing (China) - 1,636km; 20 Hours 29 Minutes
LEG 6: 21 April. Chongqing (China) to Nanjing (China) - 1,384km; 17 Hours 22 Minutes
LEG 7: 30 May. Nanjing (China) to Nagoya (Japan) - 2,942km; 1 Day 20 Hours 9 Minutes
LEG 8: 28 June. Nagoya (Japan) to Kalaeloa, Hawaii (US) - 8,924km; 4 Days 21 Hours 52 Minutes
LEG 9: 21 April. Kalaeloa, Hawaii (US) to Mountain View, California (US) - 4,523km; 2 Days 17 Hours 29 Minutes
LEG 10: 2 May. Mountain View, California (US) to Phoenix, Arizona (US) - 1,199km; 15 Hours 52 Minutes
LEG 11: 12 May. Phoenix, Arizona (US) to Tulsa, Oklahoma (US) - 1,570 km; 18 Hours 10 Minutes
LEG 12: 21 May. Tulsa, Oklahoma (US) to Dayton, Ohio (US) - 1,113 km; 16 Hours 34 Minutes
LEG 13: 25 May. Dayton, Ohio (US) to Lehigh Valley, Pennsylvania (US) - 1,044 km; 16 Hours 47 Minutes
LEG 14: June. Lehigh Valley, Pennsylvania (US) to New York (US)