ACI fined Tk 1 crore for using harmful chemical in Savlon hand sanitiser
Asked to remove product from market in 48 hours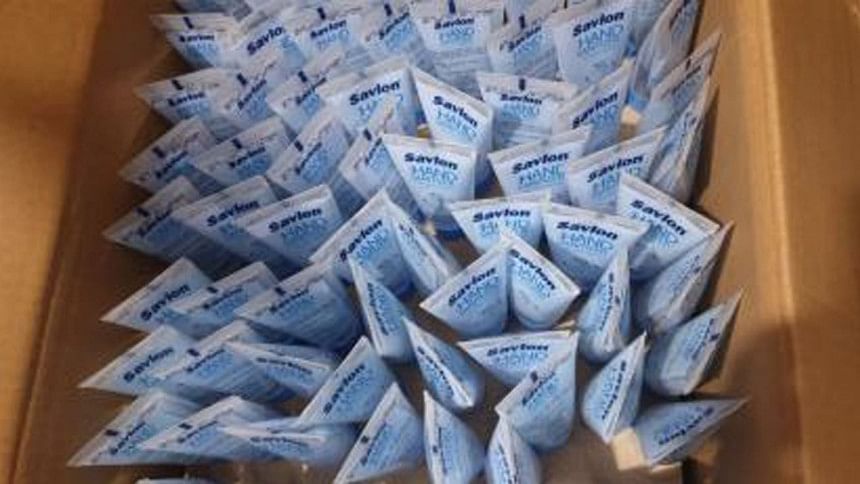 A mobile court of Rapid Action Battalion has fined Advanced Chemical Industries (ACI) Ltd Tk 1 crore for using harmful methanol in its Savlon-branded hand sanitiser.
The court also asked ACI to remove the product from all markets within 48 hours, said Rab's Executive Magistrate SarwoerAlam, who led the team during the drive at the company's depot in Dhaka's Mirpur last night.
ACI had been collecting the product through outsourcing, the magistrate said.
A trader of Old Dhaka who supplied chemicals might have provided methanol instead of ethanol, he added, quoting the company officials.
All other sanitisingproducts of ACI were found to be okay, the executive magistrate said.
A mobile court recently conducted a drive at ACI's hand sanitiser factory in Gazipur and found harmful chemical in the product.
The court fined ACI Tk 17 lakh and issued a warning so that they refrain from using the chemical in the sanitiser, Sarwoer Alam said.  
After receiving information that the company has stored huge quantity of sanitisers made of harmful chemical in its Mirpur depot, the court conducted the three-hour drive there, starting from 5:00pm yesterday, he said.
They tested the product and found presence of methanol, the executive magistrate said.
Contacted, ACI's Managing Director of Consumer Goods, Syed Alamgir said that they would comment on the issue later.