VIP criticises Dr Strange for not practising medicine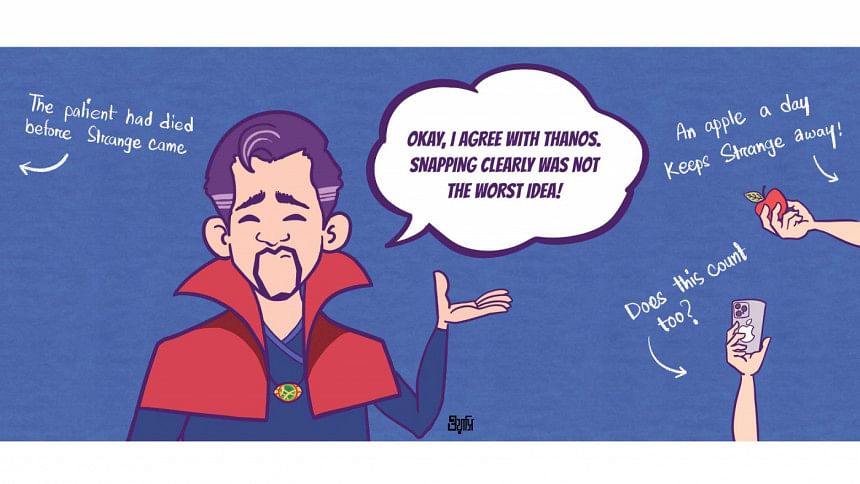 "How is he even a doctor if he doesn't treat people or at least own a dispensary?" Naambolle Chakrithakbena, a Verbosely Impotent Person (VIP), asked about Marvel Cinematic Universe superhero Doctor Strange.
"But yeah, his name is apt. You are a strange doctor unless you treat people or own a pharmacy to at least to be called a 'quack'," he continued, adding that he learned in his student life that only an MBBS degree could bestow such a title.
Meanwhile, never before could Doctor Strange imagine that someone would dare call his doctor-ness into question, ignoring his ability to help people. The man who has been healing the universe and its people, including aliens, is now suffering from depression because he doesn't really have a chamber or treat any animal. Such existential crisis left Strange in a state where he could only blame himself for not pursuing an MBBS degree right after his HSC, where he obtained a golden GPA-5.
However, Chapasthani VIP Naambolle Chakrithakbena believes that Doctor Strange should have offered his treatment for the people during Covid-22 pandemic instead of doing unnecessary movies. He even urged Marvel Cinematic Universe to train their so-called superheroes to be professionally correct. For instance, Doctor Strange should be in a chamber or in a pharmacy who waits all day long for patients, not in the sky performing magic.
When contacted by this correspondent, Doctor Strange said, "I didn't know that my life had been a lie till I heard the Chapasthani VIP. Now, I believe that I don't deserve to be called a doctor as I have never rendered someone medical treatment, and I don't have a chamber either. For the first time in my life, I regret not pursuing an MBBS degree," Doctor Strange said with despair.