Unable to deal with mosquito menace, Fashundhara resident starts adopting them as pets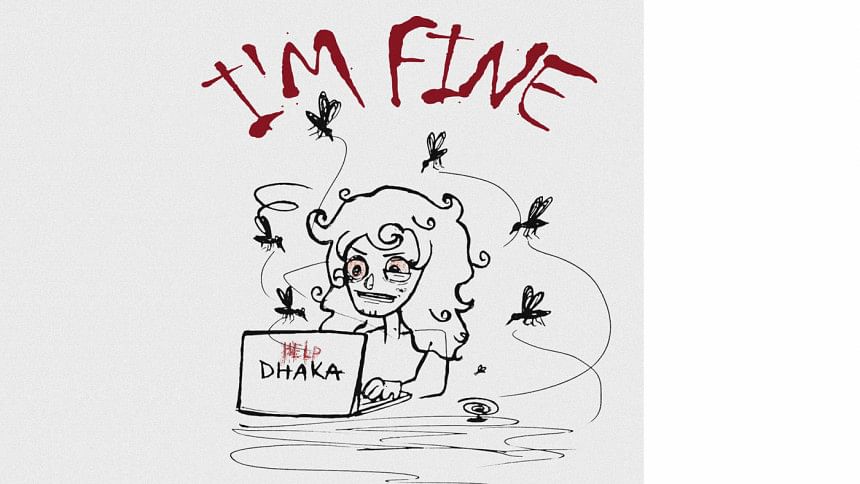 It was late at night. 
After what was an excruciatingly exhausting day, Armana dragged her body to bed, eager to put the day, and herself, to rest.
But just as her face hit the pillow, she realised she wasn't alone in the room.
Even though she could feel the faint flutter of wings for a bit, she thought that it was all in her head, so exhausted was she. Just a few minutes into the process of drifting off into blissful nothingness, a hum passes by her ear. Confident in her ability to swat the being with her eyes closed, she ends up hitting her face.
She's wide awake. And as soon as she turns on her lamp, her face turns faint as her reflection hits the mirror.
A swarm of mosquitoes, hovering over her head like thought squiggles.  Armana looks at the image flabbergasted. She runs over to the corner of her room where the BCI aerosol can stands.
She lifts it up and says, "No 1 mosquito repellant my foot!" and throws the can in the bin.  Things have been pretty rough for Fashundhara residents. Despite locals' complaints, the drains stay clogged. During monsoon, it's easy to tell that this area was once a river since despite modernisation, residents have to travel by boat.  This also in turn brought the area much tourism, since during heavy downpour, the area is marketed as "Discount Venice", where couples often gather for a romantic outing.
This made one thing obvious -- nothing would be done about the clogged drain, which meant that nothing would be done about the mosquitoes.
On Sunday, Fashundhara authorities proposed a unique solution. It was announced that mosquitoes have claimed their space in the area and, given their sheer number, it is difficult to get rid of them. Therefore, authorities will be distributing instruction manuals on befriending mosquitoes.  "The best way to deal with a problem is to act like it doesn't exist. You know what they say these days -- 'Fake it, till you make it'," said Most Fashunuddin, chairman of the Fashundhara Oikya Kalyan Samity.
 "I believe that if we all treated mosquitoes with a bit more dignity and love, like pets and not pests, we will be able to reduce the severity of this problem -- through the power of collective endurance," he added.  And so, Armana sat on her bed, with her eyes red -- parched from some lack of sweet slumber. She let the mosquitoes make her their prey.  Her eyes twitched as she kept telling herself over and over again, "Pets not Pests."