'Trust us, we got this, for real this time'
Govt assures citizens for third time over Covid-22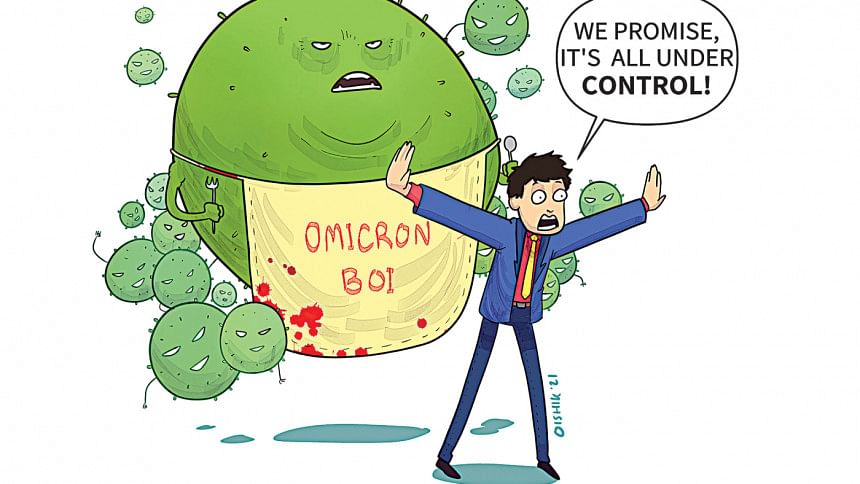 The government of Chapasthan has assured its people that they will be absolutely safe from the Omicron variant of Covid-22, as authorities, under the celestial guidance of the supreme leader, have taken the strictest measures to prevent another wave of the pandemic.
They said the exact same thing twice in the past, right before Covid-22 wreaked havoc in the country.
Addressing citizens at a public gathering, Illness Minister Zalim Khaleque said, "This new omeprazole variant…"
A reporter interrupted Zalim to correct him.
"Yeah, yeah, Omicron, whatever. Listen, these Greek alphabets have no power over us. That language is dead, but the people of Chapasthan are full of life and love for the country," he said.
In a Facebook post, Motherboard Minister Gostokha Robbar said, "Why Greek? Are we so ashamed of our mother tongue that we can't even name a virus in our own language?
"I refuse to recognise this new variant. My body refuses too, as my mother tongue flows through my veins," he concluded.
Meanwhile, citizens are rushing to vacation destinations and all kinds of public events, as they think these are the last few days before calamity strikes.
"I don't think I'll get to visit Fox's Bazar next year, so this is my final trip this year, or maybe this life," said Ipshita Karim, a girl who has a terminal condition of wanderlust.
When informed that authorities have said they are completely ready to tackle Omicron, she said, "Sure."
Chapasthan has already halted air travel to and from South Africa, as the variant was first detected in the country.
When journalists informed a state representative that by now, Omicron has spread to other countries, she said, "Oh."
"Guys, don't worry at all, and definitely don't wage any movements or protests, or else..." said Zalim. "We'll just vaccinate every single person by next... week? Yeah, yup, that's right!"
"And if for whatever reason, things get slightly out of hand, which definitely won't happen, we'll just impose another lockdown. Everyone loves to stay home anyways, right?" he explained.
Asked about safety nets for poor people during a possible lockdown, "What poor people? Per capita income is $2,554," he informed.
In another Facebook post, Gostokha said, "Under the sky of Digital Chapasthan, there's an antivirus that is able to thwart all kinds of viruses, and that is the love for the country and its supreme leader."