Satireday staffer quits as line between reality and satire no longer exists
Damning resignation letter from writer shows how far they spiralled months into satire-writing career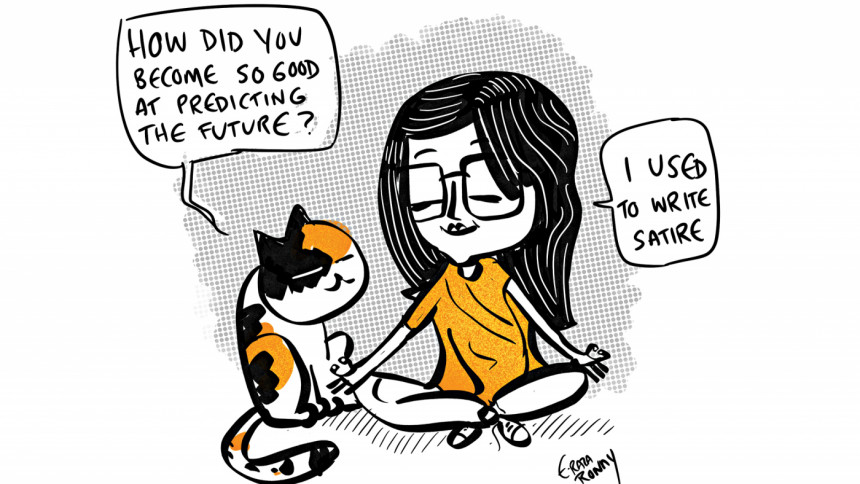 Dear Editor,
Three weeks ago, I wrote a piece for your page on American conservatives, nay, white people. However, the piece had lost relevance before it could live out its originally predicted shelf life. Much like the vegetables now rotting due to the complete destruction of supply chains across the country, my satire piece perished before it could go from your email inbox to the presses. 
My work is full of references and exaggerations. It tries to exaggerate reality just a little. Doesn't go too far, packs a few easter eggs from previous pieces which no one but six-and-a-half people notice. I used to think the humour would go just far enough to point out the glaring flaws in our world, but it would still be too ludicrous to come true one day.
I'm not sure if that sounds like humble bragging about how nuanced my writing is. If it does, I assure you, I have some gripe with the pieces I have been writing, and would like to spare zero praise for myself.
If I am succeeding at exaggerating my words just enough to show how severe some social or infrastructural issue is -- all under a thin veil of humour -- why does reality keep catching up to my "nonsensical" jokes? Am I not stretching my imagination further, or are the things I am writing magically coming true? Am I being possessed by the Shaka Laka Boom Boom pencil's evil twin?
When Covid-22, as we like to call it in Satireday, first broke out in the country, the idea of everyone going to work in hazmat suits cracked me up. "It'd be like a uniform. No one would be able to make fun of that one dude for wearing football boots to work every day," I thought, cracking myself up at how ridiculous it would be if at the final stage, we'd all have to work inside a formless void in hazmat suits, avoiding any and all human contact.
Now we're all stuck at home, logging into some server I can't see, working with a few colleagues I have forgotten the faces (and for some, names) of. Time is barely moving, and I see little difference between my life and an everlasting void now.
The state appears convinced that the virus can be beat by sheer willpower as they proceed with reopening the economy. People are out buying iftar and PPE all from the same streets. The crackdown has become less focused on the virus, and more on free speech.  
In the USA, people are protesting for their right to haircuts, convinced that white privilege will ward off any disease.
I can't make this up anymore. The line between reality and satire has been erased, and we are now living in those ridiculous worlds Sukumar Ray used to craft in his poetry. There was one poem called Ekushe Ain where the government would fine people for walking on the streets. That state would also imprison poets and writers -- freedom of speech is never a welcome idea here.
Perhaps Sukumar Ray, too, was possessed by the Shaka Laka Boom Boom pencil's evil twin. Perhaps the line between reality and satire has always been blurred, and I am merely new to this craft.
A wise man once told me that the only way he can cope with journalism/writing as a career is by binge drinking, and I see his point now. With immeasurable regret, I have to hand in my resignation letter, because I believe there is nothing left for me to satirise.
This world has lost every sense of normalcy, and I hope those UFO sightings mean some higher power will come to rescue or destroy us. We'll either have a Koi Mil Gaya moment or a War of the Worlds moment -- at least there will be some excitement.
Warmest regards,
Correspondent who never decided on one particular byline.
This is the full text of the letter we received from one of our MANY writers. While she raises some valid points, we believe this may also be a negotiation tactic as we have not paid her in months.
-- Ed note