National cricketer angry at the Sun for rising too late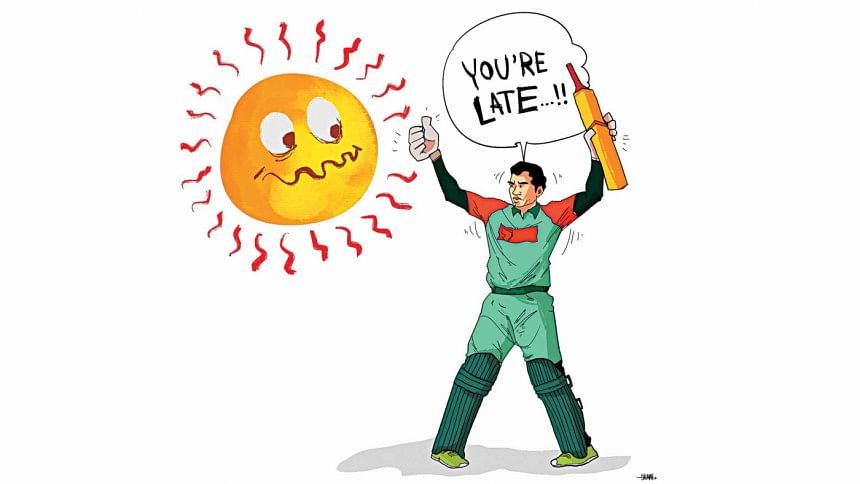 It is cause for national joy that at least one Bangladeshi has been able to fulfil his parents' dream by rising early. Since as far back as an egg cracked after a hen laid it (let's not, okay?), parents have dreamed that their children would rise along with the sun.  
A Bangladeshi cricketer named Bhorer Pakhi has not only fulfilled the dream but went beyond, rising even before the Sun. He hasn't just been rising early; he starts his cricket practice when everyone, including the sun, is in deep and heavenly slumber.
According to Bhorer Pakhi, nicknamed Mushy (which means excessively sentimental in English), other Bangladeshis cannot rise early and so cannot enjoy his training session, which is more enthralling than Game of Thrones, Squid Game, Stranger Things, Money Heist and Breaking Bad combined.
For Pakhi, his disappointment at the tardiness of his countrymen pale in comparison to his fury towards the Sun, the other star of the solar system.
"People here suffer because they don't get up early and most importantly, they miss the opportunity to watch my training session which, I think, should have been the most-watched video of Bangladesh," Mushy, whose favourite shot is the reverse-sweep and favourite activity is the reverse-sleep, said in a press conference with no attendees at 5:00am, right after his training session.
"You guys miss my press conference too."
He however reserved most of his irritation for the Sun.
"It's okay that people cannot rise early like me, but what happened to you, Sun? Why can't you rise early? I have to do all my training under electric light. You cannot be as lazy as my country people, can you?" Pakhi asked in dim lighting, just as a dark shade of pink started lining the eastern sky.
The Sun did not take too much time to reply, lest Pakhi posts something humiliating about the Sun on his social media account.
The stellar body apologised for its inability to rise earlier than a human being.
"It's a shame that I am not an early riser like you. For this reason, I cannot even watch your training live and bestow my natural light upon you. When we are in deep sleep, you do hard work. I have a dream that one day I will rise before you and post my photo on my social media account," the sun wrote in the letter sent to NASA, which forwarded it to Bhorer Pakhi.
Satireday has obtained a copy of the letter.