Elon Musk selling sarees on Twitter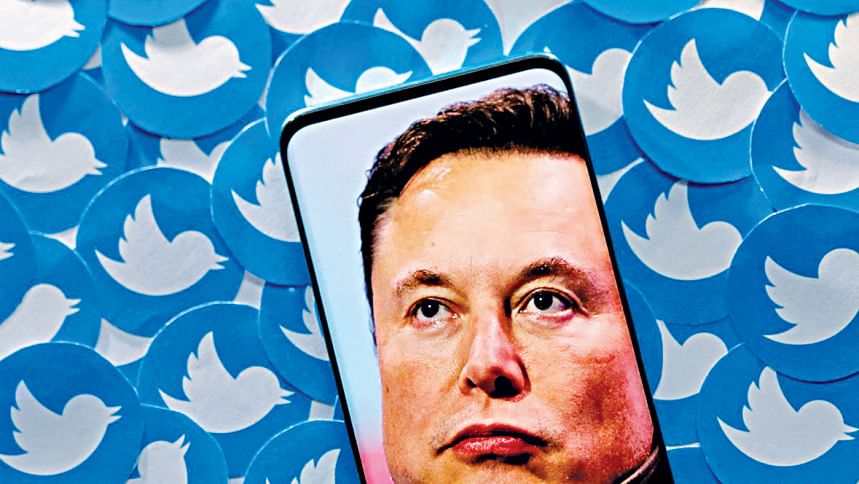 After spending $44 billion on the acquisition of Twitter, Elon Musk was fearful about his potential fall from the spot of world's richest person.  
"If I don't take prompt initiatives to get my investment back, I will surely lose my position to Bezos, Zuckerberg and 100 other envious figures," Elon Musk thought to himself.
At night, right after dinner, while he was secretly using Zuckerberg's Facebook, a live video drew his attention. A woman from Bangladesh was selling sarees on live video, claiming to be a unique item produced in her own workshop, although the traders in New Market say otherwise.
The video captured Musk's imagination and he decided to sell sarees when he saw millions of people were commenting and asking the price.
"If that lady could get millions of buyers, I would definitely get billions of buyers and eventually get my investment back," he thought.
He was really baffled that the woman that the woman was telling everyone to inbox her for the price in reply to "Aapu, dam koto?" and "Price plz". He, however, started the business although he couldn't solve the puzzle of "price in inbox".
During the inauguration ceremony of the Twitter-based business, Elon Musk took a pause and texted Jeff Bezos and Mark Zuckerberg: "Catch me if you can, dudes."
On the first day, Musk struggled while trying on sarees. Since he is a famous figure, his live video got billions of people's attention and everyone was asking him for the price. He told them to inbox him.
Apart from those asking for prices, some, mostly from Bangladesh, were leaving various comments that confused Musk even further.
"Sundarban er khati modhu nite chaile call korun 017********", "Ekta puraton cycle bikri korte chai. Keu nite chaile inbox korun", "Ekta gf lagbe amar. Meyera knock dao", "ICC=BCCI", etc. were some of the comments the meaning behind which Elon Musk's team was looking for.  
Later, a Satireday correspondent heard of an allegation against Elon Musk. In a secret conversation in inbox, Elon Musk asked a potential buyer to pay 30 percent in advance before he shipped the saree for delivery. After the man made the payment, Elon Musk blocked him instead of delivering the saree.
This correspondent has learnt that Elon Musk learned a lot from Bangladeshi traders.