E eager to distance itself from commerce in Bangladesh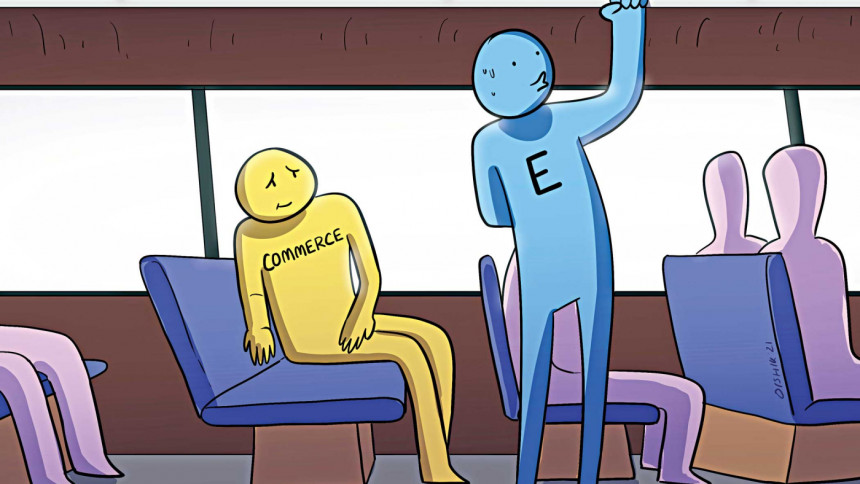 The English letter, E, has been traumatised -- much like humans -- by its association with internet commerce in Bangladesh.  
It has recently made clear that it does not want to be in the same post code as the word "commerce". E refuses to sit before the word as it feels that it has caused enough damage to its name, fame and prestige.
"I do have feelings too. I cannot tolerate it anymore. After consultation with the 25 other letters, I have decided to quit sitting before the word 'commerce'. I cannot let my long-earned fame be destroyed that easily," E said in an email.
E's refusal to continue its relationship with "commerce" in the country is understandable as it has been an outstanding letter that has been giving stellar company to words.
Such a worditarian letter had to digest much abasement just because it gave company to commerce. Commerce, without E, is as useless as a phone without network.
"I have attached myself to mail and thus it became 'e-mail', and that helped all of us to gain much popularity. Later, I earned much respect by setting myself before 'commerce' and thus Amazon, Alibaba and so on were born. I attached myself to paper and lo and behold, you can read newspapers online – it's a different issue that no one does.
"It was all going well until I met Bangladeshi commerce. All my esteem was destroyed in the blink of an eye. The way my prestige is dropping, I will soon plunge below the Mariana Trench if I don't ban myself from dating or sitting with 'commerce'. I ordered an oxygen tank online, but that was two years ago and I still haven't gotten it," E's email continued.
E's decision has drawn global attention. Emon Task, a poor man from USA, after reading the news in an e-paper, couldn't help but express his concern and compassion. "E doesn't deserve such defamation and disgrace. It's a shame that commerce has insulted the fine letter. E has taken the perfect and timely decision.".
The global protest resonated locally too.
The unconsciously conscious people of Bangladesh have stood with E's decision. Social media was flooded with various posts carrying suggestions for the country's policymakers to bring e-commerce under control. A Facebook celebrity, studying EEE in East University, said, "I support E's decision. E deserves someone better. The letter should have taken this bold decision long ago. E, you are not alone. We are with you. Teach commerce a lesson and let it realise that without you, it is like Barcelona without Messi. #WeSupportE."
Email your satire pieces, cartoons, comic strips or whatever tickles your funny bone to starsatireday@gmail.com and you too may have something to show for wasting your time