Cricket board announces team for the next study tour in Australia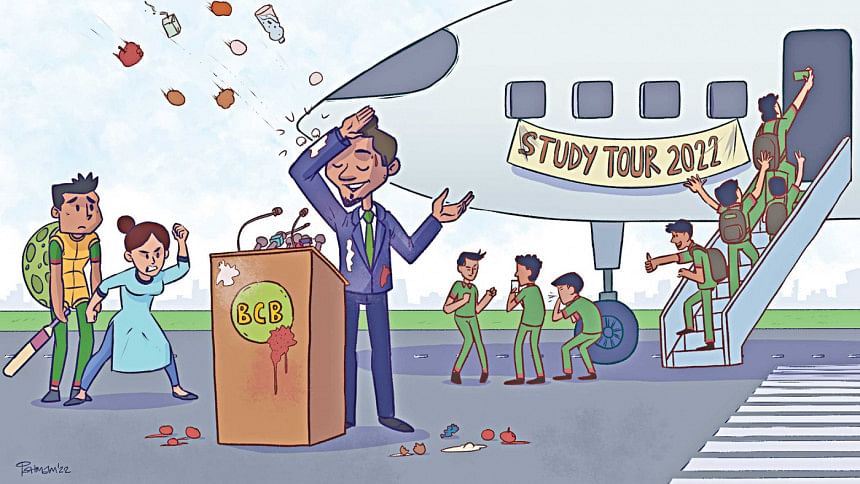 Bhalo Cricket Board (BCB), a board congested with cricketing geniuses, just announced the names of players they will send on a study tour set to be held in Australia next month.
Apon, the undisputed king of BCB, believes that it is more of a study tour than a cricket tournament as his disciples always insist that learning is more important than winning trophies.
"No, not this one, we will win the next one," the king replied when asked about their plan with these "unstoppable learners".
"They will learn this time too and we will win the next World Cup by applying these learnings. That's why we named it 'study tour'," he continued.
Asked if they were following university students' famous strategy of "next semester theke fatiye dibo", he said, "No, this is our very own invention. Maybe university students are using our strategy."
The king has another plan that he learned from the recent Asia Cup.
He is going to declare the board bankrupt as he learned that Sri Lanka recently won the Asia Cup after being declared bankrupt months ago.
As learning is a continuous process, these cricket playing learners seem to be reluctant to stop learning and start winning.
Meanwhile, fans of the national team were shocked to know that their idols' overseas learning helped them become TikTokers instead of cricketers, with every study tour ending with lots of selfies and TikTok videos.
"When I was scrolling my newsfeed yesterday, I was bewildered by a video of one of our cricketers where he was urging people to follow his Tiktok and subscribe to his channel. I was away from social media for a few months and I had no idea what was going on. Is Australia going to hold a World Cup of Tiktok instead of cricket?" Cricketpsycho Jalil asked on Facebook after being confused by a cricketer's video.
Apart from these chitchats, a group of better halves of those who didn't get call-ups for the upcoming study tour took the swords out on behalf of their worse halves.
"If slow and steady really wins the race, why did you exclude my husband's name?" wife of a cricketer, whose husband didn't get the chance to be a part of the planned study tour, asked.