Brazil or Argentina? A guide on which team to support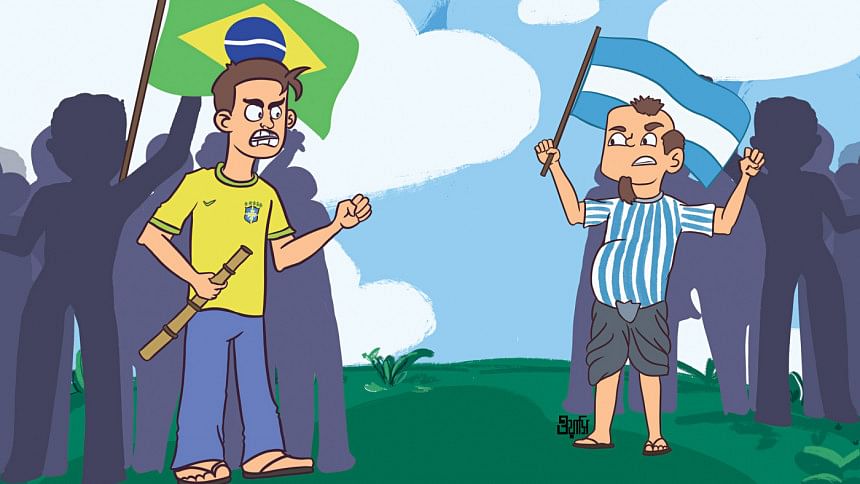 It's time to revive the age-old fight between South Asian supporters of two South American football teams. From competing to see who can hoist the biggest flag, a clear form of overcompensation, to some good ole' beatdowns in Brahmanbaria, football fever, alongside dengue fever, has taken over Bangladesh.
But the question is, which team should you actually assault others for? Allegiance is usually tied to childhood memories and lineage. A couple that supports Argentina, passes its flag on to the children and grandchildren.
But this is pure indoctrination, and families that do this should be destroyed with facts and logic. So, in this guide I'm going to use my objective opinions to reveal whether one should support Brazil or Argentina.
THE FLAGS SHOW THE WAY
Both countries have flags with a circular object in the centre. But the resemblance ends there. One has stripes, like half the world's flags, while the other has a unique shape, which shows just how creative and talented Brazil is.
And if you're a true patriot, you wouldn't dare think about supporting any team other than Brazil, because the resemblance between our own flag and Brazil's shows the unbreakable bond between the countries.
If you want to take our diplomatic relations to new heights, at a time when Bangladesh is gearing up to graduate from LDC status, you know which team (Brazil) to support.
IT'S IN THE NAMES
"Brazil" is a name containing two syllables, while "Argentina" is made up of four. Is more better? Only when it comes to goals.
Chanting "Brazil!" is way easier and more fulfilling, putting the team miles ahead of Argentina, said Noam Chompy, the language nerd.
And it makes complete sense. Would you rather be called "Rahmatullazaman" or "Abul"? Why do nicknames exist? Because people can't stand those who have long names. Linguistically, Argentina drops the ball.
POPULATION, GDP, FOREIGN RESERVE
Brazil's population is around 214 million, and Argentina's? A measly 46 million. Meanwhile, Bangladesh is home to 166 million people. A population dividend like Brazil's is something to aspire to. We have to harness that spirit to prosper with our support.
Meanwhile, Brazil's GDP is around $1.6 trillion, three times more than Argentina's. When it comes to foreign reserves, Brazil has $296.4 billion, while Argentina can't even pile up $40 billion.
The numbers don't lie, and they spell disaster for Argentina fans.
"BUT WHAT IF I CARE ABOUT FOOTBALL SKILLS?"
Then just support Germany.