Being in the gallery same as playing on the field: Football chief on Qatar'22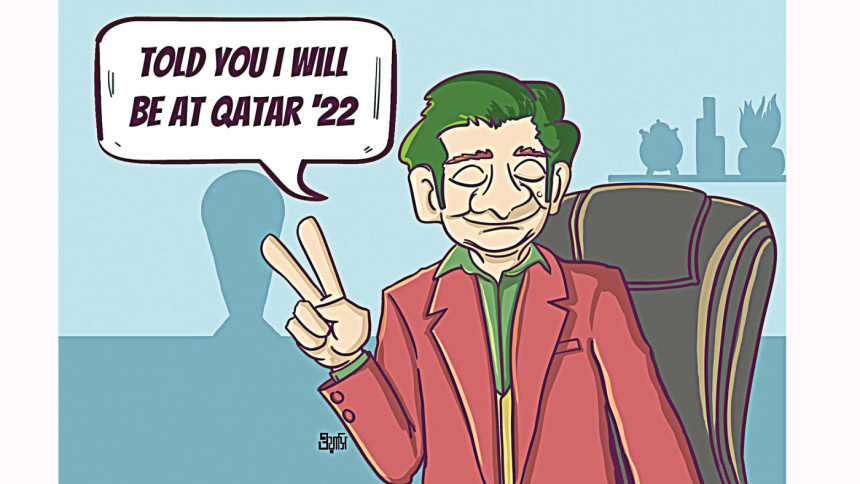 Khelauddin, the king of the country's football federation, once promised that the national team would surely play the 2022 Qatar World Cup. To qualify, he promised to do everything, although he is famous for doing nothing.   
The promise had then seemed to be a magician's magical words, but in the end the man claimed he is not actually a magician. This left every Chapasthani speechless, and of course motionless due to its renowned traffic.
"Why did you give us hope? I bought advance tickets for Qatar from the black market 10 years ago, now who will refund it as I have nothing to see there?" an exceptionally excited citizen asked the football king.
"Stop being so pessimistic. I promised to be at the 2022 Qatar World Cup and that is what I am going to do. I bought some tickets to enjoy exciting matches from the gallery. Isn't it an epoch-making event for your country that one of your football GOATs is going to Qatar to watch the world cup?" Khelauddin replied while jotting down a list of things he will buy when in Qatar.
"But you promised us that our team would be there and play the world cup," another football fan asked
"Okay, I will take some players with me," replied Khelauddin.
"Will they play?"
"No, they will be sitting next to me in the gallery watching others play."
"That's not what you promised to the people of this country."
"Would you please tell me the difference between being on the field and in the gallery? Both watch the game – one from very close and the other a little farther away, but why should we split hairs. Don't you guys feel proud of me?"
The conversation left a sour taste in the mouths of the country's football lovers.
Some wanted immediate abdication of the king as he failed to fulfil the country's word cup dream.
Sources told Satireday that an epic fight happened in C.Baria, the country's famous battlefield, over whether Khelauddin should resign.
However, Khelauddin seemed not to be bothered by these reactions and conflicts.
This correspondent tried to talk to him and accepting one call, after rejecting hundreds, he said, "Stop dreaming, dude. I am not a magician. I can only afford myself and my family to be in the Qatar World Cup, not the whole team. But if I get another multimillion-dollar project, I can think about the team."